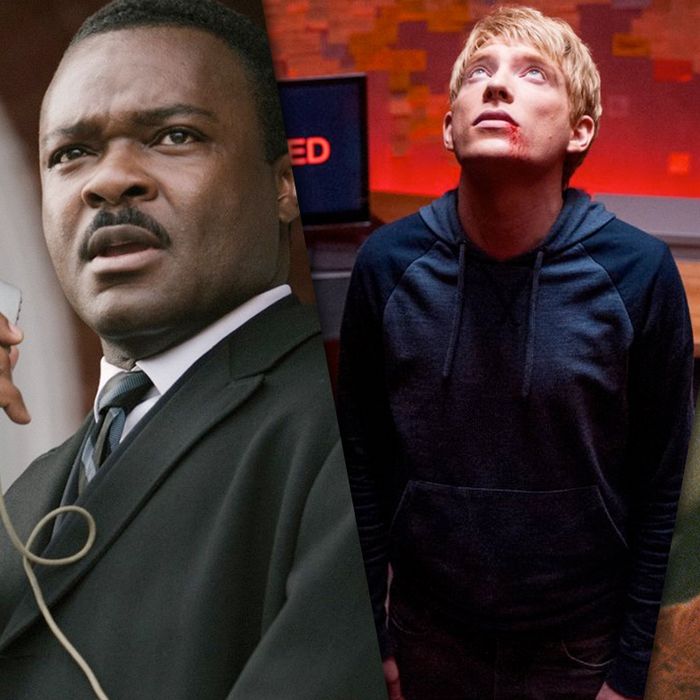 Photo: Paramount Pictures, Universal Pictures and Buena Vista Pictures
In The Age of Adaline, 82-year-old Ellen Burstyn plays the daughter of 27-year-old Blake Lively, yet somehow, that's not the most belief-beggaring parent-child relationship in this romantic drama about a woman who doesn't age. Instead, I found myself more distracted by Lively's love interest, Dutch actor Michiel Huisman, whose father in the film is played by Harrison Ford. Huisman is talented, handsome, and adept, but he bears no physical resemblance to Ford, and his shaky American accent — with the occasional Dutch lilt on the wrong syllable — is so different from Ford's gruff midwestern bark that you almost expect Huisman to deliver a throwaway line about his childhood stint at a European boarding school.
Compare that to the nimble accent work done in another of this past weekend's wide releases, the sci-fi thriller Ex Machina. Our leading man there is a shy coder played by rising star Domhnall Gleeson, and aside from his unusual shock of red hair, there's little in his linguistics that might betray Gleeson's Irish heritage. To my ear, Gleeson positively nailed his flat American tones, but while discussing Huisman and Gleeson at Vulture HQ, we started debating which foreign actors are the most talented at simulating an American accent — a prompt we want to extend to our readers.
Could it be an Australian actress like Toni Collette, who was so convincing as a Philly mom in The Sixth Sense, or Margot Robbie, who played the ultimate Long Island princess in The Wolf of Wall Street? What about English actors like David Oyelowo, who disappeared into Martin Luther King Jr. in Selma, Christian Bale, who plays American more often than not, or 12 Years a Slave star Chiwetel Ejiofor, who handles period and contemporary roles with equal aplomb? Some foreign actors get better and better at it: I saw Alexander Skarsgard in the upcoming 1970s dramedy Diary of a Teenage Girl, and his San Francisco hippie is completely purged of any Swedish intonations. And then there are the imported actors who never quite seem to get the hang of it … but we'll leave those for you to nominate (alongside their better-accented brethren) in the comments.