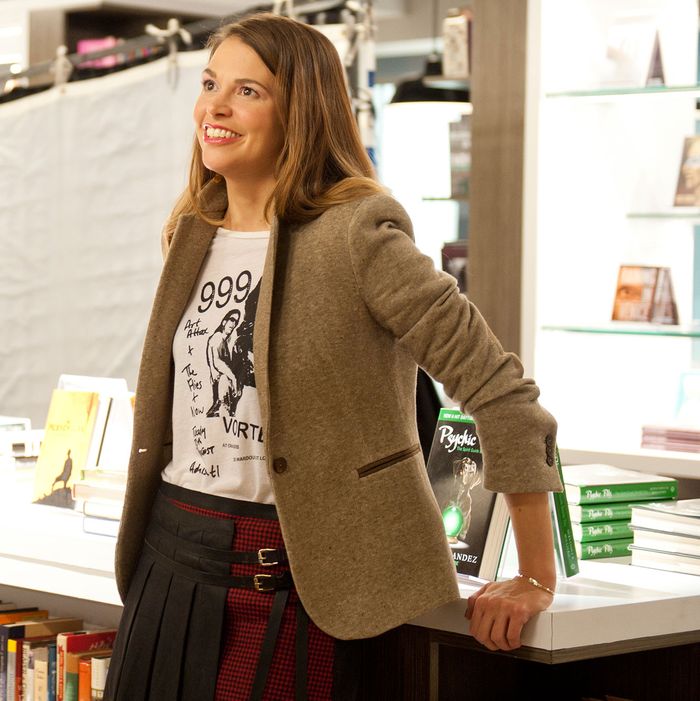 Sutton Foster on Younger.
Photo: Liz Clayman for Vulture
"I was at a bit of a crossroads with my career," says Sutton Foster, a Broadway stalwart and star of Darren Star's charming TV Land show Younger. The 40-year-old actress plays Liza, a 40-year-old mom who rejoins the workforce by pretending to be 26 — a dissonance she identifies with. "I was going in for age-appropriate roles, but was reading young. But then I couldn't play the younger characters because I was too old. I was having trouble in casting, and then this came across my plate and I thought, Ooh, I can do this! I know how to do this!"
In the pilot, Liza is saddled with a nasty separation, four mortgages, and the realization that the 25-year-old interviewing her doesn't give a whit about her life experience, or that she was the youngest person to make editor back when she was working. As they say, if you can't beat them, join them: Liza gets highlights, cites Katniss Everdeen as her personal hero, and Harry as her favorite member of One Direction (duh). While Foster doesn't necessarily look like a millennial, she doesn't not look like one, either; her long, ectomorphic frame and winsome grin make her pull off the forever-young look. "People will believe what you tell them," Liza's best friend Maggie, played by Debi Mazar, tells her. "They'll believe you're 26." In her younger drag, Liza lands both a job as an assistant to Diana Trout (Miriam Shor), head of marketing at publishing house Empirical Press, and a hot young piece named Josh (Nico Tortorella).
"There are a lot of life parallels," said Foster, who's seated on a teal couch on the set of Younger, at Maggie's Brooklyn loft. She's still in costume in a tweed blazer and unfortunate skirt (pictured above) that highlights her character's misguided attempt to appear hip. "As an actor, you hope that you can navigate growing older. It's a reality. We can't all be the young, pretty ingénue forever. To be able to live it is a cool way to navigate it."
The rest of the show is shot nearby around New York; today, at the Empirical Press offices where Liza works — a halogen-bright space with book displays stacked with real titles (Stephenie Meyer's Twilight series) and ones you wish were real (Frankly Frankel, real New York Housewife Bethenny Frankel's memoir). The scene currently being shot is from episode 11: Liza walks into the office, where she runs into her boss, Diana, getting her own coffee. "Oh, you're getting your own coffee?" she asks her. "Yes, I like to keep my life skills sharp," she replies. "You know, in case there's another Sandy."
"Diana's got the biggest balls of them all! And busts everyone else's," Shor says after the shoot. "She's had to work and fight her way to the top, and has to work and fight to keep herself there. It's not easy to be a woman in power." Diana is dealing with age in her own way — she's 43 but pretends to be 41, and steals Liza's ideas as a way to remain relevant. She treats Liza especially poorly because she sees her as part of the generation that not only ruined books but is out to get her. "My relationship with Sutton's character is a tough one, because she's a constant reminder that I'm old in society's eyes, even though I have no idea she's actually my age." Diana wants what she thinks Liza has — youth — whereas Liza can imagine what she might have accomplished had she continued to work as Diana had.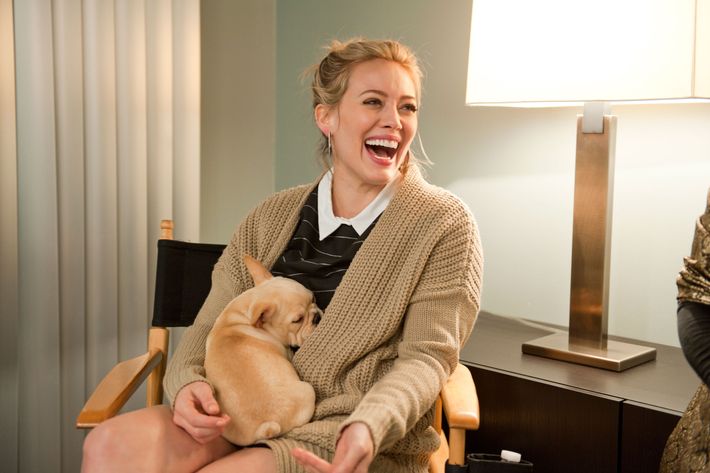 Younger isn't just about female relationships, but specifically intergenerational ones. Liza's 20-something co-worker Kelsey (Hilary Duff) takes Liza under her professional wing, while Liza attends to Kelsey's personal life as someone who's been there. "At first, our relationship was very motherly," Foster says. "I did look at her like, 'I need to mother her.' Then she truly becomes a friend. That generation gap just goes away."
"It's nice to have a show where women are just powering together," Duff adds. "At the end of the day, it's all about how they're there for each other." Female solidarity is established from the jump for these two. When Duff's Kelsey meets Liza for the first time, she quotes Taylor Swift: "There's a special place in Hell for women who don't help other women." That extends to when Kelsey meets Liza's best friend Maggie, too. "You're friends with her, so she's my girl, too," Duff says.
"That," Foster says, "is girl code."