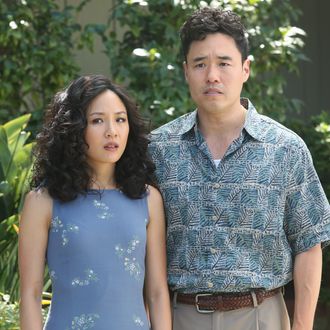 Constance Wu is a scene-stealer.
Photo: Gilles Mingasson/ABC
At ABC's upfront, a few truths held true: Constance Wu can steal any show, diversity is TV's favorite new buzzword, and Montel Jordan still makes every woman in the room dance. Ahead, the Things We Learned at the network's presentation.
ABC isn't scared of diversity, and it really wants you to know.
Jimmy Kimmel devoted a lot of his set to jokes about diversity, namely: how much ABC has it! "We're doing very well now that we started acknowledging that minorities exist," said Kimmel. "Except The Bachelor, we're going to keep that one white." The network is adding two other sitcoms led by nonwhite actors to its roster: Uncle Buck, a black reboot of the John Candy original, starring Mike Epps; and Ken Jeong's Dr. Ken. (The network played this up by having Epps and Jeong "confuse" one another as the stars of Black-ish and Fresh Off the Boat.) ABC also has Priyanka Chopra as the lead of the action-heavy Quantico, and the center of The Real O'Neals is a gay teenager struggling with his sexuality. If this is what the diversity trend looks like, we're in.
And it's very excited about debuting Priyanka Chopra.
ABC president Ben Sherwood was very pleased to announce the star of the new thriller Quantico, who is already "big in India."  You don't say!
ABC is not above using children to appeal to advertisers.
It spent a good chunk of the presentation playing scripted videos of the younger Black-ish kids Jack and Diane spouting advertising buzzwords about ABC's profitability. The plan kind of worked, 'cause those kids could sell you anything. (At the end, Jimmy Kimmel brought out his baby, too.) In general, they spent more time appealing to advertisers at their upfront than any network so far, calling themselves the most "modern" network.
Constance Wu can steal the show, even among all of ABC's stars.
It was nice to see the network's young breakout star of Fresh Off the Boat out of context. Positioned between some of ABC's heavyweights, she easily drew all the attention to herself in the network's opening skit.
Life has been hard after Gossip Girl.
Two GG alums, Ed Westwick and Chace Crawford, are both in freshman shows for the fall. Crawford is channeling all his Americana as a young entrepreneur in Oil, and true to form, Westwick plays a sexy serial killer in Wicked City. You knew that things were going to look rough when ABC Entertainment president Paul Lee called Wicked City "the highest-testing pilot among millennials." Sorry, Chuck Bass.
Jimmy Kimmel burned every other network with great precision.
As expected, Paul Lee trotted out Jimmy Kimmel to do a set for his "27th year." Sure, he put in the requisite jokes about ABC ("Brian [Williams] was suspended by NBC for doing basically what we're doing to you right now"), but he took aim at all the other networks' upfronts. Lots of inside jokes, from how uncool CBS is to NBC's Bob Greenblatt performing with Dolly Parton.
The audience loved Dr. Ken.
One of the biggest guffaws down at Avery Fisher Hall came during the trailer of Dr. Ken, when Ken Jeong told his son, played by Albert Tsai (Trophy Wife [sniffle]) why he shouldn't mime for the school talent show. At least we no longer have to say, "Get this man a show!"
Friday Night Lights' Matt Saracen is looking good.
And he's co-starring in an intense new drama, The Family, which looks eerily like the 2012 documentary The Imposter, about a man who impersonated a kid who had had been kidnapped years earlier, making his family believe that he was their long lost son. In The Family, Zach Gilford (Matt Saracen) tries to warn his mother (Joan Allen!) that something seems off about his long lost brother, who mysteriously shows up ten years after he went missing. She won't have any of it. We think we know how this story ends …
"That's gonna be great."
Code for what ABC execs say when they think a show is not going to be great (ahem, Sons of Prophets).
Ellen Pompeo loves Montel Jordan.
When ABC brought the singer onstage as every ABC heroine danced behind him, Ellen, with a goofy grin on her face, quickly endeared herself to us by revealing her awkward dance moves: clapping her hands, moving from side to side, and jumping up and down vigorously to "This Is How We Do It."