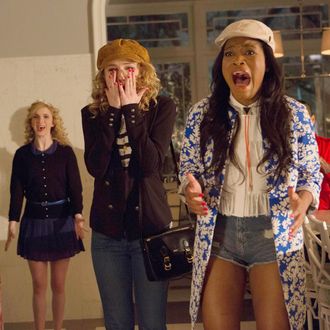 Fox trotted out its fall lineup of comedies and dramas at their upfront presentation Monday. A big slice of the night was a reminder that, hey, they made Empire this year! Highlights included the first footage from Ryan Murphy's Scream Queens, and rewatching some X-Files footage we'll never tire of. Ahead, what we took away from Fox's presentation.
It's all about Empire, or "Fox really wants to remind advertisers they made Empire."
Fox really, really wants to remind advertisers that they made Empire. "Empire represents everything that the Fox brand stands for," said Fox chair Gary Newman, by which he means: Ratings! Money! This became a natural segue into a little Empire concert starring the cast (Andre was finally included!) with a little help from Jennifer Hudson. To be honest, it's a little, um, rough: Jussie Smollett and Bryshere "Yazz" Gray have been on a grueling promotion tour for the Empire soundtrack, and Terrence Howard never sounds as good as he does in his head. Chris Rock, Lenny Kravitz, and Alicia Keys, we discovered, will also guest-star on the second season of Empire.
We finally got a legitimate Scream Queens tease, and it looks awesome.
Up until now, all the promos have not shown us a single scene. It didn't take much footage to get excited. Emma Roberts playing against type as a mean girl? Safe to say it's one of the shows we're anticipating most next season.
Someone is going to die on Scream Queens every week.
They promised. And Ryan Murphy said that the killer was one of the named cast members, so start placing your bets now. (Everyone onstage guessed Jamie Lee Curtis. One can dream.)
Meaghan Rath is the actress of the moment.
The former Being Human star recently had a guest stint on New Girl this season as Coach's girlfriend, whom he moves across the country for. She's cast in two shows that were picked up at the upfronts Monday: NBC's People Are Talking and Fox's The Guide to Surviving Life. Her face will be all over your screens come fall.
Fox is into attractive leading men who don't age.
Who isn't? John Stamos and Rob Lowe are both leading their own shows, Grandfathered and The Grinder, about men who are young at heart and look younger than they should.
Number of gay hookup app jokes made in the trailer of The Grinder.
Zero.

Fox is going hard after a split-season schedule.
The network is breaking much of its programming into hard fall and spring categories, and airing series without reruns. New Girl won't be back until January, but when it airs, it'll air straight through.
Fox loves murder!
Scream Queens, Minority Report, Rosewood, plus mid-season shows The Frankenstein Code and Lucifer — sheesh. Lighten up, guys.
The X-Files is still intriguing.
Fox only played clips from old episodes, but just seeing the band back together again gave us a little thrill.
No one's quite sure how to feel about American Idol's end.
There was a smattering of awkward applause after Gary Newman acknowledged that the next season of Idol would be the show's last. Was that … relief? Or recognition of a job well done? How long can one show possibly be on top?