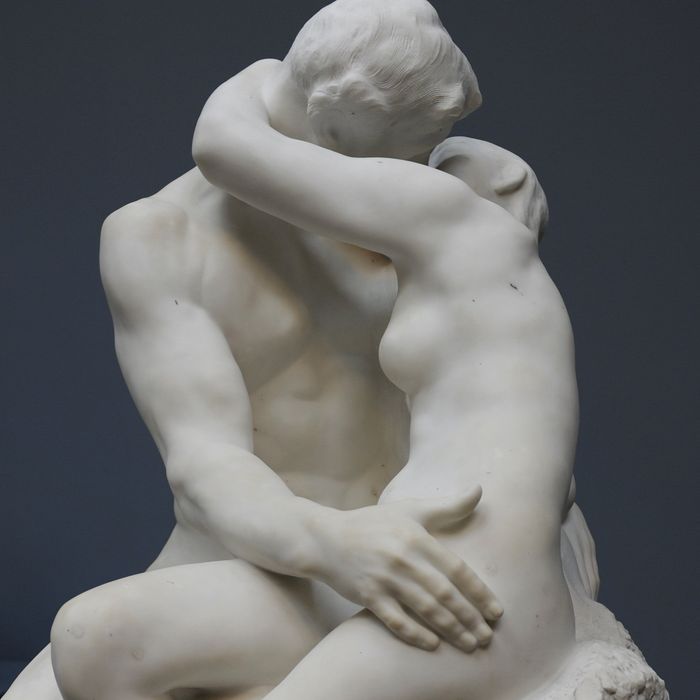 Cupid and Psyche, (1788), by Antonio Canova (1757-1822), marble sculpture.
Photo: Prisma/UIG via Getty Images
Once upon a time, museums were very erotic spaces, ecstasy machines, places where people picked up or fantasized about people, went into deep out-of-body states of pleasure near one another, catching fleeting glimpses of strangers in reflections looking at one another, seeing and losing one another in galleries, then seeing one another again, always almost alone, always in this excited psychic space of rest, pleasure, and strange alienation.
Old film directors knew this. In Vertigo, Hitchcock pictures Jimmy Stewart enraptured by Kim Novak as she looks longingly at a portrait of a woman who looks uncannily like her; Brian De Palma's Dressed to Kill opens with a five-minute flirtation, pursuit, and meeting in the Met, all while in the presence of paintings of the flesh. Once upon a time in the early 1980s, even I met a girl in the old Musée Picasso …
Alas, and probably for good, museums are now too full, busy, hectic, and overprogrammed. Even if you do manage to find someone inside one, there are precious few places to actually go with them. Or so I thought.
I think I'd completely forgotten about the erotic undertow of museums until the other day, when I went to the new Whitney, and amidst a pretty serious crowd, sat down on one of the long rows of couches beneath the large Jonathan Borofsky wall painting on the fifth floor. And then I fell asleep. 
I don't know how long I was there; only that I was woken up when someone plopped down next to me and spoke into my ear, "Do I see art critic Jerry Saltz asleep in a museum?"
As I walked away, in this waking-but-dreamy state, I thought back to sex. Museums are incredibly sexy spaces to me, but I have never had sex in a museum. Over the years, though, I've heard from those who have. In coatrooms, behind partitions, under staircases, in quiet stairwells. The Guggenheim and PS1 have bathrooms with doors that lock, and I've heard many stories about sex in those spaces.
So I asked people on Facebook, Twitter, and Instagram if they'd send their stories or reports of sex in the museums. Here's just a few of the stories I got back. And, once you've read them, please submit your sex in museums stories to SexInMuseums@nymag.com for a possible Part II.
*
It must have been around 2 or 3 a.m. when I was convinced to go check out Marclay's The Clock when it was at MoMA. I walked up Third Avenue until she spotted me from her cab and picked me up. We split a Xanax and a whiff of poppers on our way uptown. The line was intolerable, even at that hour, so we sneaked in through the out door. We watched from a comfy and dark corner, taking sporadic hits from the bottle of Rush. When it was time to leave, we noticed a doorless entry into a very dark room immediately outside the exit from the Marclay screening space. I grabbed her hand and moved to the back wall. I think during normal hours this was some kind of screening room, but without the projector it was pitch black. We fooled around pretty furiously. She slammed me against the wall and started blowing me. Before too long she had her pants around her ankles and was bent over, slamming herself onto me. We watched as people left the Marclay through the illuminated hallway.
*
I met a guy in the sub-street level sculpture garden at a party at the (old) Whitney. Several glasses of wine later, we made out in one of the phone booths. I miss being in my 20s! And phone booths.
*
My husband and I had sex in the family bathroom at the Brooklyn Museum while our 2-year-old daughter slept in her stroller. She was in the stall, door closed. We were on the other side, facing the mirror/sink, trying to get a quickie in and hoping she wouldn't wake up before we finished. It wasn't quite the public-sex fantasy — I felt way more anxious and weird in the real experience. I think I even told my husband not to get precocious and focus on the hole. I think we were there seeing the Ai Weiwei exhibit. Either that or it was Judith Scott.
*
I had sex in different museums with my girlfriend, during regular hours, and made handheld videos with an iPhone. These museums were mostly in Paris, and one in L.A.
Before the videos, we did the same thing throughout art museums in Europe following the trail of Casanova (the historical figure), including his jail cell located in Venice.
European museums used to be houses and were not made for art, necessarily, so you have all sorts of odd nooks and crannies that don't make sense anymore and are left basically empty and nearly invisible. I believe every single museum has sex potential. It's an architectural fact. Although the U.S. is harder, the passionate exploration of architecture is still possible.
The girl and I have broken up, but the videos remain … (and we're still good friends).
*
I fingered my girlfriend in the garden at Dia: Beacon. It was August, and she was wearing this tiny skirt — we couldn't keep our hands off each other. I don't think I remember a single piece of art from that trip upstate.
*
A few years back, me and my German lover Chris visited the Jewish museum in Berlin. We were there with two Swiss girlfriends who were visiting. Since the four of us were sharing a tiny room in Kreuzberg, me and Chris hadn't had sex in almost a week. I was getting more and more horny every day, and it kind of got me frustrated. By the time Chris and I were almost done in the museum, the girls, both art-history students from Basel, were about an hour behind us, discussing almost every piece of art on display. As I needed to pee, I went into the bathroom, a wheelchair-accessible bathroom. I entertained the thought of having a wank for a sec and smiled. As the bathroom was spacious, why not share the fun? I went back into the museum and whispered in Chris's ear: "They have bathrooms for people with special needs here, are you in need of any special attention, perhaps?" My grin just said the rest. He followed me into the bathroom, where I gave him a blow job. He came within minutes, and so did I. We were in much better moods for the rest of the weekend.
*
In January 2013, I was in the Louvre with a couple of friends. We were in the (very erotic) African art section. The rooms seemed almost empty, tucked into a quiet corner of the museum. The crowds were all upstairs doing their selfies around the Mona Lisa. As we moved into the furthest corner, we heard some muffled noises. A sense of decorum (?) automatically held me back, but my friend pushed forward into a darkened room containing a slide exhibit. She came out immediately, red-faced. The funny thing was that the museum guard was standing near us, very formally at attention, hands clasped behind his back. The faintest smile on his face indicated that he was fully aware of what was going on in his section. How French I thought. Love comes even before art, and must never be interfered with.
Just then, the happy couple emerged from the darkness, triumphant, and sailed proudly toward the exit.
*
One night back in 1997, I met a girl at a nightclub in Philadelphia. We soon started dating, but she lived in Cherry Hill, New Jersey, with her parents, and I lived way up at the end of Broad Street and Cheltenham Avenue, so we would meet at the club to go dancing and then drive around the city for places to park. Most frequently in Fairmount Park along Boathouse Row, sometimes behind the art museum. One night, we decided to drive around to the front of the Philadelphia Museum of Art since there were two employee parking lots on either side, and parked at the top of the steps, right in line with the city center and three generations of Calder sculptures. The enormous William Penn statue created by Alexander Milne Calder, on top of City Hall; the Swann memorial fountain in the center of Logan Square, by Alexander Sterling Calder; and behind us, in the museum, was the Ghost Mobile, by Alexander Calder. We had a good two hours there before security noticed. I felt like Rocky!
*
I spent an undergraduate semester in St. Petersburg, Russia (arriving in the frigid depths of January), where I interned at the Hermitage Museum.
A fellow classmate and I had fallen madly in love, but he was banished by my formidable homestay mother early on, after she'd happened to come home early one afternoon and discovered us mid-tryst. Tired of smoldering over our language homework in the grim student canteen, we took to making out in the many poorly supervised nooks of the Hermitage's labyrinthine back offices, as even the most isolated galleries were patrolled by watchful babushkas. One day, when most of the staff were out at lunch, we hung back for a rendezvous in an isolated service stairwell (which, to our knowledge, was never used). Many layers were shed, excitement ensued — and suddenly, the service door was opened by a team of professional movers, crates of artifacts in tow.
We dashed several flights of spiral stairs, yanking up jeans and boots as we went, bypassing the archaeology department and merging with the other museum visitors on our red-faced way to the exit. We didn't say a word or break our stride until we were several blocks down Nevsky Prospect, at which point I realized the cum had semi-frozen to a proper pearl necklace in the February air.
*
Kevin and I had been dating on and off for a year and had a very healthy sex life. We were always a bit kinky. I finally took him to the VMFA the fall of 2014. We walked around and talked about the art and had a generally good time. For me, no trip to the VMFA is complete without a sit in the chair room that overlooks a small section of Boulevard, one of the major arteries of Richmond. There's always a good amount of vehicle and foot traffic traveling at any given time, in addition to the several apartment buildings right across the street.
Kevin was siting in one of the chairs, and I got up to walk toward the window. As I'm standing there, looking down at the street, I begin writhing my hips just enough to gain his attention. I look back and tell him how much I would love for him to fuck me right where I'm standing, in full view of the street. Next thing I know, he's behind me, grabbing my ass, eventually working his way into my leggings. All of a sudden I'm bent over the railing. Things got wet. Fueled by our spontaneous passion, we rush to the nearest bathroom, a men's, and start hooking up. Unfortunately, the museum was about to close and a docent walked in while I was blowing him to inform us of this.
*
A friend of mine went to MoMA to see the de Kooning retrospective, and immediately after exiting the last gallery, he went to the bathroom and masturbated.
*
Waiting for the member's tour and my very late friend at the Whitney, I saw a man come down the stairs. Gorgeous, in a gray coat and brown suede boots. Moments later, my friend arrived, and the Robert Indiana tour commenced. Gorgeous man was in our group.
Walking around the Indiana exhibit, listening to the docent, every so often I would look up from a picture to notice that the gorgeous man was staring at me. The tour ended in the "LOVE" gallery. I saw him stare and decided to own this moment and stare directly back. The stare lasted a good ten seconds.
The tour ended. As my friend and I were leaving the museum, he was outside lighting a cigarette. I did not have the guts to approach him.
About a block later, I wanted to kick myself for being so shy. After quite a few bong hits, my friend and I had 3 a.m. logic at 11 p.m.: The only logical thing to do would be to post an entry in Missed Connections.
I posted it with the heading, "Whitney Museum … Robert Indiana," smoked some more, and went to bed.
The next day, at around 1 p.m., there were numerous responses to my post. None of them were him. But all of them were up for sex.
I took the post down. About two hours later and against all odds, I decided to look at the Missed Connections posts from men to women.
And there it was … the heading read "Whitney Museum…You deleted your post before I could respond."
We would meet the following week … him picking me up in a cab and then to my apartment. The cab pulled up, he opened the door, and within one minute, I was on top of him, straddling him. We were dry-humping like we were in junior high. By the time the cab pulled up to the apartment, we were out of our minds. From the apartment door to the bedroom is roughly 15 steps. We couldn't make it that far, and had round one on the kitchen counter. We couldn't take our clothes off fast enough and have our skin touch. It was pulsating in the least-pulsating part of the apartment. We both looked at each other when it was over and said, in sync, "Oh my God."
Then we moved to the bed for round two, then sofa for a Scotch, then a kiss good-bye at the door, as he needed to go home to his someone. At that point, we both knew that other than not turning back from the being unfaithful part, there was no way this could or would be the last time. And it wasn't.
About six weeks later, toward New Year's, we wished each other a Happy New Year, as he was going to the country with his someone and I would remain in NYC. Then I did not hear from him. One week. Two weeks. Three weeks. I wrote to him that I hoped he was okay. Almost into week four, I got a response. He apologized. He had put himself in a position where he was thinking of me emotionally and physically more than he should have been, and it scared the shit out of him. That this was too much and he couldn't handle it.
We would continue to write to each other, but the face-to-face would stop. It had to. Until the closing day of Mike Kelley at PS1.