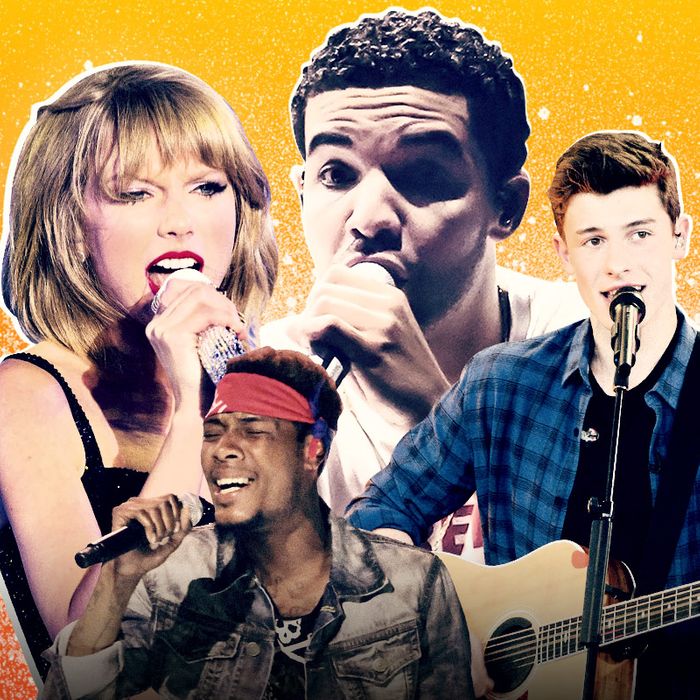 Photo: Kelly Chiello and Photos by Getty Images
Let's dispense with the how is it already May complaints and cut right to the chase: It's time for day-drinking, backyard barbecues, and summer bangers. The Vulture Song of Summer search goes a little something like this: We use a combination of metrics with varying degrees of authority — from Shazam charts, Spotify streams, and YouTube views to "does my bodega guy like it" and "will I forego a second slice of cake in order to dance to this at a wedding" — in order to determine which of these earworms deserves the title of 2015 Song of Summer. We all have very strong opinions about this, and this year's battle feels like it has way more competitors in the ring than usual, but as Chazz Michael Michaels once said, we can only skate to one song; there can only be one Song of Summer. So, throughout the coming weeks, the list below will get a lot smaller, perhaps new blood will be added, or a better single will drop, but for now, let's take a look at this year's early contenders, in no particular order.
"Stitches," Shawn Mendes
Shawn Mendes's music has been largely ignored by terrestrial radio, but now that his debut album Handwritten is a certified No. 1, the 16-year-old Vine star is going to be hard to avoid. "Stitches" is a rolling, acoustic-heavy breakup track with an undeniable hook for a chorus.
"Hold My Hand," Jess Glynne
You may remember Glynne's voice from last year's "Rather Be" by Clean Bandit. She's back with a new solo track that has already made its way to the top of the charts in the U.K. An American release has not been scheduled, but this song will no doubt make its way onto your summer playlist. It's an undeniably catchy, feel-good pop tune that channels '90s R&B in the best possible way.
"Style," Taylor Swift
Never underestimate Tay. (Also, the "Bad Blood" video is dropping this month.)
"Trap Queen," Fetty Wap
Trap music has finally hit the big time thanks to Fetty Wap's addictive RGF-produced breakout single, with its 808s, playful synths, and touchingly romantic lyrics about … stovetop cooking. Fetty Wap is sure to garner even more attention this summer now that he's had Drake anoint his second single, "My Way," with a remix. Meanwhile, "Trap Queen" has maintained a steady presence on the top of the charts and on radio.
"Somebody," Natalie La Rose feat. Jeremih
At this point, it feels like anything Jeremih touches turns to gold. The anticipation leading up to his next album is getting out of hand, but this song serves as a good placeholder for all of us out there who are desperate for a follow-up to 2010's All About You.
"Worth It," Fifth Harmony feat. Kid Ink
The third single from 5H's debut album is by far the strongest. Like last year's Song of Summer, "Fancy," "Worth It" has a confident swagger that makes you want to stunt on all your haters. The sexy horn sample and throwback to "I Got 5 on It" by the Luniz are an added bonus.
"Uptown Funk," Mark Ronson
Last week this song found itself at the center of America's ongoing copyright debate after members of the Gap Band were added to its already very long list of songwriters. Nevertheless, "Uptown Funk" has been murdering the charts, nearly unseating "One Sweet Day" by Mariah Carey as the single with the most consecutive weeks at No. 1. It's still going strong and could easily catch a second wind this summer.
"Shut Up and Dance," Walk the Moon
Here is a great example of how a healthy dose of momentum can lead a song to great success over time. Yes, this peppy, '80s-inspired anthem is over a year old, but it has only just now hit the Top 10, thanks to a slow build among fans.
"Want You to Want Me," Jason Derulo
He wasn't even at the Met Gala, but he somehow managed to be one of its most-talked-about guests. No matter: All of those extra Twitter mentions might help Derulo's latest single, already sitting pretty in the Top 10, get a little more attention.
"Research," Big Sean feat. Ariana Grande
Scheduled to hit the radio in about a week, this next single from Big Sean's Dark Sky Paradise is a thumping R&B duet with ex-bae Ariana Grande that is hard to listen to just once.
Bubbling Under:
"See You Again," Wiz Khalifa
"Cheerleader," OMI
"Firestone," Kygo, ft. Conrad Sewell
"Truffle Butter," Nicki Minaj
"10 Bands," Drake
"Pretty Girls," Britney Spears feat. Iggy Azalea 
"BBHMM," Rihanna
"I Really Like You," Carly Rae Jepsen
"Love Me Like You Do," Ellie Goulding
"Go," Chemical Brothers feat. Q Tip
"Nothing Without Love," Nate Ruess
"Girl Crush," Little Big Town
"Let It Happen," Tame Impala
"Sugar," Maroon 5
"Déjà Vu," Giorgio Moroder feat. Sia