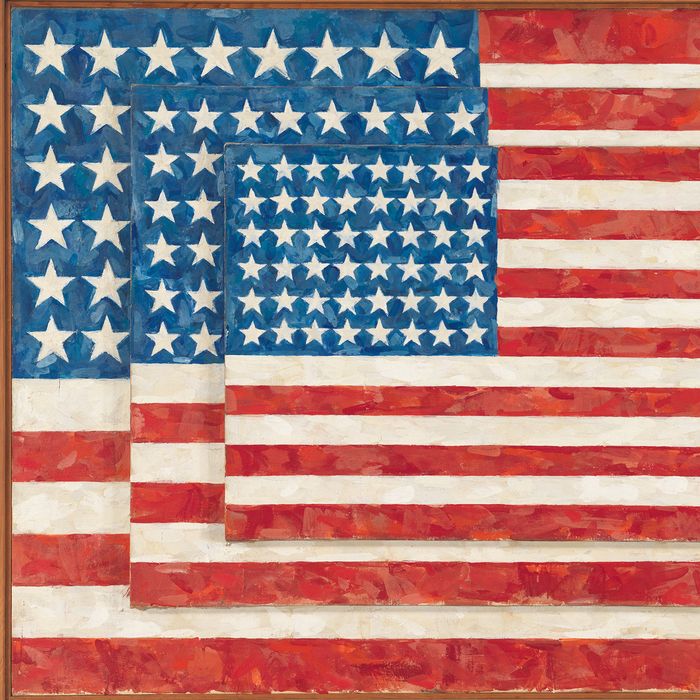 Johns, Jasper
Photo: Robert Gerhardt and Denis Y. Suspitsyn/Digital Image © Whitney Museum of American Art
Two forthcoming books approach this question from opposite sides. Anthony M. Amore's The Art of the Con recounts notorious art forgeries, thefts, and fraudulent sales with all the salacious detail of a heist movie. Noah Charney's more ruminative The Art of Forgery, on the other hand, takes a more empathetic view. "Forgers are complex psychological characters," Charney writes, "driven by many different impulses to a life of crime."
From these books, here are eight of the shrewdest, strangest, and most imaginative ruses in the history of art.
1. Wolfgang Beltracchi and the Case of the Telltale Titanium Dioxide White Paint

The con: This German forger learned his craft by copying paintings for flea markets while traveling around Europe in his youth. But after he met his wife, Helene, in 1992, his ambitions skyrocketed. Together they netted millions of dollars from Beltracchi's forged paintings, with Helene claiming she'd inherited them from her rich grandfather.
Beltracchi's tactics for fooling dealers? First, he stuck to lesser-known Expressionists and modern painters, like Max Ernst and Heinrich Campendonk, whose techniques hasn't been studied as extensively. Second, he found old canvases and frames to get the period details right, sometimes paying as much as €5,000 an item. But most important, Beltracchi earnestly channeled the artists he was imitating. "I wanted to find the painter's creative center and become familiar with it, so that I could see through his eyes how his paintings came about," he told a German newspaper.
How it was revealed: He was using a tube of paint that contained titanium dioxide white, a pigment that didn't exist during Campendonk's day and wasn't mentioned on the materials list. Beltracchi was arrested in 2010 and released from a German prison this past January. (Amore)
2. Reinhold Vasters and the Case of the Baloney Rospigliosi

The con: Vasters, a German goldsmith and restorer, started his career restoring silver for church use. During the 1850s, he labeled every piece with his own name. But after his interests veered toward the secular — Gothic- and Renaissance-style jewelry pieces — an opportunistic art dealer, Frederic Spitzer, noticed his talents. Spitzer apparently encouraged Vasters to create forgeries, which Spitzer sold in European markets, telling buyers they were from the 15th century.
How it was revealed: For some 100 years, no one was the wiser. However, in 1979, a scholar in London discovered Vasters's studio and more than 1,000 of his drawings, which included detailed instructions for assembling the works they depict, such as a brass dish and a gold pendant. At least 45 pieces at the Met — including the famous Rospigliosi Cup, made of gold and enamel — were implicated. The museum removed other items from display. (Charney)
3. Ely Sakhai and the Case of the Double-Dipped Faux-Gauguin
The con: Sakhai, who emigrated from Iran to the U.S. as a child, began his counterfeiting career at his brother's antiques shop in Manhattan. Noticing that knockoff Tiffany lamps looked just like the real ones, Sakhai copied the authenticating labels so he could sell the knockoffs for huge sums. He used those profits to buy original paintings by Modigliani, Chagall, Gauguin, and Monet. Then he re-created his antique scam on a larger scale: He hired Chinese immigrants to copy his paintings, paying them paltry wages. In some cases, he even sponsored their journeys to the U.S. "It was virtually a case of indentured servitude meets high art," Amore writes.
How it was revealed: After selling a forgery, he usually waited several years before selling the original. But in 2000, he sold a copy of Gauguin's Vase de Fleurs (Lilas) to Sotheby's in the same season that Christie's had Sakhai's old forgery up for auction. An FBI agent traced the copy back to Sakhai, and he was sentenced to 41 months in federal prison. (Amore)
4. Lothar Malskat and the Case of the Fake Lübeck 
The con: Malskat and a colleague, Dieter Fey, were commissioned in 1948 to restore frescoes in Lübeck, Germany. The frescoes had been damaged by an Allied bomb. In one section, there was no documentation for the originals, so the artists painted new ones. They claimed these images had been whitewashed over and discovered during the restoration.
How it was revealed: But later Malskat longed for recognition. He announced his scheme to the media in 1952, but Fey denied it, and Malskat wasn't believed. So he instructed his lawyer to sue Fey and himself for fraud. As a witness in his own prosecution, Malskat pointed out anachronistic images he'd included: his sister Freyda, the actress Marlene Dietrich, a turkey.
He was found guilty and sentenced to 18 months in prison. Later, the trial helped him launch a successful career painting antique-style works, to which he signed his own (now-famous) name. (Charney)
5. Brian Ramnarine and the Case of the Jasper Johns Freak Flag
The con: In 1990, Jasper Johns hired Ramnarine, an artisan based in Long Island City, to cast a wax mold of Johns's famous Flag sculpture. Johns needed it to determine how much it would cost to cast the sculpture in gold. Ramnarine wouldn't return the mold, even after he was paid.
How it was revealed: Over the years, Ramnarine made at least two unauthorized copies of "Flag," including one that he tried to sell to an auction house for $10 million. He gave his broker a fictitious letter, dated from 1989, stating the sculpture was a gift to him from Johns. He was accused of pulling similar stunts with other high-profile artists as well, including Saint Clair Cemin and Kenny Scharf.
But in 2012, a federal grand jury indicted Ramnarine on fraud charges, and Johns himself took the stand, recounting their transactions in detail. When an attorney asked whether he'd given Ramnarine the sculpture as a gift, Johns just chuckled and said no.
After Johns's testimony, Ramnarine was sentenced to 30 months in prison. (Johns was victim of another fraud by an assistant more recently.) (Amore)
6. John Myatt and the Case of the Cloned Matisse
The con: In the 1980s, the amateur British painter Myatt took out ads in Private Eye magazine offering to make an affordable copy of any given painting. Since Myatt always signed his own name, the endeavor was entirely legal.
Still, in 1986, a client — John Drewe — said he'd sold Myatt's copy of an Albert Gleizes cubist painting to an auction house, netting £25,000. Drew proposed a business partnership.
Over the next several years, Myatt produced about 200 paintings in the style of of Le Corbusier and Matisse, among others, and Drewe forged historical documents — letters, receipts, inventory notices — to demonstrate their provenance. Drewe posed as a researcher so he could sneak these records into archives at the Tate Gallery, the Victoria and Albert Museum, and other venues.
He also tricked friends into pretending to be owners of Myatt's paintings, and he tricked the family members of deceased artists into authenticating works the artists had never made.
How it was revealed: When Scotland Yard arrested Myatt, he confessed immediately and helped the detectives catch Drewe, whom he'd grown to dislike. Drewe spent two years in prison. Myatt served a brief sentence, then gained prominence with his original work. His life story has been optioned for a film. (Charney)
7. Mark Landis and the Case of the Home Depot Art Star
The con: Landis, an amateur painter with limited training at art schools, traveled the country for more than 20 years, donating forged paintings to museums. According to Charney, he wasn't seeking profits, only prestige.
Landis never paid much attention to period details. His preferred method was to buy supplies from Home Depot — about $6 per painting — and paste a digital reproduction of the original work onto a board. Then he'd paint directly onto the reproduction.
But his gifting schemes were more elaborate: He used alter-egos, dreaming up meticulous backstories and supplying fake addresses. For instance, in September 2010, he visited the Hilliard University Art Museum in Louisiana, driving a big red Cadillac, dressing as a Jesuit priest and calling himself Father Arthur Scott. He said wanted to donate a painting by Charles Courtney Curran in memory of his mother, whom he claimed was a Louisiana native.
How it was revealed: Museums started catching on in 2007. But since Landis never accepted payments or even used the donations for tax write-offs, it's unclear whether he's broken any law, and he's never served jail time. (Charney)
8. Tom Keating and the Case of the Artificial Titian
The con: As a young man painting houses to supplement his income, the British artist Keating plotted revenge against the gallery owners and critics whom he felt were suppressing young talent. (Or at least his own.) He forged works by Modigliani, Gainsborough, Titian, and Rembrandt, with "time bombs" that he believed the so-called experts would overlook: writing text in lead beneath a white painting so it would show up in an X-ray, or inserting a 20th-century object into a 17th-century painting. Sometimes he even added a layer of glycerin beneath the paint, so that if the forgery was ever cleaned, the glycerin would dissolve the paint and destroy the work.
How it was revealed: After a 1970 article in The Times of London exposed 13 Samuel Palmer paintings as fakes, Keating came forward to take credit and admitted to forging more than 2,000 works that were still in circulation. But he refused to inventory them, leaving that task to the art world instead.
Seven years later, he was arrested on a fraud charge, but the charges were dropped due to his failing health. In 1982, he hosted a TV show where he outlined the tricks of his trade. By the time he died in 1984, his pieces had become collector's items in their own right. (Charney)