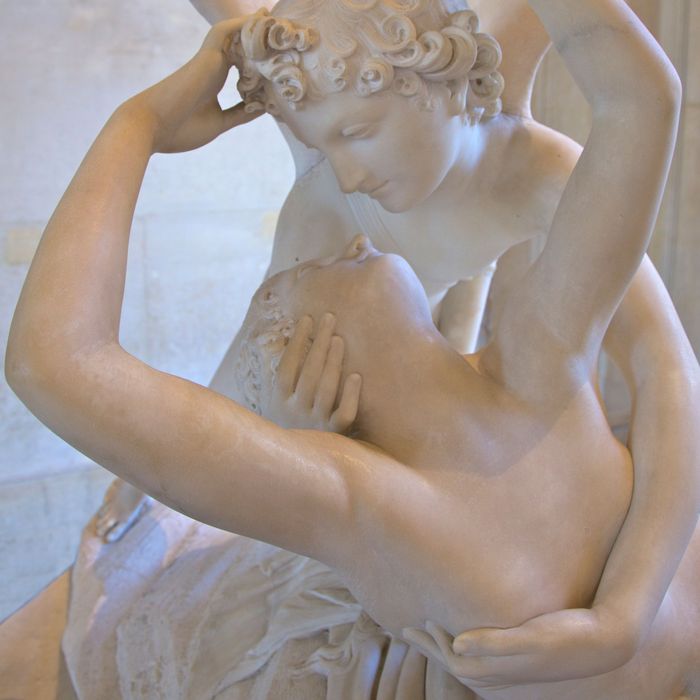 Psyche Revived by Cupids Kiss by Antonio Canova, marble sculpture, 1787
Photo: Peter Barritt/Getty
A couple of weeks ago, inspired by a nap at the new Whitney, Jerry Saltz solicited stories of people making out, or more, in museums — a pastime he worried was getting harder and harder, so to speak, now that museums were so crowded. The anecdotes told another story, and last week Jerry even showed up on "Sex Lives," New York Magazine's sex podcast, to talk about them.
Since the stories kept piling in, we figured we'd share some more (and take the opportunity to remind you that a new episode of "Sex Lives" can be found each Wednesday on iTunes orSoundCloud).
I went to the James Turrell retrospective at the National Gallery of Australia in Canberra. I was with a girl who I had been seeing for a couple of weeks, and we were pretty handsy the whole time. I was pretty into the exhibition, I have a degree in art history and have jobs in both public and commercial galleries, and so I was pretty aware of gallery etiquette.
Anyway, we were in his Wedework V 1974 installation, by ourselves but being periodically checked on by an invigilator. Without warning, this girl got on her knees, unbuckled my belt, and started giving me a blow job. We didn't say a word, she was just sucking away. Needless to say, we were soon interrupted by the invigilator, a young man, who froze and didn't have any idea what to do … breaking up oral sex probably wasn't on the agenda of the morning briefing. I grabbed my friends' shoulders and yoinked her up, tucking my willy back into my pants. The invigilator had left at this point, and I was thinking fuck fuck fuck we are so fucked. They're going to arrest us, I'll get fired, my art career will be over thanks to a fucking blow job in a James Turrell installation.
We left the room and I locked eyes with the young man. He didn't say anything and I didn't say anything.
*
We sat side by side on a bench shaped like a giant pair of glossy red lips, watching Warhol's 1967 film Kiss, made to flout American censorship rules — which then limited kissing scenes to just three seconds — by splicing together various kissing sequences into a kissing scene lasting a good 50 minutes. Lots of gratuitous, slow, achingly lovely kissing. I might have groaned a little, and murmured how much I love men's hands when one featured prominently in a scene.
We got up to leave. He pulled me behind the screen, and while a room full of people continued to watch the film, he kissed me. We kissed, groped, kissed, then kissed some more.
*
A year ago, my boyfriend and I were in Chicago. We went out to a nice restaurant and got pretty drunk in the loop, and we walked around for a bit aimlessly. Then we hopped on some of those bike shares and started biking back down to where we were in Hyde Park, but we couldn't do it all in one trip. We stopped midway at the Field Museum (the equivalent of the Museum of Natural History). There were tons of limos on one side because there was a high-school prom going on, but the front entrance was clear. At the front of the museum there is a giant dinosaur sculpture (maybe life-size?) that stands in the courtyard, and we began to fuck under it — in plain sight of anyone walking by. Some of the best sex I've had — with him on top of me, the dinosaur on top of both of us, and the Chicago skyline all around us.
*
From Salt Lake City, it takes about 2.5 hours to reach Spiral Jetty. The actual jetty is strange. It is way too big, in the middle of absolutely nowhere, and once you get to it, you don't know what to actually do there. Do you stare at it? Do you climb it? Do you throw more rocks? Do you contribute to its decay? After exploring and taking photos and being at the Spiral Jetty for a bit, my partner and I stood in the very middle of it, right at the point where the black rocks end and the pink water is against salt-encrusted rocks. We looked at the water and noticed how alone we were. "Looks like cum, right?" my partner exclaimed, pointing at the salt encrustations against the water. You can imagine what that led to. Next thing you know, we were making out right there, in the middle of the jetty, on top of Smithson's masterpiece and very, very horny. My hand started to slowly make way to his dick, and I spared no time, there I was making my way in and out of his dick. Although we both kept looking at the distance for cars, helicopters, or innocent animals, we saw nothing. The whole experience was an awesome, sloppy BJ exchange, in open air, with Smithson's jetty giving us the blessing. For a long time we swapped positions, jerked each other off, gave each other BJs, etc., until we came in the pink, salty water. We were both teenagers again, both of us getting awesome in a sneaky way, in a prohibited place. No penetration, though; in the end, we were both acting like rebellious teens (and lacked proper sex materials, like lube), right??
*
Usually I am no sucker for Old Masters. But overwhelmed by the sheer force of the majestic Prado, I went to the bathroom and wanked myself off.
*
The last time was at Hamburger Bahnhof in Berlin: My girlfriend had cheated on me some months before, and at that moment, we were trying to restart our relationship, in a very morbid way. We went to the lower level, there was a room with a video by Pipilotti Rist, I guess, and she started a shy hand job in the dark. All of a sudden, a couple of old women entered the room, and I covered my "best friend" with a cap. But we could not stop it like this, so we found the family bathroom and made love in a hurry, afraid of being discovered by German police …
*
I remember once having sex inside a wax museum in Berlin with one of the curators. He was a very handsome curator — a bit like Paul Newman, but with bad teeth. We were behind the Franz Liszt display: a dusty Liszt in a yellow brocaded coat seated on a bench mechanically, and repeatedly bent forward and sat up in front of a piano that was playing the same solo over and over again. My lover and I fruitlessly rubbed against each other. Museum patrons kept clopping past us, hidden from view by a fake wall.
"I think this I can't do," he finally told me in his heavy accent, sitting up. "Too many people. And I keep thinking how I could lose my job."
"But you do think I'm attractive, don't you?" I asked him, worried again.
He looked at me quizzically for a long moment, the piano starting again at the beginning of its loop. "Of course," he said, and paused again, a line of deep and serious concern on his face. "We both are. It is the music that makes us so."
*
About 15 years ago, my ex-boyfriend and I were visiting D.C. and spent one morning at the National Air and Space Museum as part of our museum tour. Our relationship was, for the most part, purely sexual. I recall there being a handicap access elevator to the second level, which we went into for five seconds of privacy, and when the doors closed, he slid his hand up my skirt. Once we reached the second level, we found a secluded corner where we assumed (I'm not certain) no one could see us, and he continued to finger me until I came. After that, I jerked him off and we left the museum. I wish we had spent more time there because I really don't recall what I learned there, except that I was extremely horny and my hormones got the best of me.
*
Last summer, I was visiting New York City with my boyfriend, and on day three we decided to visit the Met. After an hour of being inside, we went to the rooftop café for drinks. After consuming quite a lot of sangria (it was delicious), we returned to the first floor. Some time passed and we started fooling around, but of course, there were people everywhere, so nothing. A couple of hours passed, and while trying to navigate our way down to the Wrightman Galleries, there was a dimly lit staircase. I pulled my boyfriend into a corner, where he fingered me; next thing I knew, I had managed to pull my boyfriend's pants down to his knees, and he propped me up against the wall and entered me. He came a few minutes later, as did I.
We aren't together anymore, but I really wish he was accompanying me this summer to Barcelona.