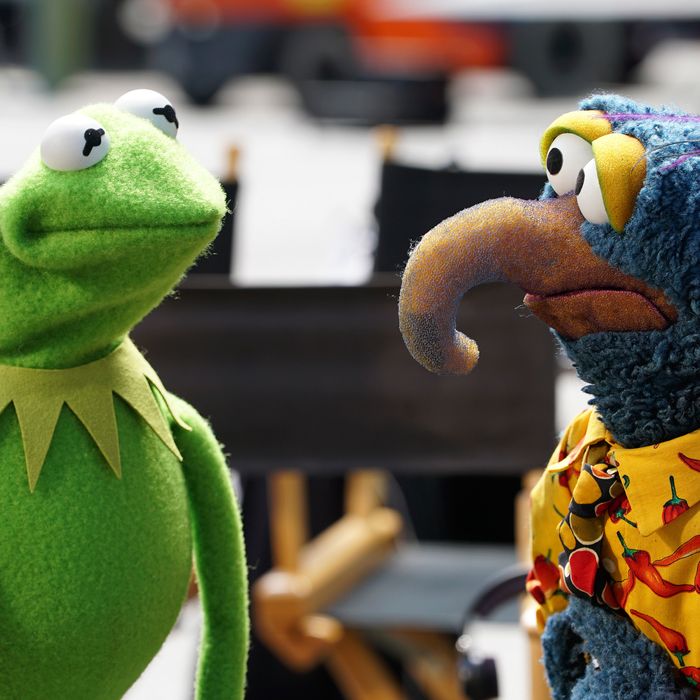 The Muppets are back in town!
Photo: Eric McCandless/ABC
While other networks make big changes to their fall schedules, ABC — the only network to improve its ratings this season — will go for stability in September: Four of seven nights will return unchanged, with the only significant shuffling reserved for Tuesday (where a revival of The Muppets will now lead off at 8) and Sunday (two new dramas). And even those adjustments are tweaks, with the network replacing canceled shows in a handful of time slots with newcomers tonally similar to what had been there before. In fact, the most notable thing about ABC's new lineup is the change it didn't make: For the first time in recent memory, its Wednesday comedy block, bolstered this season by the addition of The Goldbergs and Black-ish, will return intact.
On one hand, the Alphabet's conservative approach to Wednesday isn't a shocker, given that all four half-hours are working well together, and the stability will allow ABC to maximize advertising revenue on the night since ad buyers will know exactly what they're getting. Some had speculated ABC might shift the aging The Middle off the night in order to make room for either this season's promising Fresh Off the Boat or a new comedy. But given how many changes other nets are making, playing a pat hand probably makes more sense. Instead, ABC will try to give Fresh, which actually did fine on its own on Tuesdays, some extra support by shifting it to 8:30 p.m. Tuesday and putting The Muppets at 8 p.m. The network clearly thinks the brand appeal of the puppet franchise will be a self-starter. Agents of S.H.I.E.L.D. stays put at 9, with new FBI conspiracy thriller Quantico landing at 10 p.m. in place of the canceled Forever. 
The other nights getting some remodeling are Friday and Sunday. On Friday, ABC will insert Ken Jeong's Dr. Ken in the 8:30 p.m. slot behind Last Man Standing. Cristela held about 85 percent of the LMS lead-in this season and grew viewership in the half-hour by more than 15 percent over last season. But ABC execs are betting another show about a grumpy dad (in this case played by Jeong) will be a better fit with Tim Allen's angry-dude act. Meanwhile, with Revenge gone and Secrets and Lies being saved for mid-season, ABC will follow Once Upon a Time with the soapy Don Johnson–led Oil at 9 and the biblical saga Of Kings and Prophets. The pairing seems pretty odd on paper, and religious-themed hours (A.D., Resurrection) haven't worked on Sundays lately. But given how few changes ABC is making elsewhere, the network will be able to spend all summer marketing both new shows, and the night, as a destination. (Also, fun fact: The original name of Dallas was … Oil. Now that we've got a new version of Dynasty with Empire, perhaps ABC can strike a gusher with a reinvention of the legendary CBS soap.) 
ABC's cautious schedule also leaves it with a huge bench to tap into throughout the season, reducing reruns and leaving the network with lots of insurance should things fail (and they will). The Shonda Rhimes–produced The Catch, for example, could easily step in on Thursdays once How to Get Away With Murder ends its run in early winter. 
Here is ABC's fall 2015 schedule (new shows in bold):
MONDAY
8 p.m. Dancing With the Stars
10 p.m. Castle
TUESDAY
8 p.m. The Muppets
8:30 p.m. Fresh Off the Boat
9 p.m. Marvel's Agents of S.H.I.E.L.D.
10 p.m. Quantico

WEDNESDAY
8 p.m. The Middle
8:30 p.m. The Goldbergs
9 p.m. Modern Family
9:30 p.m. Black-ish
10 p.m. Nashville
THURSDAY
8 p.m. Grey's Anatomy
9 p.m. Scandal
10 p.m. How to Get Away With Murder
FRIDAY
8 p.m. Last Man Standing
8:30 p.m. Dr. Ken
9 p.m. Shark Tank
10 p.m. 20/20
SATURDAY
8 p.m. Saturday Night Football
SUNDAY
7 p.m. America's Funniest Home Videos
8 p.m. Once Upon a Time
9 p.m. Oil
10 p.m. Of Kings and Prophets