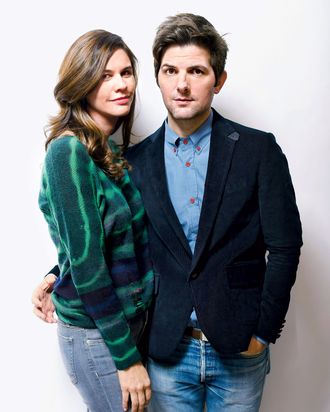 Adam and Naomi Scott, who collaborated on the Sundance hit The Overnight.
Photo: Jeff Vespa/WireImage/Getty Images
In the backyard of Adam and Naomi Scott's home in Lake Hollywood, Adam and I are standing over the shreds of a Nerf football. It's been ripped up by some anonymous creature. Could be anything. "You know, there's a mountain lion in this neighborhood," Adam says, squinting into the sun, which shines over a ridge of trees.
The house — large but not over-the-top, with panoptic views for miles — could be in a brochure for California. Tall windows, gleaming walls, and an awkwardly big foyer, about which Adam says, "What do you do with this?" A piano and a Lego Death Star peek out of the two kids' rooms. As Adam shows me around, Naomi is setting up for lunch — pizza from Jon & Vinny's, the new place from the owners of Animal and Son of a Gun. When we meet in the kitchen, Naomi says, "I hope you didn't find all my secrets of how to hide stuff from guests. Don't open a closet door." Adam, quickly: "Oh, I didn't open any closets." "Don't look in the bathtub," Naomi says. Do they think I would? "There are nosy people who would do that!" Adam: "Oh, yeah."
A few minutes into The Overnight, the Sundance hit that Adam stars in and Naomi produced, an L.A. pizza night turns very strange. Adam plays Alex, who moves with his wife (Taylor Schilling from Orange Is the New Black) to Los Angeles from Seattle with their young son. They don't know how to meet anyone, and they don't quite understand a city where "summer pants" are a major issue. At a local kid's birthday party, they meet Kurt (Jason Schwartzman), dressed like a Mennonite rock star, who introduces himself as the "mayor of this neighborhood" and invites the couple to come over that night for dinner. Once the kids are put to bed, the evening veers into a cascade of wine, a tree-size bong, a frisky swim, and a video of Kurt's wife that is racy in a way you'd never anticipate. From there, sexual mores and nudity are explored far beyond the range of your average indie comedy.
It's the first feature from Adam and Naomi's Gettin' Rad Productions — they chose the name for its sheer terribleness — after almost two decades together. Both Northern Californians, they met in 1998, when they were in their early 20s; he was acting, she was producing early internet chat shows. They were introduced at a Sunset Boulevard bar, "and then Naomi left promptly," Adam says. "I heard 'actor,' " she explains. She came around once she saw him onstage. They got married in 2005.
Later on, they would make comedy out of their suspicion of Acting with a capital A. In 2012, inspired by an overwrought documentary and an old Chris Elliott sketch on Letterman, the couple made The Greatest Event in Television History, a 15-minute one-off that turned into four episodes for Adult Swim. Written with Paul Scheer, the videos focus on a fictionalized version of Adam, insecure and fame-obsessed, who re-creates, shot for shot, the opening credits of old TV shows.
The angst was real. "I find acting embarrassing," Adam says. "I find the idea of acting embarrassing. I also find that other actors are embarrassing" — as Naomi starts to giggle — "and when I see them talk about themselves or about acting or about film, I find it embarrassing that I'm among them. I think the whole thing is embarrassing."
At the time, he'd just worked on Party Down and Step Brothers, and he was into his run on Parks and Recreation. Naomi, after a stint on Jimmy Kimmel Live, was producing pilots, including a puppet show involving Kanye West called Alligator Boots.
"That's where Kanye met Kim, I'd like to point out," Naomi says.
"He wanted Kim to come play a role in it, right?" Adam says.
"He wanted her to come and be dressed up as Princess Leia in Return of the Jedi."
On these projects, Adam and Naomi discovered that they teamed up well. "I don't think in a particularly organized way at all — I'm kind of awash with chaos," Adam says. "And Naomi can really put things into slots and make things work."
"Adam's … you're an extremely humble person," Naomi says. "I was looking around and saying, 'So many people want to work with you,' and I helped put all those pieces together to actually make something."
"I just never believed anyone," Adam says.
After The Greatest Event, they wanted to make a feature. Following a false start or two, their friend Mark Duplass brought them the script for The Overnight, and although Naomi really liked it, she was concerned that all the sex might make Adam uncomfortable if she worked on it.
Adam, for his part, was just uncomfortable. "Jason's character creeped me out, and the nudity and stuff freaked me out, but usually when you try to get a script going, there's a 7 to 10 percent chance that it'll ever happen. So I thought, Yeah, let's try," he says. "But I'm married to a very tenacious, aggressive, organized producer— "
"Aggressive!" Naomi says, laughing.
"—so nine months later we have a date to start shooting and I'm like, Oh, shit, I have to do all this stuff."
"All this stuff" included a full-frontal scene with a prosthetic penis. (Schwartzman got one, too.) Naomi had to place the order. "I emailed David Wain [the director] and asked, 'Hey, remember Joe Lo Truglio in Wanderlust? We want a penis that looks as good as that penis did.' He got back right away and said, 'Try this guy Matt Mungle, who's pretty well known in the Valley.' "
"In the penis world," Adam says.
"We're on the phone talking about girth and length and texture and hair, and I'm trying not to laugh," Naomi says. "And they gave us a great rate." In fact, The Overnight was made for almost no money — they won't reveal how much, but it's been reported as $150,000. They shot at night, at a neighbor's house, with the cast in their own clothes and Naomi working as first assistant director, costume designer, locations manager, therapist, and prosthetics assistant.
Despite being a comedy full of dick jokes, the film is serious about the way our relationships calcify. "This idea of reinventing yourself at every stage of your life — I just love that idea," Naomi says. "I constantly feel like, Oh my God, have I lost completely who I am? Because I was fucking fun and awesome, and now I am stressed and someone who tells her kids to do this and this?" Adam jumps in: "You get to a certain age and you get married and have a family and your roots become pretty deep, and you feel you have to be a rock, and that maybe you should stop changing." And with that he has to run.
*This article appears in the June 1, 2015 issue of New York Magazine.