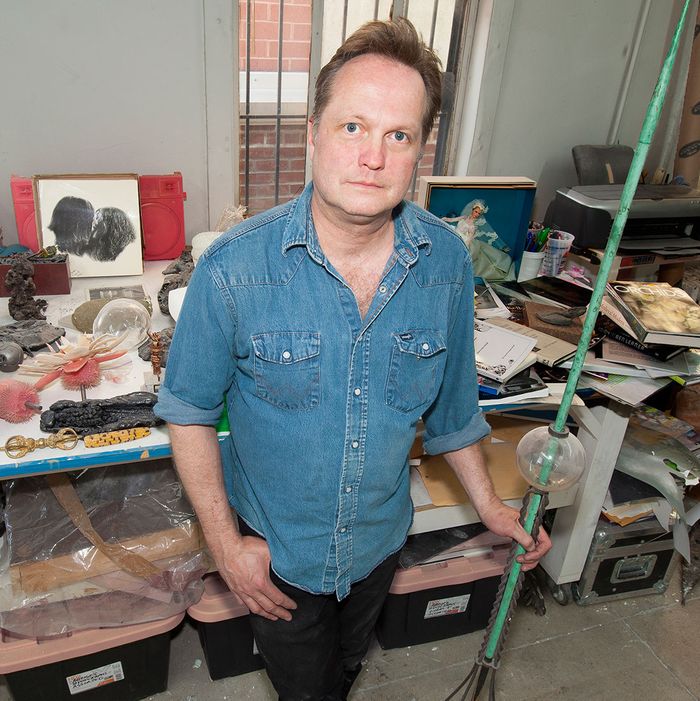 Keith Edmier in his studio.
Photo: Sarah Trigg
Behind an inconspicuous door on the 16th floor of a normal-looking office building near Penn Station, you will find a hidden stairwell flanked with piles of flesh-toned resin slabs. The top of the stairs leads right into Keith Edmier's studio — the tight narrow space between the building and the sky perched just beneath the building's lighting rod. In fact, thunderstorms, such as those depicted in the 19th-century paintings of Martin Johnson Heade, are one of the dozen or so explored themes underlying Edmier's exhibition "Regeneratrix" opening May 9 at Petzel Gallery in Chelsea.
A foam core model of the exhibition — with a noticeable crack in the gallery's skylight — inhabited most of Edmier's floor space. "I got interested in the whole story of the birth of Aphrodite born from sea foam of Chronos castrating his father Uranus," Edmier says. "I wanted something to fall from the sky and essentially impregnate the space. There's an actual object that goes through the glass, which is a sculpture that is going to be shown in the front space called Hieros gamos, which is the ancient Greek word for this sacred union of an immortal god or goddess with a human. The sculpture is a one-to-one reproduction of the cap that rests on the top of the Washington Monument. I've been interested in lightning for a long time. I got interested in this idea of lightning, this force of nature, striking the building. I, indirectly, at the time, was reading about Walter de Maria making this piece and his lighting field. I read some Ph.D. dissertations on him and was kind of frustrated because I wanted to hear more about lightning!" he says, laughing. "It was more about the grid, but it got me interested in lightning rods and I started looking into lightning rods in America. And in regards to this one for the Washington Monument, nobody knew how to cast aluminum at the time. They wanted to crown what was the tallest building in the world (then) with this metal to symbolize America's ingenuity. So they made this thing and realized quite quickly that aluminum is a bad conductor. A couple months after installation, lightning struck and cracks formed, so they had to build this gold-plated copper thing, almost this crown of thorns." Edmier's version has a crown of myrtle, which is the sacred plant of Aphrodite.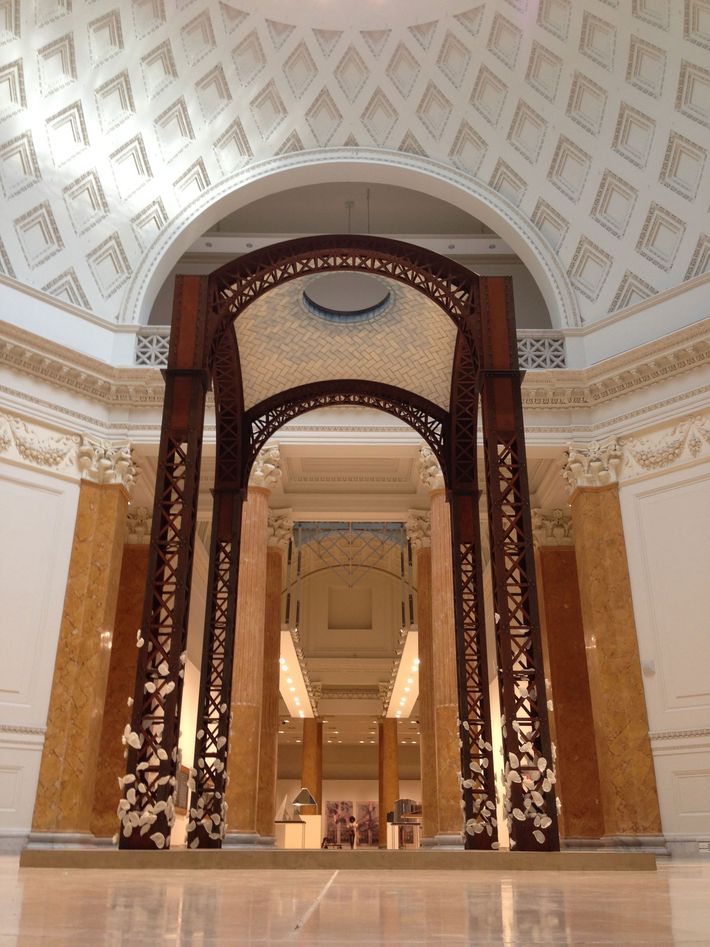 According to the artist's densely layered narrative beginning with the birth of Aphrodite — a force of nature has impregnated his installation inside, titled Penn Station Ciborium, 2012–13. This architectural dome is built of ironwork from the (tragically destroyed) original Penn Station; casts of oysters shucked at Grand Central; and, in its fertile center, DNA-like remnants from Edmier's studio from 1995 to the present mingling in soil surreptitiously excavated from the Meadowlands in New Jersey (where the limestone of the former Penn Station rests). Originally born in Rome in 2013 for an exhibition titled "Empire State at the Palazzo delle Esposizioni," Edmier's installation also bears resemblance to ancient Roman architecture and the glass-and-steel exhibition halls of the 19th century. As well, the herringbone-tiled ceiling pays tribute to Rafael Guastavino — the architect of the domes in the Grand Central Oyster Bar, the former Penn Station, and St. John the Divine.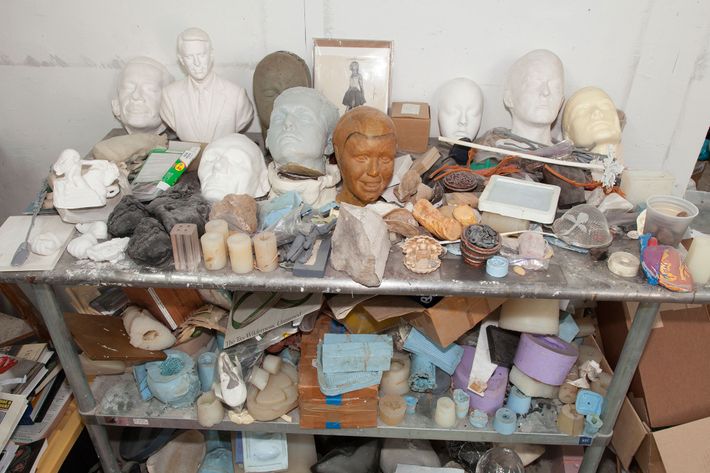 Regenerative childbirth and autobiographical references have emerged as common themes in Edmier's practice before. For example, in his Beverly Edmier, 1967, 1998 a life-size figure of the artist's mother lifts her Jackie Kennedy–inspired outfit to show her transparent belly bearing a fetus-age Edmier. The artist is also well known for his enormously scaled resin sculptures of flower species that are hermaphrodite in nature and therefore auto-generating. Many parts of past castings and molds populated Edmier's studio.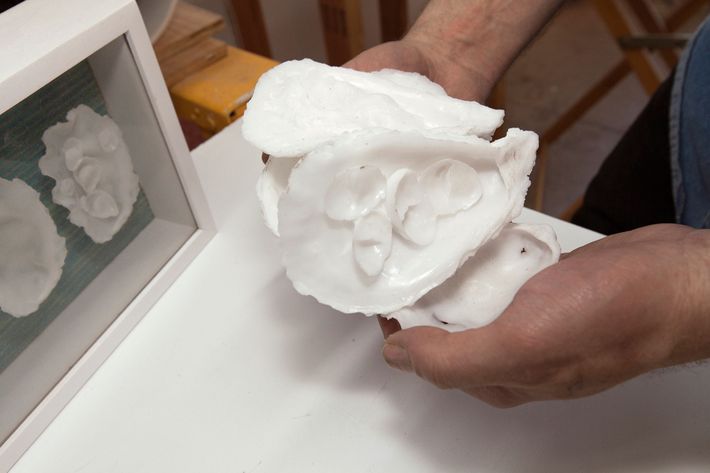 "A lot of the show has to do with how the city is changing so much. I was really interested in how concrete from destroyed buildings used to be thrown in the ocean and became reefs for sea life. I started researching these artificial reef balls that encourage oysters to grow in order to filter water and create beneficial algae blooms. And this led me to oysters' relationship to New York — how they used to be this primary food source but now are a symbol of this natural ruin. That, in turn, led me to reconstruct Bernini's childbirth [at the St. Peter's Basilica of a woman's face in various states of agony] with cast oysters from a bar in New York. Most of my stuff is cast from life," he says. Pictured in Edmier's hands is one with spat, the baby oysters that grow on the shell.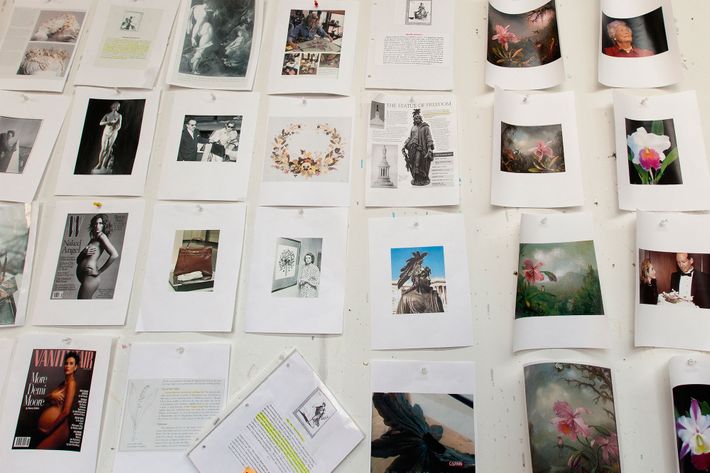 Edmier's densely packed iconography leans on the book series by the 17th-century Italian iconographer Cesare Ripa — an encyclopedic resource for Baroque artists, writers, and playwrights on how to represent vices, virtues, and states of mind. Edmier pulled out a dozen or so five-inch binders packed with pages from the book. Tacked to the studio wall was Edmier's 21st-century version including images of orchid hybrids associated with each First Lady, which he cast for his exhibition and a magazine cover of a pregnant Cindy Crawford. As Edmier discovered, the cover was shot by the photographer Michael Thompson in the space that is now Petzel Gallery. In Edmier's exhibition, a copy of Thompson's Crawford photo is available for purchase alongside Edmier's drawing on a lithographic stone of a Crawford-Venus figure but with Demi Moore's arm borrowed from the famous Vanity Fair cover.
"Something reminded me that I had seen this image before through Ripa — this image of the Medici Venus," he says. "Ripa uses these different sources — a mashup of Greek and Roman, biblical stuff, things he's made up — this kind of hodgepodge. So I got interested in this idea of using these goddess myths and bringing it into the present using real people. The sculptures generate through stories and mythologies but also as life cycles and reproducing themselves."
Venus's Greek counterpart Aphrodite and her lovers was another loaded connection for Edmier. He says, "I was interested in Hermes and that they had this child Hermaphroditus. The first thing that comes up is the luxury brand, which quickly connected to Grace Kelly. She had this Hermès bag that was named after her, the Kelly bag, and there's this story (which turned out to be a myth) that when she was first pregnant she used it to shield from the paparazzi her growing belly. So the bag became this surrogate womb, and I reproduced it in glass. Inside is a reproduction of Grace Kelly's bridal bouquet — lilies of the valley which are a hermaphroditic flower. I had to buy a bag and cast it. I didn't know what I was getting into. There are waiting lists, but I was able to find one on Ebay that wasn't too expensive. I didn't ruin it [through the casting process] — it's at the gallery now."
"Grace Kelly was really obsessed with flowers and later in life she did these collages and exhibited them in Paris in the late '70s, early '80s, before she died. I was really intrigued by these wreaths she made because wreaths come up in the Ripa personifications. This was a book that was kind of a bible for doing this, which she wrote, My Book of Flowers. For my artworks in the show, I got a few flowers that were named after her. I got interested in the idea of a ghost exhibition, this conversation. And I realized there were these flowers that she and I both used."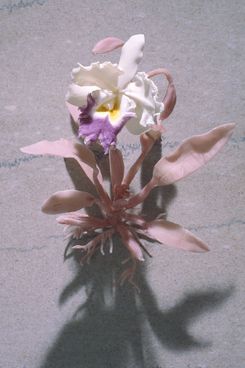 The three works in the exhibition related to Grace Kelly are based on Ripa personifications — one has laurel leaves titled Conversation; another with oak leaves, Emulation; and the third with palm fronds called Virtue. Flowers take on enormous importance within Edmier's practice. As an example, the orchids in the aforementioned Meade paintings led him to find specific Cattleyas hybrids which introduced him to the First Lady orchids. "I wanted to make portraits of the past four First Ladies via these orchids, so I cast them and extracted them so that all the leaves and the root system are cast in dental acrylic. They're resting on 'Tennessee Marble,' which is sedimentary limestone made of marine organisms, fossils of extinct sea life [note the limestone in the Crawford piece]. It's also this material that was used on the floor of Grand Central, Penn Station, Lincoln Monument, etc. And also — this is the origin of fossil fuel."
Sarah Trigg is the author and photographer of STUDIO LIFE: Rituals, Collections, Tools and Observations on the Artistic Process.