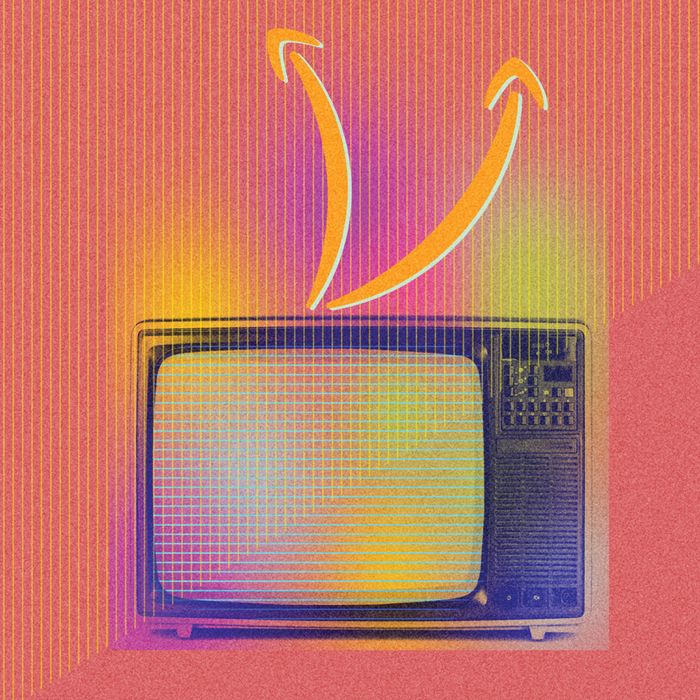 Pitching a new TV show to networks and studios, explains Ben Watkins, a showrunner for Burn Notice, is a bit like applying to college, where you sit down and think, What are your reaches? What are your safety schools? What are your fallbacks? "It's the same with TV outlets," he says. It's not controversial to say that when Amazon Studios was started, in 2010, it was no one's idea of TV's Harvard. In fact, back then, Amazon was best known for soliciting scripts from anyone, to be submitted through its website. (Only two such shows — a comedy called Those Who Can't and a kids' program called Gortimer Gibbon's Life on Normal Street — even made it to the pilot stage.) By 2013, when Amazon Studios released its first slate of original pilots developed more traditionally, it still seemed not quite ready for the Ivy League. The only show from that batch that you have likely heard of is Alpha House, created by cartoonist Garry Trudeau, and that's probably because at one point you thought, Hey, look, John Goodman's doing a show on Amazon. The programs that weren't picked up were even more forgettable.
So when Watkins was shopping his new project, Hand of God, he had a few outlets in mind — his reaches, his safety schools, his fallbacks — and, given his show's content, he expected some level of pushback from all of them. Hand of God is, to put it mildly, potentially controversial. It follows Pernell Harris, a grizzled, foulmouthed, prostitute-frequenting judge, played by Ron Perlman, who believes he's receiving visions from God that will aid him in tracking down his daughter-in-law's rapist, encouraged by the ministrations of a charlatan Evangelical and helped by the muscle of a Scripture-quoting psycho. "I fully anticipated that whoever decided to make the show would ask me to change the title," says Watkins. "I fully anticipated they'd be wondering, Once this show hits the air, who's going to mobilize and protest against it?" Given Perlman's previous involvement with FX on the hit show Sons of Anarchy, and FX's reputation for edgy material, Hand of God seemed like (maybe) a good fit there — but it didn't mesh with the channel's programming needs at that particular moment. Other outlets were interested, but discussion got bogged down with the changes that might be required. Then Watkins met with Amazon. All they said was, he remembers, "We want to take a shot."
After the one-hour pilot debuted in August 2014, Watkins was pleased with the online response. He had no idea about the actual viewership numbers — Amazon not only doesn't share them with the public but also doesn't share them with the show's producers: "We just want them to focus on making fantastic shows," says Amazon Studios head Roy Price — but Watkins was cautiously optimistic. Then he got called in to meet with Price; Morgan Wandell, the head of drama; and Carolyn Newman, a development executive. They discussed the success of the pilot. Then the execs mentioned its more controversial elements, which had aroused some outcry online. Watkins got nervous. One of them asked, "Do you plan on hitting those same hot-button issues if the show goes to series?" Watkins got a little more nervous. He worried the fate of the series was hanging on his answer.
"Well, that is kind of what the show has to do," he told them.
"Good," said Price. "Give us more of that." Then he ordered nine more episodes.
Since its founding, Amazon Studios has been playing a kind of TV version of Moneyball. To compete with companies with bigger staffs, more prestige, and a more established track record, Amazon has had to look for an unexploited competitive advantage — and Price thinks he's found it in simply making the shows no one else is willing to make. "There's something exciting about an idea that no sensible network executive would do," he says. "That's an excellent sign that you're in uncharted waters. And that's where we should be."
This might seem like empty rhetoric, if not for the fact that Amazon's surprise flagship show Transparent has been a huge critical success, winning a Golden Globe for Best Actor in a Comedy (Jeffrey Tambor) and another for Best Comedy Series, as well as the hearts of dozens of vocal TV critics surprised to see something so original on TV. (Not to mention from Amazon Studios.) On paper, Transparent, which is about a prickly L.A. family with a gender-transitioning retiree dad, is not anyone's idea of a surefire win. It's the kind of show that no network would touch, premium cable would likely approach with caution, and only an upstart outlet looking to make some noise would move quickly to snatch up — which is exactly how it played out for creator Jill Soloway. "The broadcast networks have to represent the interests of potential advertisers," she says. "So brands need to like the show." As for the upper echelons of premium cable, "HBO and Showtime were both interested, but no one was saying, 'We have to make this right now.' Amazon did. They wanted to let me shoot it right away. I didn't really want to be in the mix with Showtime or HBO buying ten other pilots and developing them, and maybe a year later I find out if they're going to shoot my pilot or not."
Transparent is an unusual case, because it wasn't just an intriguing idea Soloway had stumbled on. It was, in fact, an intensely personal story for her, since her father had come out as transgender. After she wrote the script and presented it to TV outlets, her plan was, if everyone passed, to make it herself as an independent movie. So Amazon made her a highly unusual offer. It agreed to finance the pilot and, if the studio didn't order the series, Soloway could get the footage back, which she could use toward her movie. "It literally felt like a production grant," she says.
The subsequent success of Transparent offered a new way forward for Amazon. The studio's initial programming strategy had less to do with producing innovative shows than it did with promoting an innovative way of choosing shows; basically, Amazon would present pilots to the world, and you, the viewer, would have some say in which ones got picked up. However, of the slate of pilots released in February 2014, which included Bosch (a cop show based on the popular series of books by Michael Connelly, with a built-in fan base) and Mozart in the Jungle (originally developed for HBO, and starring Gael García Bernal), both of which were picked up, Transparent was the lowest-rated show by fans. Still, Amazon knew what it had on its hands: a chance to finally stand out. "We really, really did not want to have a bunch of shows that seemed like the best shows that didn't make it onto CBS's or NBC's schedule," says Price. "Honestly, if you put together a network comprised of that kind of thing, no one would care about it. It wouldn't have some value. It would have no value."
The problem with Transparent, as a blueprint for Amazon, is that it's a difficult process to replicate — a project born of a creator's singular personal story and never really intended for TV at all. Still, says Joe Lewis, the head of comedy, "we can ask ourselves, What was the inherent nature of that show? It started with a person who'd both run a TV show and directed an independent film. Can we find another one of those?" Post-Transparent, Amazon saw an opportunity to become something different: auteur TV. This means embracing a philosophy that's as much about making bets on people as on programs. "Do I think we can find the next Transparent?" Lewis says. "I'd be upset if we didn't find the next ten of them."
This approach has already led to new comedy projects from name-brand auteurs like Steven Soderbergh and director David Gordon Green (Red Oaks), Whit Stillman (The Cosmopolitans), and, most recently, the name-brandiest of all, Woody Allen (whose show is so far titled, inevitably, The Untitled Woody Allen Project). It's too soon to know how well this is working: Red Oaks was ordered to series, The Cosmopolitans is in limbo, and the Woody Allen show will be whatever it will be, whenever it arrives. "With some people," says Lewis, "it's worth it to roll the dice and let the person surprise you." It's worth taking a risk on whatever Woody Allen will do, if only so you can tell the world Woody Allen is doing it for you.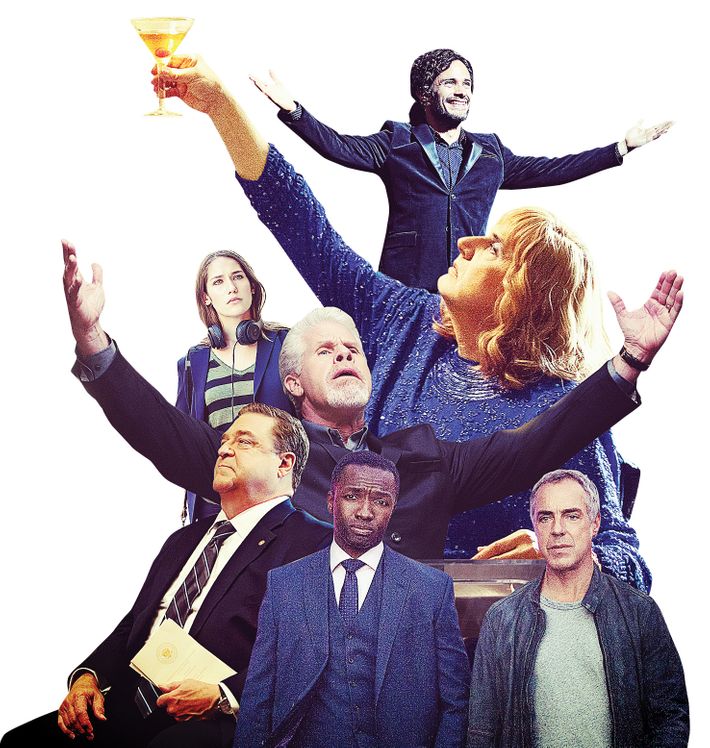 A common affliction among fledgling TV outlets is the curse of the First Big Hit. Looking to make a name, you pick through other outlets' leftovers, you take a few big swings, then, it is hoped, you stumble on a standout show or two that will define your identity. It's The Sopranos and Sex and the City for HBO; Weeds and Dexter for Showtime; House of Cards and Orange Is the New Black for Netflix. Then you spin your wheels, spending all your resources trying to replicate that formula. "What happens with some of these companies is they start off having to make a splash and find that thing that's going to put them on the map," says Watkins. "What gets lost as they get more successful is that trailblazing attitude." In other words, you luck early into Breaking Bad and Mad Men, then you wind up greenlighting Hell on Wheels and Turn. "Look at HBO — 20 years ago, they were airing Dream On," says Richard Greenfield, a tech and media analyst at BTIG. "Look how long it took them to go from Dream On to The Sopranos to Game of Thrones. This is never an easy road, and it's littered with failures."
For Amazon Studios, though, the most pressing question in all this may be, Why bother? Unlike Netflix, which is making the logical transition from content-delivery service to content-creation-and-delivery service, Amazon Studios is just one limb of a multi-appendaged beast. Amazon Prime, the subscription service that gives you exclusive access to Transparent and other original shows, started in 2005 as a yearly fee that offered you free two-day shipping. It's not an obvious evolution from that business model to one that involves producing TV shows about transgendered older men. Amazon does not reveal the number of Prime members — in the tens of millions is its coy answer — but an outside survey revealed that Prime members spend about twice as much at Amazon as other shoppers do. There's also a constant corporate imperative to get more subscribers. In 2011, Amazon added streaming video as a Prime benefit, licensing movie and TV-series rights from existing studios as an added incentive to join up. "Media and entertainment has always been an important part of driving overall consumption on Amazon," says Greenfield. "It used to be DVDs and CDs. It was a way to get you in the door. And as you morph from a world of ownership to one of access, it was natural for Amazon to pivot to the access-to-content game." Now, however, licensing fees are increasingly expensive, bidding is increasingly competitive, and there are so many entrants in the streaming-content arena — Vudu, Google Play, Hulu, and so on — that, as Greenfield says, "iconic original programming that's exclusive to you is the only way to differentiate yourself." Which means all you have to do is create iconic original programming. Simple, yes? Yet Amazon Studios sees this situation as another kind of Moneyball advantage. Amazon doesn't have a schedule to fill. It only needs a few select hits that a core audience will be passionate about. "As we like to say around here, we're not in the business of being 10 million people's third-favorite show," says Wandell. "We're in the business of making someone's favorite show."
The other challenge is distinguishing yourself from all those outlets now trying to create iconic original programming. Amazon has already found a way to differentiate itself from its most obvious competitor, Netflix, which has leaned more heavily on splashy acquisitions, such as original name-brand superhero shows and the Tina Fey–created–and–produced comedy The Unbreakable Kimmy Schmidt, which was originally developed by NBC. While Netflix made a deal for Marvel's Daredevil and others, Amazon made a deal with Spike Lee — which, of course, sends its own kind of message to both viewers and creators. But it's a tricky path to navigate: Branding yourself as the consistent source for singular visions is borderline oxymoronic. And, of course, a lot of those singular visions won't pan out. Neither Red Oaks nor The Cosmopolitans was as well received as Transparent.
To attract auteurs, Amazon Studios has positioned itself as an underdog that strives to be hands-on and personal; for example, it has a relatively bare-bones staff of development executives and a reputation for eliminating the one thing that universally drives creators bonkers: excessive overnoting. Soloway deals with feedback from just one executive at Amazon. Explaining this, she almost can't believe it. "Usually, a show is a braid of what you want, what the studio wants, and what the network wants," she says. "It's just because there are a lot of people at each of those levels you need to deal with. For me right now, that number is one. It's one person. His name is Joe." She likens it to a '70s indie movie studio. Of course, it's a boutique studio that happens to be cosseted inside the daunting behemoth that is Amazon — which, from the creators' point of view, gives it more creative independence. "If you go with Netflix, they do one business. They deliver content," says Watkins. "Amazon has this huge corporation, where original content is just a small portion — which gives them some freedom."
The spirit that informs Amazon Studios is in many ways the same spirit that informs the divisions of Amazon that came up with the Kindle, the Amazon Fire phone, and the Amazon Echo (a piece of hardware that sits in the middle of your living room, listens to you, and answers your questions, like Siri, if she lived inside a vase). Amazon's Kindle is a hit, the Fire phone is a flop, and Echo is far from making it to the market — but the approach to developing each is always the same: Spend money. Spend more money. See what happens. And unlike in, say, the world of publishing, where Amazon has developed a reputation akin to that of the Death Star, in the TV world, the stability of the mother ship grants the nimble studio division the license to take risks like Hand of God. As he works in L.A. on the show's first season, Watkins understands his boundary-pushing show may now exist theoretically as part of some larger consumer-ecosystem strategy. "If you're at Amazon, and you watch an original show, they're able to follow your shopping patterns," he says. "Do you go order a Ron Perlman movie because you've seen the show and now you want to watch Hellboy? All that stuff goes beyond just how many eyeballs are on it."
If all that means he gets to make the show he wants, with the title he wants, for people who are going to push him toward controversy rather than argue he should pull back, he's all for it. "Even when they've expressed slight concerns — this feels risky, or this is definitely out there — they're open to it," Watkins says of the new season. "They always say: 'Let's do it. Let's take a shot.' "
*This article appears in the May 4, 2015 issue of New York Magazine.