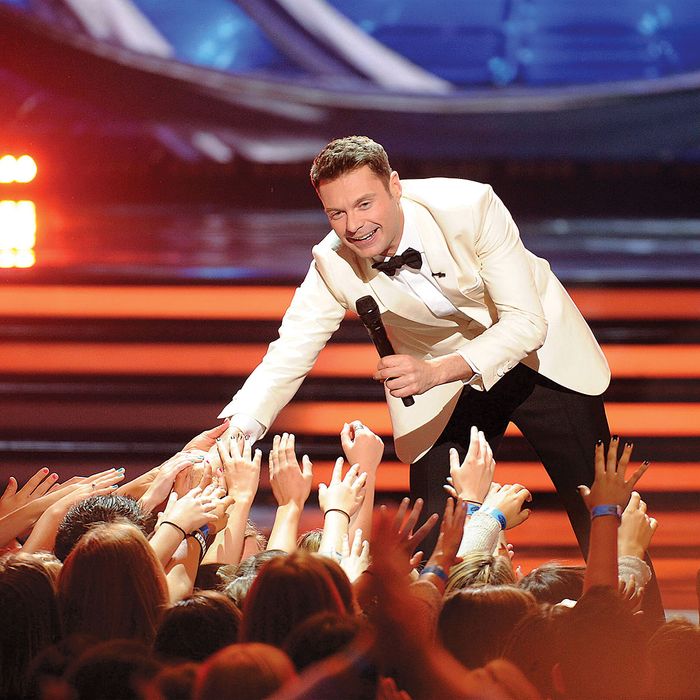 Idol host Ryan Seacrest.
Photo: FOX/2014 FOX
This … is the end of an era: Fox has canceled American Idol, announcing the iconic talent competition will call it quits after returning for a 15th and final season next January. All three current judges will return for the final go-round, along with host Ryan Seacrest. While the show's ratings collapse over the past three years makes this news not particularly unexpected, it is nonetheless a significant development in American TV history. Idol was, for much of its run, the most dominant show on television — by a mile.
Based on a U.K. format, Idol launched as a surprise hit during the summer of 2002, the last of five enduring, blockbuster, genre-defining reality shows TV produced over a two-year frame. (The four other shows: Survivor, Big Brother, The Amazing Race, and The Bachelor.) After growing its audience threefold during the course of its first summer season and turning Kelly Clarkson into a megastar, Idol spent most of the '00s as TV's No. 1 show, averaging between 25 and 30 million viewers per episode every season between 2003 and 2010. Because Fox aired three (and sometimes four) hours of the show each week, the halo effect of Idol made up for all sorts of other programming sins, letting the network coast to victory among viewers under 50 for the better part of a decade. Unlike imitators who followed, Idol for years also produced big stars and hit songs.
The tide turned for Idol after original host Simon Cowell left the show at the end of its ninth season in 2010. Ratings didn't immediately collapse. But Cowell didn't just leave Idol; he departed to launch an American version of The X-Factor on Fox in the fall of 2011. Even though they aired on the same network and at different times of the year, Fox's decision to double down on music competitions — airing both X and Idol during the same season — diluted Idol's specialness. Making things worse, right before X could premiere, NBC managed to rush on its own music competition, The Voice. After pretty much having the music competition space to itself for years, suddenly Idol had two big rivals. The result: January 2012, the first Idol season after the premieres of X and The Voice, opened with the show's smallest premiere audience since 2003. Ratings, particularly among younger viewers, have fallen sharply every season since then, and Fox this season cut Idol down to just two hours per week. A show that for a decade never fell below 20 million viewers for any episode last week fell to under 7 million same-day viewers.