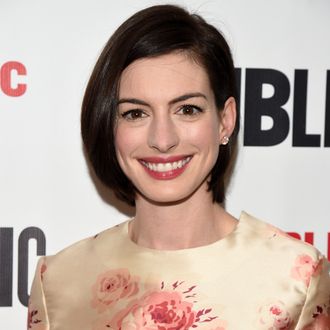 Anne Hathaway, your newest Jet Jaguar.
Photo: Bryan Bedder/Getty Images
Likable star Anne Hathaway has a new gig: She's set to star in Colossal, the upcoming film from Timecrimes director Nacho Vigalondo, which The Hollywood Reporter calls "Godzilla meets Lost in Translation." That's not a joke — Hathaway will play a wayward young woman whose quarterlife ennui is interrupted by the discovery that she's connected through a mind-meld to the destruction of Tokyo by a gigantic lizard. "Colossal is my most ambitious script so far, and probably also the most personal one," said Vigalondo, in the understatement of the year.