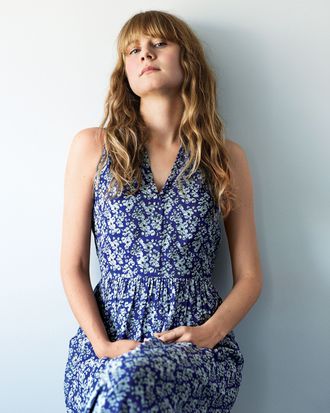 Annie Baker, playwright of Pulitzer Prize–winning The Flick.
Photo: Brigitte Lacombe
"I don't find tech rehearsals excruciating," says Annie Baker, whose 2014 Pulitzer Prize–winning play, The Flick, is starting a commercial run at the Barrow Street Theatre this month. "They're endlessly fascinating to me." For most people, tech is torture: days and days of glacial progress through a production's every lighting cue, sound effect, scene change, and prop placement. The Flick follows the workers at a shabby movie theater near Worcester, Massachusetts, as they go about their jobs between shows — mopping up soda, removing gum, sweeping away the endless tides of popcorn — so there's a lot to get exactly right. The play is three hours long, and Baker hates it when actors "fake clean." Even the popcorn requires rehearsal: When the play was originally produced, at Playwrights Horizons in 2013, it was scattered between scenes by a special blower. Still, a mouse ran across the stage during a show and into the blower, which ate it up.
"This play is more of a remount, so tech isn't quite as much of a mindfuck as it usually is. We're making a lot of the same choices," says Baker. "Design is 70 percent of the theatergoing experience," she adds — somewhat surprisingly for a playwright — "so tech is when the play goes right or terribly wrong." Her brand of realism, which works a slow magic or none at all, is unforgiving of approximation. "I have a really fanatical side," she easily admits. The cinema has to look precisely like the kind of place that would still be showing 35-mm. films on 35-mm. equipment long after most of the rest of the country has gone digital, since part of the play's nimbus of meaning is the loss incurred when we no longer value things (and people) for what they inherently and genuinely offer.
To which end, one day after rehearsal breaks up, Baker has an errand to do. We walk through an April rain — Baker a beanpole wrapped up in a trench coat — from the theater to the West 13th Street office of Jake Perlin, a distributor specializing in restored works and an enthusiast who collects odd bits of film. Baker, who is 34 but looks like a teenager, with bright-blue eyes and a cascade of ginger hair, explains that she is unsatisfied with the trailer for Billy Wilder's The Apartment they were thinking of using during the play. Not that anyone can tell what they're seeing, since it's projected from the back of the stage into the audience's eyes. The only things discernible are color and flicker: changes in the quality of the light. Baker is looking for more flicker, and an "orangier" tone.
Perlin shows her various trailers that might work, on five-inch spools as outmoded as typewriter parts. Even though there's no way to guess the quality of the images, Baker gets very excited, handling them like relics. "I'm so, so sad about how hard it is to see movies made on film on film right now. It is a totally different viewing experience and medium."
You could say the same about her plays, which even in the case of The Flick do not try to mimic movies, as many contemporary plays do, but to marshal the ancient resources of the stage toward experiences only it can provide. The theater is not "an especially intellectual or difficult art form," Baker says, nor one that would benefit from a restoration specialist. Rather, it's "impermanent and ever-changing and luck-dependent. Depending on the time of day and the actor and the lights and the physical materials and the mood of the stage manager calling the show, you see a completely different show than the person who saw it a week or a few hours before." Also, she points out, "you can't catch all of Caryl Churchill's plays in one weekend" — though, she says, she would. But film is endlessly repeatable, its mistakes and even damage always the same. When Perlin says that some of the works he restores remain very scratchy, Baker says, "I like the scratches. They soothe me."
Eventually, she chooses three trailers, including ones for Rififi in Tokyo and John Boorman's The General, and tosses them in her bag. Then we're off to the Film Society of Lincoln Center, where she and her partner, Nico, a professor of film studies at Columbia, have tickets to an Agnès Varda double bill. (Both movies are projected digitally.) Baker quickly buys popcorn at the concession stand and we take fourth-row seats in the nearly empty theater. The first film is the 1967 short Oncle Yanco, about Varda's Greek uncle, an artist living on a Sausalito houseboat in bohemian splendor. When Yanco says he uses "all sorts of resistant materials" in his work, I look at Baker, expecting her to nod. Her plays are noticeably about people who are not verbally facile or emotionally florid; silence is a major character in all of them. So is economic or social instability. The workers in The Flick are about to lose their low-wage jobs. In Circle Mirror Transformation, a group of Vermont locals who will never be actors take an acting class at a community center. The Aliens features three aimless guys talking among the Dumpsters behind a coffee shop. All are beautiful, if mystifyingly so. Where is the argument? Where is the exposition? Such "resistant" materials force the audience to open itself in a new way to what it experiences. Some people do; some walk out.
Later, Baker tells me these choices aren't so much ideological as practical: "I do have a tendency to write more about the people I knew growing up and less the people I know now — although who knows? That might change soon." She was raised, in a joint-custody arrangement, by her mother, a shrink, in Amherst, Massachusetts, and her father in New York. "I get upset, though, when people refer to the characters in my plays as losers or failures. I actually think the characters in The Flick have moments of real verbal facility. It's more that I don't try to make them more verbally facile than myself or people I know. I think there is a style of theater that is about a kind of heightened verbal facility, and I probably don't fit into that category." (This seems carefully worded to avoid offense; when pressed to name names, she responds, "Oh my God, I'm not going to tell you what canonical playwrights I don't like!") About her political themes — The Flick's workers are implicitly squeezed between the theater's owners and its careless, snack-spilling patrons — Baker is likewise reticent. "Of course you want your plays to say something. But you want them to say something that could never be said in a sentence, because then you'd write a sentence and not a play."
Perhaps that's why she won't describe  her latest, John, which will open this summer at the Signature Theatre, except to confirm that it takes place at a bed-and-breakfast, that it features Georgia Engel and Lois Smith, and that "there are a lot of dolls and trolls and angels in it." About her film projects, she says even less. (None of her screenplays has yet been filmed, though she has a deal for a new one she intends to direct, if it gets made.) What she will say is that the two are in no way interchangeable. "I never would adapt any of my plays into movies. They exist in two totally separate realms for me."
And yet, as the second Varda film demonstrates, realms have a way of colliding. The semi-autobiographical Documenteur is about a woman who moves to Los Angeles after separating from her husband; its depiction of her depression and her slow recovery from it draws big emotions from a remarkably objective narrative. (A lot of the film consists of pictures of walls.) Baker loves it, especially Varda's sense of composition, how she puts objects in the frame in such a way as to render feeling visible. That may or may not be why, halfway through, Baker, shifting suddenly in her seat, kicks over her popcorn. Later, she says: "How embarrassing!"
*This article appears in the May 4, 2015 issue of New York Magazine.