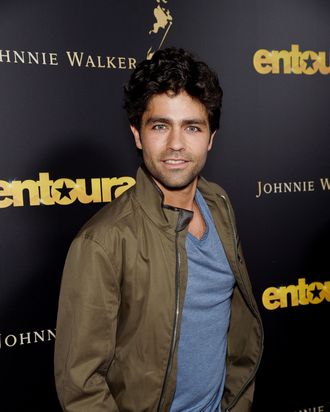 Adrian Grenier, who is not actually going to play Aquaman.
Photo: Dimitrios Kambouris/Getty Images
Entourage the movie is finally happening, but fans will remember that Vincent Chase's (Adrian Grenier) first big break came when he starred in James Cameron's Aquaman. The superhero character was one of Entourage's recurring punch lines, which makes things awkward now in real life, where Aquaman is about to be played by Jason Momoa in Batman v Superman: Dawn of Justice. While we were at a screening of the Entourage movie Wednesday night, we decided to ask the cast and creator of the show whom they think would make the better Aquaman: Vincent Chase or Jason Momoa.
While Entourage creator-director Doug Ellin remained diplomatic, saying, "Jason will be great," the others stuck by their boy and explained why Vince is the one true Aquaman. In the words of Kevin Connolly: "I'm going to go with Vincent Chase, he's a more fluid swimmer." Adrian Grenier, Vinny Chase himself, agreed with the sentiment: "I would certainly be a little bit more fluid … I think I'm more of like a dolphin and he's more of like a whale."
Finally, Jerry Ferrara stayed true to his bro. "Obviously I have to say Vincent Chase out of loyalty," he told us. "I think, at least, Adrian Grenier should have some form of a cameo [in Batman v Superman]. Even just pop him in a scene for the diehard [Entourage] fans." Here's hoping Grenier will pop up in Atlantis when Justice League comes out in 2017.