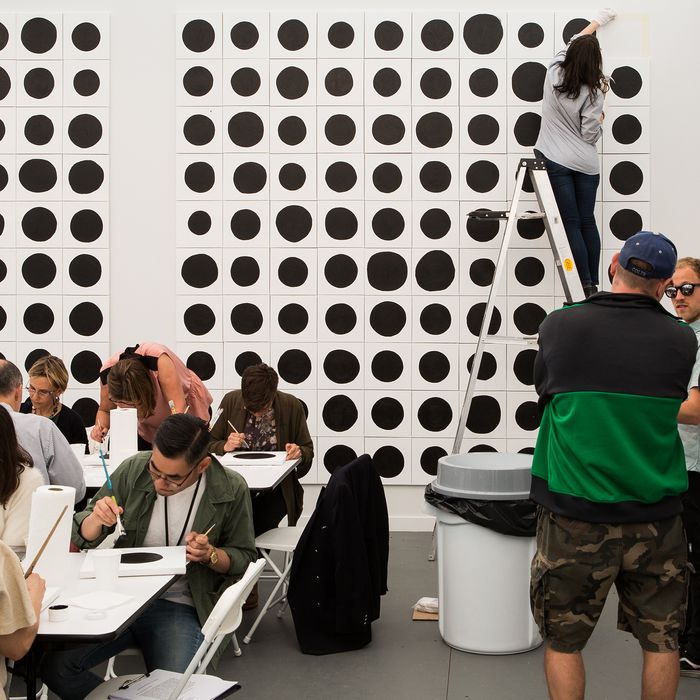 The Gavin Brown Enterprise's booth at Frieze.
Photo: Courtesy of Marco Scozzaro/Frieze
Gavin Brown's booths tend to try harder to be interesting than most — and usually succeed. In 2013, Brown had horror-camp artist Bjarne Melgaard paint the walls of his Frieze New York booth magenta and fill its labyrinthe arrangement with heaps of neon fleece carpets that made it difficult to walk (sort of a "fuck you" to fairgoers in heels — but then again, the carpets were also for sale, at $12,000 each). In 2012, the booth's centerpiece was Rirkrit Tiravanija's Untitled (Kramer and Newman Make Sausage), a performance in which Brown and the actor Mark Ruffalo grilled sausages and offered them to passersby.
On May 13, the booth resembled something between a sweatshop and a day-care center as attendees who managed to snag a pass to the VIP preview clustered at four collapsible tables, pushing black acrylic paint into eight-inch-diameter circles on square-foot canvases. Attendants behind them used ladders to mount their labors in seven 50-by-50 clusters, each a small work that became part of a bigger one. For the labor, each volunteer willing to make Horowitz's art for him was compensated with a check for 20 bucks.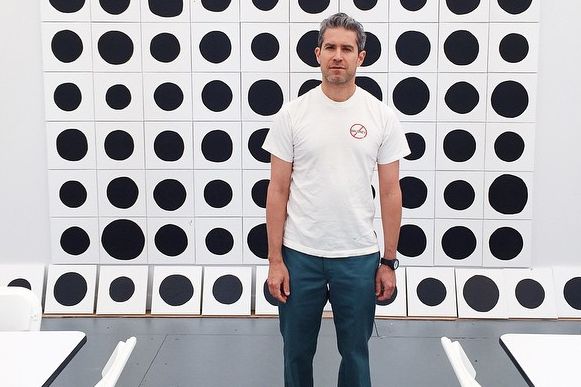 (Not that they were supposed to be cashed: Participants were mostly keeping the checks to be framed, as a Jonathan Horowitz piece. If you did decide to take it to the bank to exchange for an Andrew Jackson, Gavin Brown will see you cashed it and will either think you're punk-rock or a no-class cheapskate. Up to you to risk it.)
Horowitz — whose past work has included a soda machine that dispenses both Pepsi and Coke — was responsible for the 700 Dots project, a variation on the Roy Lichtenstein–style paintings he's been making for the past 12 years. Most recently, he staged a version of this project at Brown's 356 S. Mission Road space in Los Angeles, but he said he wanted to stage it at Frieze because "the piece would get all kinds of people from the art world involved in it."
"The whole project, in this iteration, particularity, is about blurring lines," Horowitz said, standing in the booth as the VIP minions labored away. "A lot of work goes into making art beyond the person whose name is signed to the canvas. Art incorporates the installers, the dealers, the people who guard the work, the people who buy the work, the people who write about the work." The goal was to create a "physical manifestation" of all these kinds of people passing through a booth at an art fair.
"This is about the hand striving for perfection and its inevitable failure to achieve it," he said.
Some took the failure better than others.
"It's not eight inches, I know," Alexandra Chemla, the founder of the start-up ArtBinder, said as I checked out her dot, which was probably more like 11 inches. "I just kept trying to make the edges perfect. It's a personality test, it's a confidence test."
"I'm from Europe!" said the collector and art adviser Tilman Kriesel. "I don't even know what an inch is!"
Despite a repeated emphasis that the only thing that mattered was effort (and not watering down the paint), Horowitz and his assistants still had seven discrete artworks to eventually complete, and they did their best to ensure quality control with mostly voluntary guidance. Most people took at least 30 minutes to finish.
Even when the critiques weren't voluntary, they used the language of one of those psychology books about how to talk to children. "How do you feel about the overall spherical quality of your work?" "If I were to give you suggestions about what to tighten up, would you like that?" "Work until you reach the point that the dot won't get better, it'll get worse, it's a very additive process."
Standing at the edge of clustered tables filled with semi-pro artists slaving away, Brown said the booth was "the most uncompromising way to be here," and also called it "wise," "profound," "straightforward," and "simple."
"This is so radically different and refreshing!" Matthew Marks director Jill Sussman told him on approach.
"Write that down," Brown told me. "'Radically different and refreshing.'"
After she left, he mused that the dots "are self-portraits."
"They're physiological profiles of a person, a reflection of the mass of humans that has decided to gather in this tent," he said.
Clearly, the bearded British dealer was pleased, but allowed himself one slight misgiving.
"In the middle of this, I'm thinking, Why didn't I just lump together a handful of stuff that's expensive and easy to sell?"
Good question! Each of the seven 100-dot pieces was available for $100,000, making them among the more affordable offerings for sale. Brown said he'd already sold two and was "working on the third." But Gavin, everybody else was working on the fourth!
Come to think of it, how many people can even buy a 100-square-foot piece? They must have a big wall.
"Hey!" Brown said. "Or a museum."
Okay, so, had any museums bought one?
"No," he said.