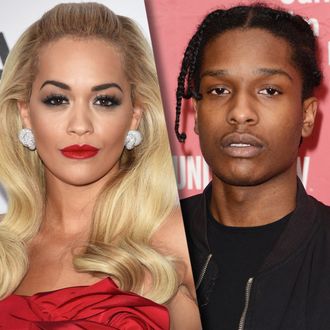 A$AP Rocky has a new album out. And while it's a more mature sound for the Harlem rapper, he's catching a deserved share of heat for a lyric on the song "Better Things": "I swear that bitch Rita Ora got a big mouth / Next time I see her might curse the bitch out / Kicked the bitch out once 'cause she bitched out / Spit my kids out, jizzed up all up in her mouth and made the bitch bounce." Rocky has generally spoken kindly about his previous exes Iggy Azalea and Chanel Iman — if you ignore his "I used to be boning this chick's back out" comment about Iggy — so why the dis on Ora? On Annie Mac's BBC 1 Radio show yesterday, Rocky elaborated on the lines: "I'm just saying that when I was in a relationship and I did things with her that I wasn't supposed to do, she had a big mouth." Instead of owning up to the lyric, he tried to walk back his claims: "I just want to clarify, this isn't me saying, 'People, don't go listen to Rita Ora,' or 'She's an ugly person' or nothing, I'm not saying she's a terrible person."
Noting the irony of a man shaming a woman for speaking privately about her sex life in a song that speaks publicly about that very same detail of both his and her sex lives, many fans have demanded Rocky apologize to Ora. Unfortunately, on his recent appearance on "Sway in the Morning," he didn't seem super-contrite:
I'm starting to feel bad about it, 'cause everybody keep laughing and shit, and it's just like one of those situations where it is funny — it's the truth but I don't wanna make it seem like I'm out here just degrading all women and shit and I'm a pig. I mean, at the end of the day, listen, I'm a man, I'm 26, I have fun, I ain't perfect, I am what I am. But I'ma be real. If I feel something in private, I'm gonna say it in public. [I don't want to be seen as] sexist or something like that. Or somebody that just degrades women, because that's not the case. At all.
The closest Rocky comes to actual regret? His musing on how he could have handled the situation differently: "Maybe I should have muted her name in it … but at the time that's how I felt."