Photo: Courtesy of Sothebys/Courtesy of Christies/Mark Rothko Untitled (Yellow And Blue) oil on canvas 95? x 73? in. 240.4 x 186.7 cm. Executed in 1954./Mark Rothko (1903-1970) No. 10 oil on canvas Painted in 1958.
For collectors feeling flush and looking to buy, this week is a shopping paradise: Frieze, NADA, and the other assorted art fairs and flashy gallery exhibitions going on. But the news will always come from the auction houses, which are confident they'll surpass their record-setting $1.2 billion haul from last November's sales of postwar and contemporary art. They are likely to succeed, thanks in part to "Looking Forward to the Past," a stand-alone auction of mixed modern and contemporary material at Christie's tonight that could reel in a half-billion dollars. The main evening sales — on Tuesday at Sotheby's, Wednesday at Christie's, and Thursday at Phillips — are peppered with major works by Francis Bacon, Jean-Michel Basquiat, Lucian Freud, Sigmar Polke, and Christopher Wool, with added spice from newer names like Seth Price, Adrian Ghenie, and Tauba Auerbach.
But the market's frothy churn means there are few deals to be found. "When you're in a rising market and it keeps rising, if you're a pessimist, you're always worried that the party is going to end someday. If you're an optimist, you think the party's just going to get better," says Alex Rotter, worldwide co-head of contemporary art for Sotheby's. "I'm trying to be neutral and go as hard as I can for as long as it lasts."
Auction houses will profit, of course, but who wants to gamble on horses without a cheat sheet? Here, a sneak peak of the week's coming attractions in the form of head-to-head match-ups of the best works by individual artists, handicapped for your theoretical shopping pleasure.
Mark Rothko

Work: Untitled (Yellow and Blue), 1954
Auction: Sotheby's
Date: May 12
Estimate: $40–60 million
While not as fine as either of the pair of Rothkos from the estate of socialite and philanthropist Rachel "Bunny" Mellon that transacted via private treaty last fall (reportedly for around $200 million, to Qatar's royal family), this eight-foot-plus canvas does bear Mellon's fingerprints in its short provenance, as well as those of Christie's owner François Pinault. The colors invoke such elemental associations as sun and sea, making it a more "cheerful" Rothko, but the surface lacks some of the depth of the artist's murkier meditations.
Work: No. 10, 1958
Auction: Christie's
Date: May 13
Estimate: on request (around $45 million)
The similarly sized No. 10 comes from a few years later, when Rothko was at work on his murals for the Seagram Building. More important, it shares a palette with them, and the smoldering amber tones are in line with the market's preference for his reds and oranges. "The painting appears to glow from within with a sense of the sublime," says the house's head of the evening sale, Sara Friedlander. It has freshness to boot, having been off the market in a private New York collection for the past 30 years.
BEST BET: No. 10, but it will be hard-pressed to beat the record auction price for a Rothko, which stands at $86,882,496, set at Christie's in May 2012.
*    *    *
Cindy Sherman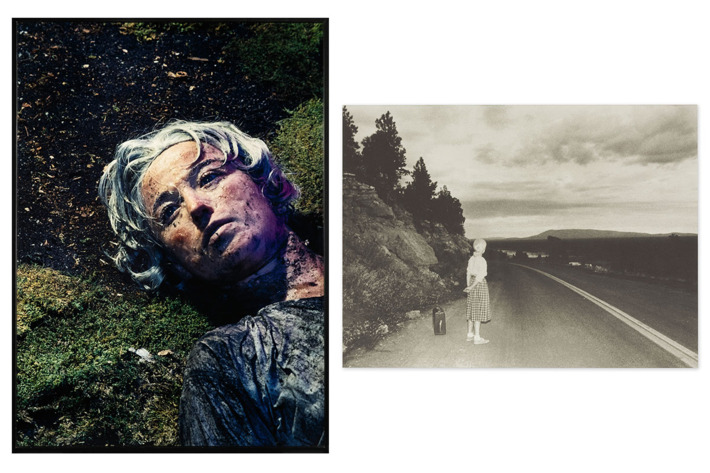 Work: Untitled Film Still #48, 1979
Auction: Christie's
Date: May 13
Estimate: $2.5–3.5 million
Among the early works that put the freshly graduated Buffalo State College art major on the map for her serial portrayals of feminine "types" — and, interestingly, one of the only ones where we cannot see her face — the rare Untitled Film Still #48, colloquially known as "The Hitchhiker," stands as one of the Pictures Generation's most iconic and unsettling images. Another in the edition of three sold at Sotheby's last November for $2,225,000.
Work: Untitled #153, 1985
Auction: Sotheby's
Date: May 12
Estimate: $2–3 million
One of Sherman's most richly realized yet not too spooky "fairy tale" images, this lot could get a boost from its pristine provenance — acquired by the consignor from Metro Pictures the year it was made — and its status as one of the last prints (No. 2 in an edition of six) in private hands; the image has gone for as much as $2,770,500 at auction. Though the breakout Film Stills have traditionally trumped the fairy-tale series, in the estimation of Todd Levin, director of New York's Levin Art Group, these two are "a true embarras de richesses. We may be close to world-record territory at auction for Sherman with either or both."
BEST BET: Depends on your favorite Sherman flavor.
*    *    *
Andy Warhol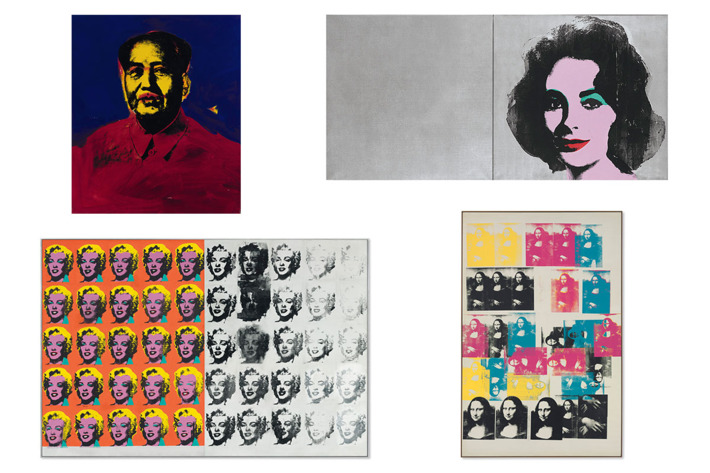 Work: Silver Liz (Diptych), 1963–65
Auction: Christie's
Date: May 11
Estimate: $25–35 million
When it comes to Warhol, blondes do have more fun; his Marilyns can claim $40 million. But Elizabeth Taylor is no slouch, and according to international contemporary specialist Loïc Gouzer, who organized the "Looking Forward" sale, two-part iterations like this one are rare. "The blank panel is almost like a misprint or overexposure," he says, relating it to the traumas of the "Disaster" series. However, insiders say it is familiar on the secondary market, which could dent its desirability.
Work: Colored Mona Lisa, 1963
Auction: Christie's
Date: May 13
Estimate: on request (around $35 million)
Historical icon? Check. Dialogue with art forebears, including Da Vinci and Duchamp? Check. Use of CMYK printing techniques to deconstruct an image and explore its cultural currency? Check. Says Gouzer, "I think it's instrumental in Warhol himself understanding what he was trying to achieve."
Work: Mao, 1973
Auction: Sotheby's
Date: May 12
Estimate: $13–16 million
Attractively scaled at about 50 by 42 inches, bearing a certification by the now-disbanded Andy Warhol Art Authentication Board, and featuring a subject that appeals to the influential segment of Asian buyers hoovering up blue-chips make it possible that this portrait will punch above its weight; it was the sale leader at Phillips in November 2012 for $13.5 million.
BEST BET: Mona Lisa, the original famous-for-being-famous face, is about as Warholian as you can get. But for a bargain, look to the few works on the block by Elaine Sturtevant, who passed away late last year and managed to beat Andy at his own game.
*    *    *
Ed Ruscha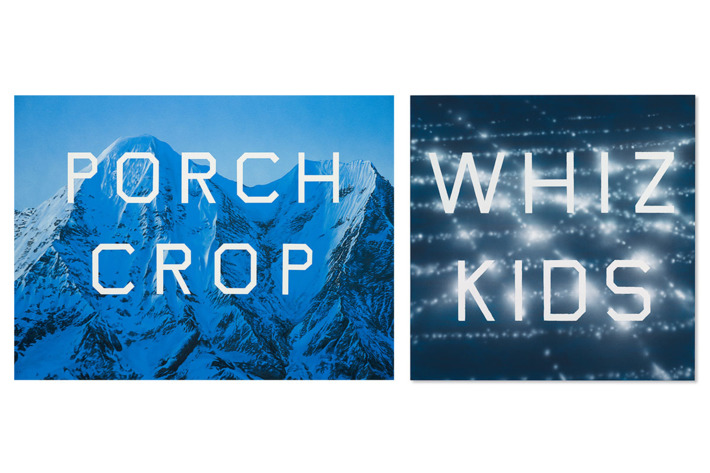 Work: Porch Crop, 2001
Auction: Phillips
Date: May 14
Estimate: $1.8–2.5 million
A leaner, meaner Phillips succeeded in netting a $35 million collection fingered by the New York Times as that of Dallas's Laurence Lebowitz and Naomi Aberly for its spring sales; it includes Ruscha's Porch Crop. The artist, a collector favorite for his approachable semiotic game, has described the image as "ideas of mountains," an abstracted setpiece for the seemingly nonsensical text — his first deployment of a palindrome.
Work: Whiz Kids, 1987
Auction: Christie's
Date: May 13
Estimate: $3.5–5.5 million
With the titular phrase reverse-stenciled against an evocation of computer circuitry or the Los Angeles street grid as if seen at night from the Hollywood Hills, Whiz Kids is a more painterly rendering but displays less of Ruscha's trademark wit.
BEST BET: Whiz Kids, which seems almost preordained for the conference-room wall of a Silicon Valley start-up.
*    *    *
Danh Vô
Work: Alphabet (L), 2011
Auction: Sotheby's
Date: May 12
Estimate: $150,000–250,000
The conceptualist Vô, currently representing Denmark in the 56th Venice Biennale, has market heat as well as curatorial approval. In this piece, by gilding discarded packaging from his native Vietnam with letters from the international naval code system used by the shipping industry, Vô combines allusions from Southeast Asian temples to American Pop with a biting anticolonial agenda.
Work: We the People (detail), 2011
Auction: Phillips
Date: May 14
Estimate: $250,000–350,000
This undulating sculpture is part of the right shoulder of a scale replica of the Statue of Liberty that Vô commissioned and exported in fragments to museums and galleries around the world: Get it? A larger section, in six parts, fetched $629,000 at Phillips last November.
BEST BET: We the People, an instant classic — though it will take many, many pennies to take it home.
*    *    *
Pablo Picasso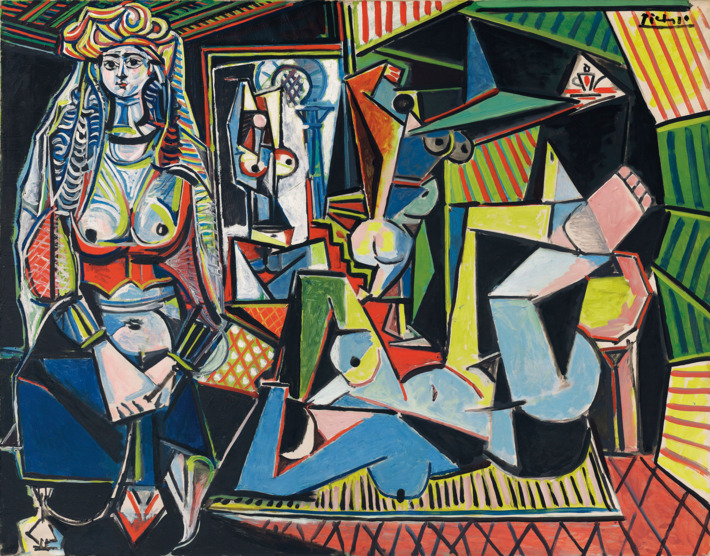 Work: Les Femmes d'Alger (Version 'O'), 1955
Auction: Christie's
Date: May 11
Estimate: on request (about $140 million)
Based on Eugène Delacroix's Orientalist fantasy, and the final of 15 paintings in a series, this canvas led the legendary 1997 sale of the collection of Victor and Sally Ganz, when it was acquired by its current European consignor for $31,902,500.
BEST BET: No contest. As one of the finest Picassos left in private hands, it could set a new artist record tonight. The only loser will be the public when, in all likelihood, it reenters a secure residential compound.