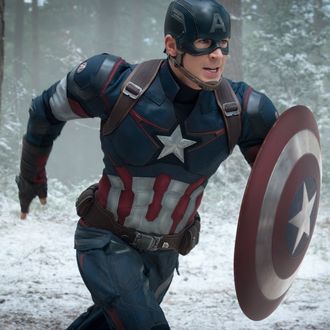 Joss Whedon's super-stuffed superhero epic The Avengers: Age of Ultron made mad money this weekend — $77 million domestically for a total of $312 million in North America so far, and another $65 million overseas for $562 million internationally, according to Box Office Mojo — but it remains in the vast shadow of its 2012 predecessor.
The original Avengers, which opened with an unprecedented $207 million its first weekend, lassoed $103 million its second week, whereas Ultron's domestic gross dropped 59.6 percent. There are plenty of reasons why Ultron is making slightly less money than the record-Hulking original, including Floyd Mayweather punching Manny Pacquiao in the face last weekend and a generally less enthusiastic response this time around, but the film has still made a killing and will continue to do so until some brave soul steps up and takes back the box office. Ultron's second-week gross is second all time only to its predecessor. So far, Ultron has a worldwide cumulative gross of $875.3 million, which is more than the GDP of some countries.
Meanwhile, the Reese Witherspoon–Sofia Vergara cop comedy Hot Pursuit, which features significantly less destruction, made only $13 million. It also set no records.