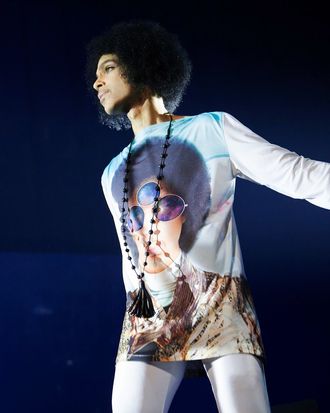 Photo: Ralston Smith/NPG Records
Sunday night's live audio stream for Prince's Rally 4 Peace concert at the Royal Farms Arena in Baltimore — hosted for free by Tidal — went on the fritz about an hour into the show, but not before he played, for the first time in concert, his new song "Baltimore."
Released via SoundCloud on Saturday, "Baltimore" is a protest song about, among other victims, Freddie Gray, the 25-year-old black man who died after sustaining spinal injuries while in police custody in Maryland. Despite the somber subject matter (or perhaps because of it), it's an upbeat tune with a simple refrain and quaint melody, reminiscent of music from Pete Seeger and other folk icons. "Baltimore" opens with a harmonic chant led by vocalist Eryn Allen Kane, a slick rhythm guitar intro, and no-frills bass line and drums. It ends with what sounds like a police broadcast warning of a "developing situation in Los Angeles," a possible reference to the 1992 L.A. riots. Those two bookends frame the song's central cri de coeur: "Enough is enough, it's time for love."
When I first heard "Baltimore," I wanted it to be angrier. I wanted a 2015 purple version of "Fuck Tha Police." I wanted it to be a searing indictment that would silence anyone who felt Michael Brown, Tamir Rice, Trayvon Martin, or Freddie Gray got what they deserved. I felt the song — like most traditional protest music from "We Shall Overcome" to "Blowin' in the Wind" — was too passive. But then I realized I wasn't listening closely enough to its most important lyric: "Peace is more than the absence of war." It's a compact statement that packs a lot of punch. What does peace look like today? Is it attainable? Why have we let it elude us? These are questions that help define the current unrest playing out in protests all across the country.
"The system is broken. It's going to take the young people to fix it this time. We need new ideas, new life," Prince said from the stage, echoing statements made recently by State's Attorney Marilyn Mosby, 35, a guest of honor at last night's concert. During her first press conference to announce the charges against the officers responsible for the arrest of Freddie Gray, she told the world, "As young people, our time is now."
"Baltimore" is not just another protest song; it's the sonic embodiment of that message — a vote of confidence from one of the greatest songwriters of all time reassuring young people that their voices are being heard and that their time is now. It's not a defiant anthem, and it doesn't need to be. It catches the spirit of a new movement that's already begun and is just getting started.