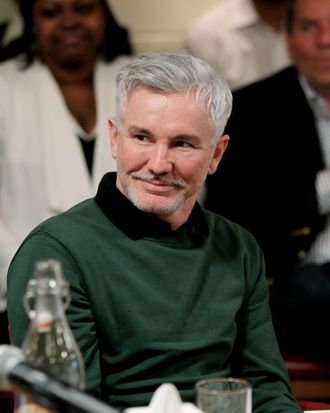 Baz Luhrmann.
Photo: Marion Curtis/StarPix/2015
Baz Luhrmann breezed into the Standard High Line's Biergarten on Tuesday evening to attend a fund-raising gala for the Ghetto Film School. The program in the Bronx gives kids an introduction to filmmaking, and some of its alums are working on a "making of" video to accompany Luhrmann's upcoming Bronx-set Netflix series, The Get Down, set in the music scene of crime-ridden late-1970s New York. Vulture chatted with the Oscar-nominated director about writing in a restored Bronx mansion, how hip-hop and punk rose alongside disco music, and working with hip-hop artist Grandmaster Flash, who is also a character in The Get Down.
You've just come from The Get Down, set in the Bronx?
Yeah, 13 episodes of that. I've just been working choreographically with Grandmaster Flash, who's awesome. I love him, and such an extraordinary energy. He's in it!
In an earlier interview with Vulture, you talked about possibly bringing in music collaborators, like you brought in Jay Z for The Great Gatsby. Have you?
Yeah, I am. I'm working with a great variety, but the exciting thing for me musically is I'm not only working with a lot of the old masters like Flash and Curtis Blow, who are contributing musically, but Flash is actually in it. One of the characters is this kid called Grandmaster Flash, who can do this extraordinary thing. Our fictitious characters weave through New York in '77, '78, and '79, and although it's a coming of age for them, they do pass through very important historical things that happened, and one of the big things I wanted to make sure that happens is that we pay acknowledgment to those veterans and forefathers who really generated the beginnings of this cultural force that would go on and change New York and the world. And no one had any idea it was going to happen.
You mean hip-hop? Or hip-hop starting with disco?
Actually, in '77, it was the biggest year in recording history, so disco was king — they don't even call it hip-hop, not for another three years. Flash has been teaching this young actor — he's fresh out of Yale — how he did the peekaboo system, how he extended breaks in records, and it's so hard to do. It's so difficult to do, and it's relentless discipline for this young actor to learn, because Flash is like a kung-fu artist, the way he worked out the system, extended the beats. Now, we also acknowledge the other great veterans, like Herc and Bambaataa, but Flash as a character is the first one to actually appear in the early episodes; they revere him.
And the real Flash is actually advising the young actor on the role?
Not only advising, he's a producer; he's an executive producer. He's involved intimately, and his energy — I mean, I'm worn out by his energy. [Laughs.] You know, he's a spring chicken.
And Flash is also doing the choreography?
He's not doing the dance; I'm working with different people who are coming and going, but [we're working with] Rich and Tone, a great choreographic team. They did Michael Jackson's stuff, and they came from a break background themselves. But we're also reaching out to different veterans from different eras because we're not just doing breakdancing; there's salsa and, of course, there's beat boys, and there's disco. One of the setpieces is this mythical disco, based on another one that's quite shady, called Les Inferno. [Laughs.]
Les Inferno?
Yeah. It's the Inferno. Disco is monstrously big, it's huge. In '77, people don't realize that all these musical forms are really powerful at the same time. Disco is king, but also the beginnings of hip-hop and punk, so it's all happening at once.
And you're shooting in the Bronx.
I'm shooting in the Bronx, in fact, a good segue, because I am here to talk about the [South Bronx–based] Ghetto Film School. But you know what, not only are we shooting in the Bronx, which we've been scouting for many, many days, but I've actually been writing up there in the Bronx, in this magnificent mansion which is beautifully looked after that's just off the Grand Concourse. Walter Puryear and his mom saved this old mansion, and Herc had his 60th-birthday party there, which I attended. There's a beautiful old library in it, where I've been doing a lot of the early writing. We are very much growing it out of the Bronx; one of the lead boys, who is 14, we found on the subway in the Bronx. You should see him, he was fantastic today, with the dance, with the rapping, and with the acting. [He is] T.J. Brown, in the role of Boo Boo.
How did you get involved in this event today with the Ghetto Film School?
In all the research we've been doing in the Bronx over the long time we've been on it, I became aware of the Ghetto Film School. And when I went and made my first visit, it was truly astounding because I thought it was really great and really sensible. A lot of institutions are created in places that lack facility, but I don't think anywhere else in the world is there a high school dedicated to film education. Given that it's kind of the form that, probably, as we live and breathe today, is affecting the globe culturally in the strongest possible way, it makes total sense. We've been able to bring the team of the graduating Ghetto Film School on to do the "making of" for the Netflix show. They're working with someone I've worked with before who's done very complicated "making of" pieces, but they're really professionals, and they're highly trained.
So graduates of Ghetto Film School are working on the "making of" film to accompany your upcoming Netflix series.
They're the full crew for the "making of." That's a big thing. I'm working on a project that is set at a time in New York when there was so little available to so many that creativity and invention were the only ways forward, and the youth couldn't help but express themselves. You know, if there wasn't a music course, or a piano, they said, "What can I do with two records?" Or, "People say I'm worthless, so I'm going to write my name on the train because when I see my name up there, I am someone." I just think [it was] the incredible intensity of activity that came from a time when there was so little. You know, there are other places in the world that might happen, probably not in New York now. There's just too much stuff. Creativity will happen, but not that kind of creativity, that is so totally new and pure and unexpected. You probably have to go to a place where they lack stuff.