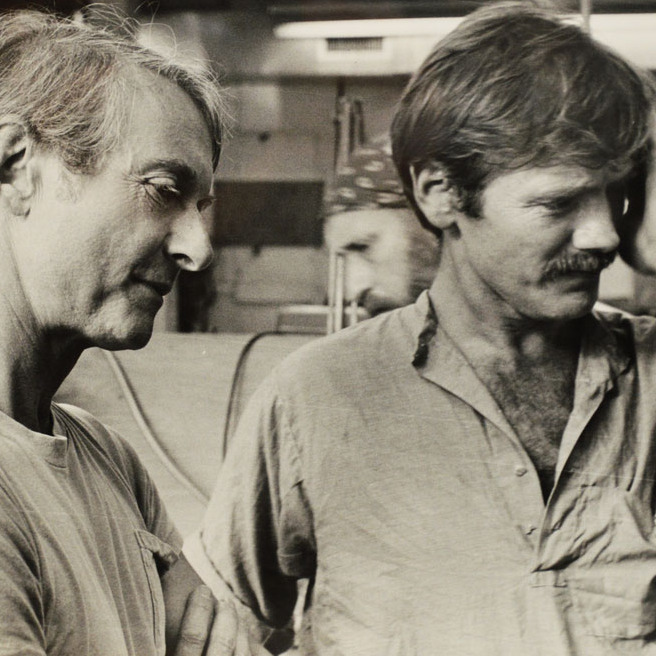 Dick Polich with Roy Lichtenstein.
Photo: Photo courtesy Dick Polich.
Most great art is made in a dictatorship — the old idiom about a camel being a horse designed by committee comes to mind — but it takes an unsung hero sometimes to get the job done. Dick Polich is one such individual. I had interviewed many of his clients, artists like Richard Prince and Jeff Koons, but his name had never been mentioned until Dan Colen told me about Dick at the opening of Dan's show at Venus Over Los Angeles, Adam Lindemann's new West Coast outpost.
Intrigued, I drove to his fabled foundry just north of Dia: Beacon last Thursday to meet the 83-year-old former fighter pilot turned metallurgist.
Bill Powers: Where did it all begin?
Dick Polich: I went to Yale — class of '54 — to become an engineer. I was a first-generation American. My parents were born in Yugoslavia, and when I left home for New Haven, I'd never been on a train before.
And then after Yale, you joined the military?
I flew jets for the Navy. It was so romantic. Fortunately, it was between the Korean War and Vietnam War, which means no one ever shot at me and I never had to bomb anybody. Eventually I got a master's degree in metallurgy from MIT. Now when you graduate in the high-tech foundry business, you're mostly hired to make weapons systems and airplane parts. Very quickly I became the general manager at a big foundry, and one day we got an order for 5,000 gas-mask valves. I thought: Enough. I'm gonna do something else with my engineering.
And you went into the art business?
In 1972, I started going door-to-door in New York City to fabricate sculptures for artists. At the time, people like Frank Stella were making art out of paper and wood. Suddenly, artists got interested in archival materials and rediscovered bronze, and that was the horse I was riding.
Was there one particular artist who put you on the map?
The person who probably had the greatest impact in those early days was Nancy Graves. As it happens, Frank Stella and Nancy Graves were both represented by the same gallery. He saw what we were casting for Nancy and Frank just moved right in. He would start ten sculptures at the same time.
What was it like working with him?
Frank was the only guy who ever asked us not to remove the gating off his sculptures. He loved leaving parts of the armature on the pieces.
Currently, your foundry shares a building with Frank Stella's studio. How did he become your neighbor?
It's a long story, but at one point in the 1980s, I took on some investors and soon realized after about nine months that I couldn't work for anyone else. So Frank Stella was on the very short list of people who would lend me a million dollars to set up this new foundry.
How long have you known Jeff Koons?
I think we met in the late 1970s, when he was still working on Wall Street. We cast Aqualung and Lifeboat for Jeff. He's a very demanding guy, but in a very subtle way. We've had a long career together. We cast the Play-Doh sculpture for his Whitney show.
How did you wind up meeting Christopher Wool?
We got a box in the mail about eight inches tall. Inside it was a tangle of wire with a handwritten note that said, "Can you make this 16 feet high?" The first sculpture we made for him went outside the Guggenheim. It's bronze with some stainless-steel parts.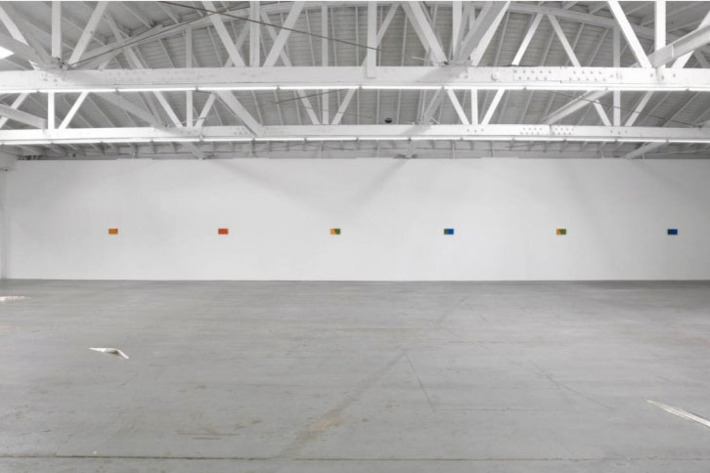 You recently cast some new sculptures for Dan Colen, which he debuted at Venus Over Los Angeles this month. Is there a difference working with silver as opposed to bronze?
Well, for starters, silver is about $20 an ounce, so you're way more careful about missing the pot. Added up altogether, it's maybe a half-million dollars in silver we needed for Dan's project.
What's the largest sculpture you ever made?
About 60 feet high, for Roy Lichtenstein.
Do you ever get strange requests?
We made a tractor sculpture for Charles Ray. He had taken apart a D8 tractor, every bolt, every spring, every piston, and had a team of craftspeople remake them in wax, you know, before shipping the molds to us here. We worked for three weeks getting all the gears into the transmission. So Charlie comes to the foundry and looks in the transmission box. He shakes all the gears to make sure everything is in place. He looks at me and says, "Where's the cover?" We get it for him. He slides it in place and says, "Weld it down." What?! We'd spent three weeks assembling these very intricate parts together and no one will ever see them again. That's the kind of thing Charles Ray does. I went home that night and said, "Honey, you're never gonna believe this …"
"Dan Colen: Viscera" is on view at Venus Over Los Angeles (601 South Anderson St). until June 27.
"Christopher Wool" is on view at Luhring Augustine (531 W. 24th St.) until June 20, and until June 21 in Brooklyn (25 Knickerbocker Ave., Brooklyn).