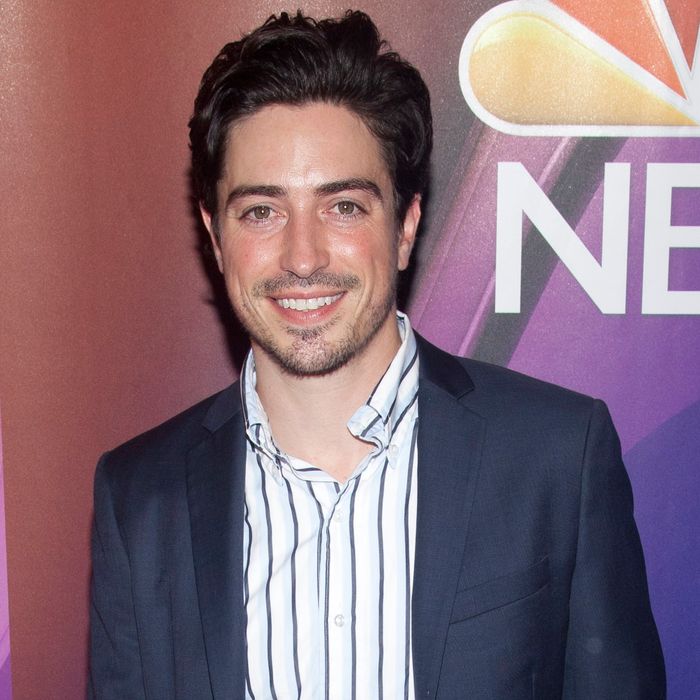 42-71913246
Photo: Corbis
Though Mad Men ended last night without revealing where Ginsberg ended up (wherever it was, we hope he's okay), we know where the actor who played him, Ben Feldman, was: in L.A., preparing to shoot the first season of Superstore, the NBC sitcom he co-stars on. Before that, though, as one does when they are on a new show, Feldman had to attend upfronts, the week every year in which networks present their shows to advertisers. Luckily for Feldman, Superstore was picked up before he got to New York, so he was able to have a fun few days of eating, drinking, hanging, and not sleeping enough. Here is his diary.
SATURDAY, MAY 9
6 a.m. PST
Flight takes off in L.A. Pilot: "Gonna be a real smooth ride, folks; we should have that seatbelt sign off in a bit."
6 a.m. PST–2 p.m. EST
The polar opposite of the above sentence happens.
2:39 p.m.
Land. Head to my in-laws' apartment on Central Park South. Their doorman knows more about television than Les Moonves. He tells me my show is gonna be a big deal. Strangely, I trust him more than the majority of the people I'm about to spend the week with.
6:45 p.m.
I attend the "Influencers Dinner" (Google it because that's a whole other story). I make guacamole with strangers who've done things far more impressive than wear makeup and speak words. I feel silly. The host makes me take 4 million shots. I leave, college-level drunk, with my friend Rachel Fleit (Google her, she deserves it) and go meet America Ferrera (my co-star), our producers, and friends at the Bowery.
1:10 a.m.
I almost fall over for no reason in front of adults in a classy lounge. Go to bed, Ben.
SUNDAY, MAY 10
2:05 p.m.
Museum of the Moving Image with one of my oldest friends. Sneak through the Mad Men exhibit with my head down because I kinda wanna see it but don't wanna seem like "Hey, look at me, I was on this show — you're welcome!" 
2:15 p.m.
I realize I'm not Jon Hamm and I take my sunglasses off because nobody's that impressed.
2:30 p.m.
Simulated bird flight through NYC via virtual-reality goggles, headphones, motion-sensor wings, and a fan. I almost flap my way to the East River. This is arguably the best two minutes of my trip. I now have vertigo. 
4:11 p.m.
Check into the hotel. Zach Levi is also checking in. Few people that fun to be around. The stars arrive; the glamour begins!
6:50 p.m.
Everyone I was supposed to have dinner with bails on me. I eat a $40 sandwich alone in my hotel room.
8:11 p.m.
Stop by Shun Lee Palace to say hi to Max Greenfield, his wife Tess, my manager, and some other great people, all doing the Sunday night Jew-Chinese thing before upfront craziness. Max confides in me that he is a terrible racist and has a goat fetish, and I promise him his secret is safe with me.
10:15 p.m.
Arrive at UTA (my agents) "kickoff party." Everyone is there. Blah blah networking blah blah narcissism blah blah free booze. Go to bed, Ben.
MONDAY, MAY 11
10-ish a.m.
Arrive at Radio City Music Hall for the NBC upfronts presentation. The crowds! The stars! I feel like a Rockette. The presentation is strong and short. The trailer for my show (Superstore) genuinely rocks and so does the show. Bob Greenblatt (NBC prez) plays the piano while Dolly Parton sings "I Will Always Love You." I wonder if it's real or if I accidentally took an Ambien.
1:07 p.m.
Back at the hotel, a very kind NBC rep explains to America and I that social media matters because that's her job. And our job is to listen.
8:30pm
EW/People party. Pu pu platter of famous people. Hang out with my old Mad Men buddy Jay (Stan) who waited till I got there to say hi and then get the hell out because he's genuinely too cool for that shit. 
9:14 p.m.
I'm sweating a lot. I hope people don't think I'm on drugs.
10:25 p.m.
NBC party. Why am I always the most starstruck by SNL cast members? Even if they're rookies with, like, 40 seconds of screen time.
After Midnight
You've had your fun. Go to bed, Ben.
The Rest of the Week
Photo shoots for the show, dinner with Cristin Milioti (who did this whole TV upfront dance with me last year for A to Z) at the incredible new Rebelle, saw the play Hand to God (if you haven't seen it yet, you're being ridiculous), dinner at Untitled (my very good buddy is the beverage director — go there) … and a bunch of other drinks with a bunch of other dummies just like me, who were lucky enough to crowbar their way onto your big or tiny screens in the coming year. The upfronts are stupid. The upfronts are great. I'm honored when they have me.