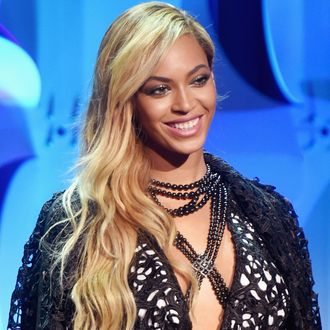 Ouch.
Photo: Jamie McCarthy/Getty Images
Lest you think Beyoncé and Jay Z really run the game, Sony is here to remind them who can actually make the world stop. In an extensive look at Tidal's shortcomings, Bloomberg Businessweek reports that Sony is threatening to pull all of its artists' music from Tidal — including one of the streaming platform's co-owners, Beyoncé. According to sources, Jay Z has yet to reach a deal on a streaming contract with Sony, which is reportedly asking for "large advances" in return for the rights to stream its artists' respective catalogues. (Two of the other major record companies, Universal and Warner, have reached deals with Tidal.)
If Jay Z can't pay Sony the money it's requesting, Bloomberg says Beyoncé and all other Sony artists — including other Tidal co-owners Daft Punk, Alicia Keys, and Usher — will likely disappear from Tidal. (Sony recently pulled its artists from SoundCloud for similar reasons.) Bloomberg does, however, note that Tidal is in good financial standing, meaning this could either turn out to be just a minor headache for Hov or a major embarrassment. Whichever way it goes, it's pretty clear Jay Z is not having a good day (or year).
Update: Sony Music's CEO Doug Morris has issued a statement denying Bloomberg's report: "Jay-Z is a friend and business associate for many years. I have always admired his business acumen, his entrepreneurship and his passion for music. All of our content, including Beyoncé, is available through the Tidal service, and we have announced no plans to remove our catalog from Tidal. Like all of our other partners, we are rooting for Jay and Tidal to succeed."