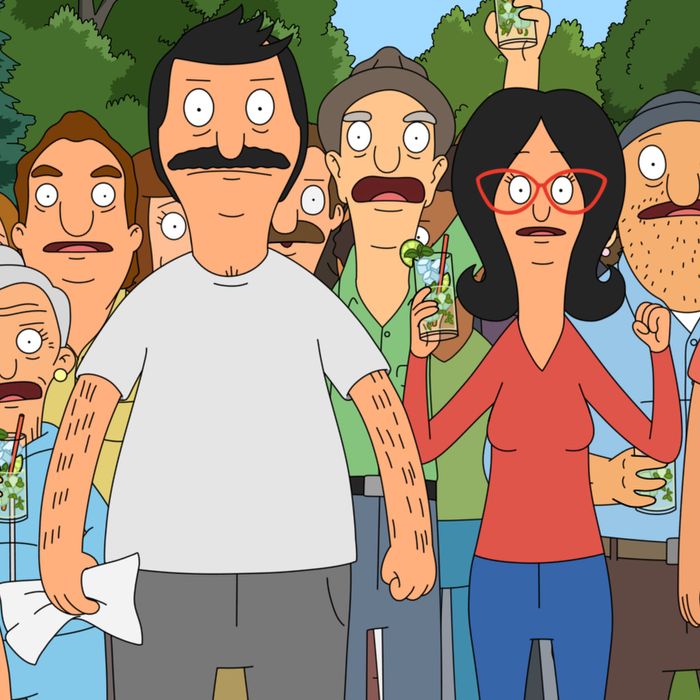 Bob's Burgers
Hawk & Chick/The Oeder Games
Season 5
Episodes 20 and 21
The Story
Sunday was a rough Sunday. Yes, there was the Mad Men series finale, but more important, there was a double-double of a season finale for Bob's Burgers. The episodes didn't air back to back (unless you watched on Hulu), which was kind of weird, but it was a delicious treat nonetheless. The episodes are fairly unrelated unless you consider the season finales as 40-plus minutes of Bob teaching his family and the supporting cast how to be fantastic, stand-up humans. We've looped the finales into one post here, but we've broken down their highlights separately below.
The Highlight Reels
First finale: "Hawk & Chick"
Parodying Lone Wolf and Cub, the first finale was a Bob-and-Louise episode (score!) that had everything it needed, save Regular-Sized Rudy (where the hell is this kid?). The father-daughter duo apparently has an obsession with these old TV-movies that involve a samurai-barber father (Hawk) and his badass, sword-wielding-also-a-barber daughter (Chick). Louise spots the actor who plays Hawk at a farmers' market, and she and her dad become at once starstruck and curious:
[+1 point to Bob for making jicama talk — this has seriously become one of his most underrated talents; +1 to Bob and Louise for pretending to be samurai warriors; +1 to Louise for hanging onto a beautifully naïve misconception of aging; +1 more to Bob and Louise for being professional stalkers — also, I think Bob stole that jicama.]
At the restaurant, Gene and Tina are playing salt shuffleboard. They have no idea what's coming, and they're really wondering what's taking Bob and Louise so long:
Tina: Maybe they're afraid to be around me … because I'm on fire.
[+1 to Tina for being a salt-shuffleboard gladiator and being more entertaining than Russell Crowe.]
No, Tina, you idiot, what's coming is Shinji Kojima, a.k.a. Rising Hawk. He ambushes his stalkers and comes to the restaurant to test out Bob's burgers (heh!) and watch one of his movies — bad idea, can you say, "trigger"?
Bob: This is amazing. We're watching Hawk and Chick with Hawk.
Louise: I know, and he must be excited because he's watching it with us.
Bob: Oh, everything okay, Kojima?
Koj: No, not okay. Reason I am in your town is to find my Yuki.
Gene: Is that Japanese for getting your groove back?
Koj: No, it is English for getting my daughter back.
[+1 to Louise for still thinking she and Bob are the real celebs; +1 to Gene for trying to turn this into an Austin Powers movie.]
Turns out Kojima hasn't spoken to his daughter in 30 years because she moved to America to become an accountant after their film careers derailed. (Honestly, pretty solid move for a child actor.) This episode is about to get very emotional, especially for Louise, so brace yourselves.
Tina: We gotta make this samu-right!
[+1 to Tina, we can always count on you.]
Louise comes up with a plan to stage a secret Hawk and Chick film fest that will reunite Koj and his daughter in front of all their fans. Couple obstacles: How to convince them to reunite and how to advertise a secret film screening? Well, like this:
[+1 to Gene; also, +1 to the person who voiced that champion of a sketchball.]
There's an interesting chunk of emotional meat the writers deftly plopped into this episode: When Bob and Louise confront Yuki, Bob tries to relate to Yuki's disdain for working with her father because he had a rough time growing up with his dad. There's a disconnect here with Louise because she and her dad get along quite nicely (at the moment). As the episode goes on, Koj and Yuki's relationship nicely parallels (and foils) Louise and Bob's relationship; it's both poignant and actually kind of scary (I don't want Louise to turn into Yuki!). As far as the immediate story's concerned, Louise concludes the best thing to do is just trick Yuki. She coerces her by imitating a crowd going wild for Yuki:
The print the Belchers get for the film fest is an original from Japanese, undubbed and unsubtitled. The family decides to dub the film themselves, which becomes a point of conflict for Linda (who has four unimportant characters) and Tina (who has three, but one of them is very important).
Linda: How many characters are you playing?
Tina: Three.
Linda: Ahh, three's good. I'm doing four characters. But I guess, ya know, I'm more experienced.
Tina: But I've got a lot of lines because I'm the mayor.
Linda: You're the mayor? Bob, she's the mayor?
Bob: Lin, it doesn't matter.
Linda: Tina, Tina, let me be the mayor.
Tina: Back off.
[+1 to Tina because kind-of-yelling-Tina is my new favorite Tina.]
At the screening, Louise grapples with the fact that she might grow apart from her family and friends, and change into someone totally different — like an accountant that hates swords. Our hearts break a little, and then maybe like me, you got a little depressed, because you don't want Louise to be let down by the realities of life. All of the feels. Good news: Bob is a champ and simultaneously cheers up his daughter, and says the perfect thing to get Koj and Yuki locked into a reunion hug.
Bob: This Hawk and this Chick will never not talk for 30 years.
[+100 to Bob for that combination emotional manipulation and parenting slam-dunk; also, more on the end of this episode, below, don't worry.]
***
Second finale: "The Oeder Games"
As the name implies, this finale is a Bob's Burgers take on The Hunger Games. Because of a rent hike, the tenants of the boardwalk are staging a rent strike against their all-too-wealthy landlord Mr. Fischoeder. Fischoeder preempts his unhappy friends with a water-balloon fight: Last man standing gets a rent cut, everybody else gets a rent hike.
[+1 to Calvin for worrying about mojito proliferation and safety; also, +1 to him for reading a lot of Suzanne Collins.]
The Oeder Games turns into a water-balloon-fight free-for-all that brings out the ruthlessness in everybody. Look, here's Tina pitting J-Ju and Zeke against each other:
Tina: Okay, Jimmy Jr., if I agreed to go on a date with you, where would you take me?
JJ: Um, to the drugstore?
Tina: Zeke, can you do better than the drugstore?
Zeke: Uh, tacos! Then to the touch tank at the aquarium, check out the octopuses. Then tacos again, maybe wash it down with something to drink. All sorts of good stuff, girl.
[+100 to Zeke, what a date, thoroughly jealous.]
Tina's power over the boys doesn't last forever, unfortunately, because J-Ju uses his magical dance moves to weaken her:
[+1 to J-Ju, you hound dog.]
Bob turns into a maniac because everybody betrayed him and destroys everyone. Fischoeder is annoyed because the ringleader of the strike essentially defeated him, so he begins another game: The Oeder Games: Catching Bob, in which it's everyone against Bob. If anybody hits Bob, they get $50 off their rent, and Bob gets $50 added to his. Fair. He ends up hiding in a pig, and Gene makes this gem of a funny:
Louise: Get back! That pig up there is our father!
Gene: And our dad's in there.
[+1 to Gene, bless you.]
Linda guilt-trips everyone into standing by Bob, and Bob makes things right with Fisch. The weird landlord postpones the rent hike, lets everyone have fun at his manse, and then makes this dick joke:
Fisch: Ha, ha! Don't hit my pants, I'm wearing white, you'll see the outline of my wiener. Ah, what the hell! Fire away!
[+1 to Fischoeder for being the worst and the best at the same time.]
The MVP
If this season's final Bob's Burgers event were just the first episode, I would've said Louise. She carried the first finale for about 90 percent of it, but Bob pulled through in the end and was the king of the entire second finale. I mean, really, he was a true champion of a father and a businessman-slash-human. In the first episode, he taught us not to stay true to ourselves or hold grudges against family members, strengthened his already-incredible relationship with Louise, and became a voice actor (meta!). (Only bummer is, yeah, I'm pretty sure Bob stole the jicama. Not good.) In the second episode, Bob stood up for his compatriots, brought everyone together, and quashed corruption. This guy's kind of on fire, something Bob isn't used to (but at least now we see where Tina gets her hot streaks). As a package, these two episodes — the first sentimental, the second just tons of fun — were a superb last course in what was a helluva season. Unlike burgers and most animated TV series, this show somehow gets better with age. I already miss the Belchers. Quick, here are some bonus sliders before I get super depressed and realize we have to wait for the fall to see these guys and their fun morals again.
Bob's Bonus Sliders
Jicamatata — yes.
Decency Inn sounds like a good name for a sketchy hostel.
Why does Shinji owe people money? That was depressing.
"We had a Meg Ryan film festival, and this place was disgusting afterward." Haha, wait, what?
Dominic is great.
Kevin sucks.
Linda's interpretation of Rent is problematic.
Big fan of Andy and Ollie smiling at each other in the second episode; actually, just big fan of them in that episode in general. Good-bye kiss was hilarious.
Geez, what is Sal? He is not human.
Bazonga Bazooka!
DD = doused and dampened from now on.
I love that Fischoeder thinks Bob is a foreigner.
The Bob's version of "99 Red Balloons" is the best present we could have asked for. A close second would be that hopefully Jimmy Pesto's joke about Bob being out of business in a year is definitely a joke and not hinting at anything serious.
Thank you for reading, come back soon!