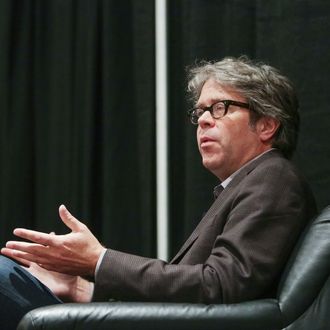 Jonathan Franzen.
Photo: Brent N. Clarke/Getty Images
This year's edition of BookExpo America, the bookselling trade fair currently winding down at the Javits Center, is the first to be followed by a completely separate BookCon, the consumer-facing convention that runs this weekend. But that didn't seem to take any heat off the annual frenzy of industry people hungry for news of big forthcoming titles and — more important — free galley copies thereof. Here are the books that store owners, librarians, and hangers-on talked about most and snapped up the fastest.
1. Purity, by Jonathan Franzen (Farrar, Straus & Giroux, Sept. 1)
The author of The Corrections and Freedom didn't have to participate in a keynote Q&A to promote his next title, but Wednesday's discussion of the ways his new novel will depart from previous work (more political and more fast-paced) probably fed the curiosity of Franzen fanatics and skeptics alike. Visitors from the hinterlands who hadn't gotten galleys yet were happy to grab them here.
2. City on Fire, by Garth Risk Hallberg (Knopf, Oct. 13)
The fire hose of hoopla for the biggest fall debut hit full force this week, and it wasn't all Knopf's doing. Readers on line for all kind of books either bragged about finding a copy of the 900-page novel, set in bleak '70s New York, or lamented that they hadn't acted fast enough. At the end of the annual Buzz Panel, where editors present a handful of leading titles, booksellers who descended on the galley tables cleaned out Hallberg's stack of bricks in 30 seconds flat.
3. The Marvels, by Brian Selznick (Scholastic, Sept. 15)
Plenty of grown-ups were weighing down their bags with another heavy object — this one for kids. Selznick's reputation and sales mushroomed with the film adaptation of his The Invention of Hugo Cabret, and this one came in beautiful packaging (especially for a galley). This should be a hit at BookCon, too.
 4. Home Is Burning, by Dan Marshall (Flatiron, Oct. 20)
Marshall's editor made a strong case at the Buzz Panel that the audience was hearing about a new contender for the Augusten Burroughs Prize for Excellence in Comic Darkness. On a panel the next day, Marshall himself sold a crowd on his memoir — about caring for his very ill parents while squabbling with his troubled siblings — by unveiling a new blurb from his mother: "Fuck you, Danny, and fuck your book." BEA-goers seemed to take it as an endorsement.
5. Between the World and Me, by Ta-Nehisi Coates (Spiegel & Grau, Sept. 8)
Owners of bookstores closer to the coasts, along with the media elites who congregate there, couldn't wait for something more personal from the journalist-essayist who's rapidly emerging as a superstar thinker on race in an era that could sure use one. Structured as a letter to Coates's adolescent son, it's really a memoir explaining how the personal and political have melded into fresh ways of thinking about race and America.
6. Armada, by Ernest Cline (Crown, July 14)
Cline's first novel, Ready Player One, wherein a Matrix-style premise crashed into a Halo-style game-based plot, was popular even before Cline spun it off into an elaborate video-game contest with the grand prize of a DeLorean. His second gaming fantasy, given away on Thursday, "nearly caused a riot," per one fan, who was on line for a different book but couldn't brave Armada's surging crowds. Well, July's just around the corner.
7. After the Crash, by Michel Bussi (Hachette, Jan. 5, 2016)
8. In a Dark, Dark Wood, by Ruth Ware (Gallery/Scout Press, Aug. 25)
That both of these books are being proclaimed the next Girl on the Train probably says more about publishing's bandwagon sales strategies than the books themselves. Still, both authors were feeding a clear hunger for psychological thrillers. Ware hews closest to the new genre of twisty mystery-woman books with the story of a bachelorette party gone very, very awry. Bussi's suspense, originally published in French, focuses more on class and power, chronicling the dispute between two families laying claim to the three-month-old sole survivor of a plane crash.
9. A Window Opens, by Elisabeth Egan (Simon & Schuster, Aug. 25)
There are a couple of reasons booksellers sought copies of Egan's forthcoming debut, a sort of Devil Wears Prada for grown-ups about a mother trying to have it all. There's the obvious appeal of a book that melds chick-lit with an oblique critique of Lean In, but there's also the pleasure of artfully played inside baseball: Egan was briefly an editor at Amazon, which sounds not entirely unlike Scroll, the demanding new book-distribution company her heroine tries and fails to lean in for.
10. The Story of the Lost Child, by Elena Ferrante (Europa Editions, Sept. 1)
The snaking line for galleys of the final installment of Ferrante's increasingly popular series of Neapolitan Novels, tracking the complicated lifelong friendship of two Italian women, began forming well in advance of the giveaway. There were bigger and more riotous clamors, to be sure, but consider that Ferrante wasn't even there, on account of completely hiding her real name and identity from the rest of the world.