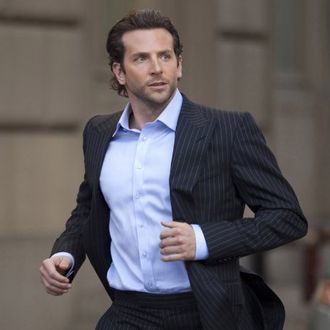 Bradley Cooper in the Limitless movie.
Photo: John Baer/Dark Fields Production
Tucked inside CBS's fall schedule announcement this morning was another surprise: Bradley Cooper will appear in the network's Limitless series, in a recurring role. As with his part in the Wet Hot American Summer prequel, it was generally assumed that Cooper was too famous to stop by the TV version of his moderately well-received 2011 film, but he apparently enjoyed playing mind-boosting drug addict Edward Mora enough to reprise his role for the series. (The fact that he's an executive producer on the show probably helped.) In the show, Cooper's character is now a senator who aims to use star Jake McDornan — who is also on mind-boosting drugs, natch — as his "protégé"; since this show is basically a serious Chuck, does that make him the new Scott Bakula?