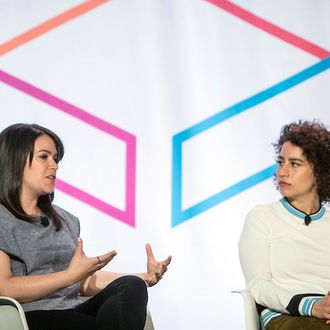 Abbi and Ilana, aka Carly and Evelyn.
Photo: NSIDER IMAGES/Gary He
Internet Week New York kicked off this morning with Marie Claire editor-in-chief Anne Fulenwider chatting with the creators of Broad City, Ilana Glazer and Abbi Jacobson. While the conversation was supposed to cover what Broad City means for the future of web series and television entertainment, a lot of time was spent on how the series came to fruition, and what could have been — including the names of their original characters and how Mark Consuelos, husband of Kelly Ripa, originally played Jeremy, Abbi's hunky next-door neighbor.
They don't consider themselves YouTube sensations.
While Broad City was originally a YouTube show, it didn't go viral on YouTube. Before the Comedy Central show, the views were on average around 2,500. The girls did, however, see their popularity rise when they posted on Facebook.
Abbi Jacobson: It was on YouTube, but Facebook was the place where people shared it.

Ilana Glazer: We also tracked on Facebook and beyond like people, you know at first it was like, "My mom likes it!" Yeah, no shit. Then my mom's friend likes it and then it was like we tracked branching out, and then eventually we wouldn't know the people who were watching.

AJ: … I still don't know if we are YouTube sensations.
They often wear the same clothes to reference Roseanne.
When Fulenwider mentions Abbi's recurring blue bandage dress, Jacobson says that was a reference to the rooster T-shirt that would appear on Roseanne. "It's like we all wear the same clothes over and over, but on shows I don't see them do that," said Jacobson. "Ilana will wear Abbi's shirt, but repurposed, and it just makes sense. I think some of them feel like characters that would actually wear the same stuff."
Abbi could have been a barista.
Ilana works at Deals Deals Deals, but Abbi wasn't always supposed to work at Soulstice. "We shot the pilot a year before the series got picked up, so there was a chunk of time in the middle where we ended up changing; we did a lot of re-shoots of the pilot, so my character Abbi originally worked in a coffee shop, Joe Coffee," said Jacobson. "It was basically just me and this elderly customer. She was my regular and we always got into it."
What's their next dream location?
The second season of Broad City ended with an epic night on St. Marks, and the duo are secretly hankering for other iconic locations. "We've been trying to write this episode — hopefully we'll get it — on the Brooklyn Bridge," said Jacobson. Glazer added, "The first year we had this idea, this brilliant idea, but construction was going on." Jacobson also noted that while the show gets grouped with other Brooklyn shows, her character actually lives in Queens, an area they want to explore more in the upcoming season.
Nope, their characters weren't always "Abbi" and "Ilana."
In the original script for FX, Abbi was supposed to be "Carly" and Ilana was to be "Evelyn" because they had "the same amount of syllables." But the network wanted them to keep their names. "I am very happy we did just because I don't think our names are on TV," said Jacobson. "It is a thing because when someone recognizes me from the show they'll say my name and then I won't know for a while if I know them or if they just know my character."
The original Jeremy has something to do with how that coat check episode happened.
The episode where they have to work the coat check and Abbi gets wild with Kelly Ripa started off because they knew a story of a "wealthy famous celebrity" who often liked to steal coats.
AJ: Kelly Ripa was so amazing because she was so down to do anything, and we thought it would be very difficult to get her. It was like, "Let's take this person that you all know as being all-American and really have fun with her," and she was like, "It was so much fucking fun." She was amazing and I think people watch it and they're like, "Holy shit!"

IG: I think part of that is inside her … like part of that is really her.

AJ: Little inside scoop: We didn't know Kelly, but we knew Mark Consuelos [her husband] because Mark Consuelos was the original Jeremy — in the original pilot he was Jeremy.
Of all the things that could have been, that might be the only one that really stings.