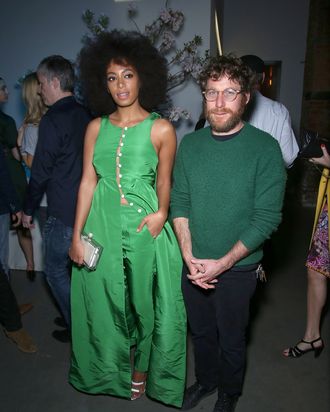 Solange Knowles and Dustin Yellin.
"Forty-seven months ago, this building was filled with pigeons and pigeon shit. Now it's filled with you," announced the artist Dustin Yellin from the stage at May 3's "Village Fête" auction and dinner to benefit his nonprofit art compound Pioneer Works, which is housed in a 25,000-square-foot former iron factory in Red Hook.
Solange Knowles, who is currently working with Yellin on a collaboration for Kiehl's, was seated a few feet away from Sebastian Errazuriz's sculpture of a rotary telephone with a dildo for a receiver — a riff, of sorts, on Salvador Dalí's surrealist classic, Lobster Telephone, titled Lobster Salad. Priced at $12,000, Errazuriz's work was by far the most expensive in the silent auction.
"Well, who can put a value on a penis phone?" shrugged Solange.
Also on hand for the carving up of the roast pig and outdoor Bombay Sapphire bar were Lauren Santo Domingo, Sienna Miller, Alexa Chung, Jemima Kirke, Lucy Liu, and Fab Five Freddy.
Several attendees said they were eager to support what they saw as an uncommon agenda: an artist-run space that's not single-mindedly centered on art. Apart from hosting artist residencies and exhibitions, Pioneer Works is also home to a radio station, a bookstore, a civic journalism initiative, and a science lab. It's a kind of community center for the evolving postindustrial, post-Sandy neighborhood.
"This is what we're lacking in the art world. We're all so narcissistic," said the Iranian-born artist Shirin Neshat, who spent a decade running the nonprofit Storefront for Art and Architecture before joining Pioneer Works' advisory board. "This just hit the right nerve with me."
The curator and dealer Jeffrey Deitch, summery on Sunday in a violet suit, thought the same thing when he first visited the space. Yellin had convinced him to come see it one night after dinner. When he walked in, Deitch saw hundreds of kids from the neighborhood eating pizza and typing at computers. Wondering why they were there so late, Yellin explained to Deitch that it was part of a 24-hour "hackathon," to hone their tech skills. "There are very few examples of this, of someone in the art world creating a structure that's not in the art world," Deitch said. (He later held the party for the release of his Deitch Projects monograph, Live the Art, there.)
For a while there were rumors that Deitch might join with his own art space in Red Hook. He had been talking with a developer about potential venues, but says plans got put on hold last year — not for the usual "real estate prices are just impossible these days" reasons, though. "When word got out that I was considering doing something here, people suddenly began offering me free spaces," he said.
As for the penis phone, Errazuriz was quick to justify the price. "I didn't realize how much dildos cost, but they're very expensive. That one was actually $150," he said. While some of the auction planners had accused him of "flippantly" inflating the price, he argues that $12,000 is actually a bargain for the unique sculpture. His gallery, Salon 94, sells similar works in editions of five for the same price.
"I think Dalí would be proud," he said. Which seems likely.
The live auction raised $43,000 toward keeping Yellin's space lively and pigeon-poop-free.