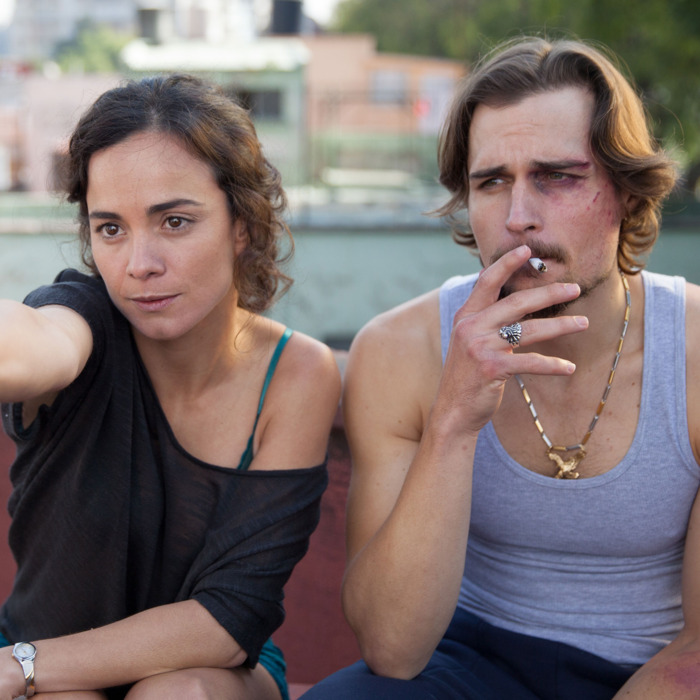 Queen of the South, USA's adaptation of the novel (and telenovela) Reina Del Sur. Alice Braga (left) stars as a woman who's out to avenge the killing of her drug-dealer boyfriend.
Photo: Benedicte Desrus/USA Network
Temporarily forgetting about falling ratings and challenged business models, TV's five major networks last week unveiled dozens of new shows at the so-called upfronts — a series of presentations designed to kickstart advertising sales for the fall. But while broadcasters generally throw the splashiest events and generate the biggest headlines, their cable rivals also play the upfront game. Networks such as MTV, TNT, Adult Swim, and ABC Family have spent the last few months briefing potential ad buyers on their future programming plans. And unlike broadcasters, cable networks don't just focus on stuff guaranteed to get on the air: They also offer glimpses at projects in early stages of development (some of which will never get off the ground). Here's a look at some of the most notable scripted-series announcements from 12 major and medium-size cable networks that held upfront events this spring. (If you don't see your favorite cable channel, it either didn't have a formal presentation or didn't unveil anything new.)
TNT
Former Fox chief Kevin Reilly is now running the show at the Turner entertainment networks, and he's just now starting the process of "evolving the brand," as cable-industry folks like to say. At TNT, this means moving beyond the channel's reputation as the CBS of basic cable. "Viewers should expect some very daring shows, some of which will not appeal to all of our current viewers but will be a lightning rod to attract new viewers," Reilly said in announcing his first slate. First up will be The Alienist, an eight-part miniseries adaptation of Caleb Carr's 1994 novel about Gilded Age New York from the team of Cary Fukunaga (True Detective), Eric Roth (The Curious Case of Benjamin Button), and Hossein Amini (Drive). TNT has also ordered pilots for Will (as in Shakespeare) and a family crime drama called Animal Kingdom from ER showrunner John Wells.
TBS
The comedy network in the Turner family will begin its post-Reilly transformation this fall with previously announced Jason Jones half-hour The Detour, and the Steve and Nancy Carrell–produced police-procedural satire Angie Tribeca starring Rashida Jones. Newly announced during the upfronts is The Group, a comedy pilot about alien abductees from Conan O'Brien and Greg Daniels, and Wrecked, an ensemble comedy series from writers Justin Shipley and Jordan Shipley.
Adult Swim
In addition to TV Sucks, a new sketch comedy from China, IL creator Brad Neely, the late-night network green-lit a dozen pilots for potential series. Among the more interesting titles: Mr. Neighbor's House (a kiddie-show parody from Childrens Hospital alum Brian Huskey and Rob Corddry); Ballmastrz 9669, an animated show about a futuristic sports sensation; and The Pound Hole, which Adult Swim describes as "a contemporary Soul Train." Alrighty, then!
ABC Family
The young, female-skewing network has green-lit a pair of pilots: A Big Bang Theory–esque comedy from The Office scribe Danny Chun called Gorgeous Morons, and a supernatural thriller from Heroes creator Tim Kring called Beyond. ABC Family also said it's in early stages of development on a Las Vegas–set soap about aspiring performers (exec producer: Christina Aguilera); an adaptation of Vulture recapper Rebecca Serle's novel Famous in Love, staring Bella Thorne (The Duff); and a rock-band comedy called Sold Out.
MTV
The success of Game of Thrones and Outlander has inspired numerous attempts to get in on the fantasy adventure game, and MTV's effort is an adaptation of the book series The Shannara Chronicles. According to the network, the show, set a couple millennia in the future, "follows three heroes — Amberle, an Elvin Princess; Eretria, a Human Rover; and Wil, a Half-Elf, Half-Human —  as they embark on a quest to stop an evil Demon army from destroying our world." Maybe there can be a crossover episode with Teen Wolf?
BET
Music vet Brandy Norwood will play Zoe Moon in what the network is calling a "romantic sitcom" about a recently single mom who's starting a career as a cosmetics mogul. Scooter Braun, manager of Ariana Grande and Justin Bieber, is an executive producer.
USA
In addition to previously announced genre thrillers Mr. Robot and Colony, the NBC-owned cable network used the upfront to tout a series order for Queen of the South, an adaptation of the novel (and telenovela) Reina Del Sur. Alice Braga (City of God) stars as a woman who's out to avenge the killing of her drug-dealer boyfriend.
A&E
The network's big new series — Damien, an adaptation of the horror classic The Omen — was originally intended for sister channel Lifetime. Bradley James plays a grown-up version of Satan's spawn, who's coming to grips with the fact that he's the antichrist. Hey, we've all got issues. It's set to debut next year.
History
The iconic miniseries Roots is being remade, with original producer Mark Wolper and star LeVar Burton working with new exec producer Will Packer (Ride Along). It's set to air on History (and sister nets A&E and Lifetime) next year.
Lifetime
The Weinstein Company and the BBC are working on a TV version of Tolstoy's War and Peace, with Paul Dano, Gillian Anderson, Lily James, and Jim Broadbent all attached to star. Slated to premiere in 2016 as what the network is calling a "major limited series event" (as opposed to a series, an event series, a miniseries, or a plain-old limited series). No word on whether there'll be a CliffsNotes version of the series.
Discovery
You're not really a cable network these days if you don't try to do something in the scripted space, which is why a network usually known for reality shows and nature specials is developing Harley-Davidson. Discovery says the series "will tell how Milwaukee schoolyard pals William S. Harley and Arthur Davidson built – and rode – the machines that rule the road," and promises viewers  "spectacular crashes, family feuds, inspired engineering and strokes of genius."
Esquire
Yet another newcomer to the scripted series thunderdome: The network linked to the men's magazine has ordered ten episodes of Spotless, which it describes only as "dark and irreverent." It's an international co-production, which means a cast of vaguely familiar character actors and slightly lower production values. (The formula worked for Orphan Black, so: Don't judge!)