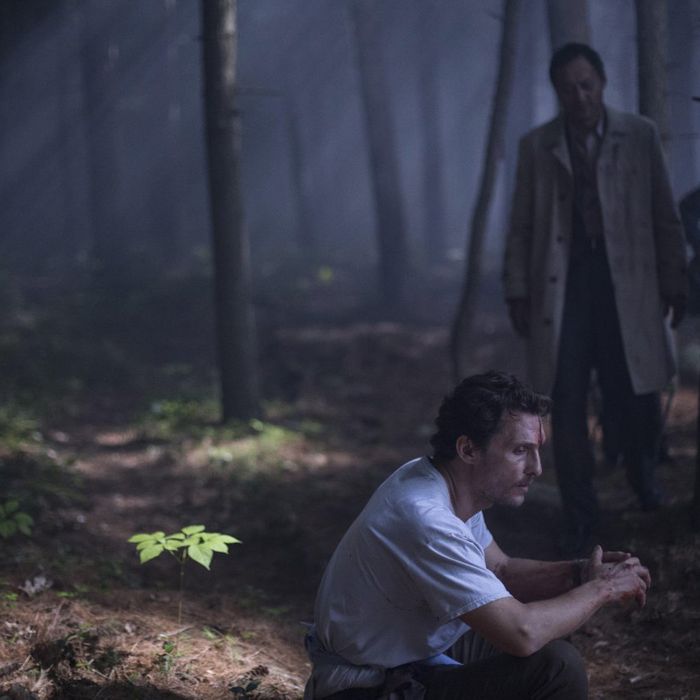 Photo: Netter Productions
Matthew McConaughey and Gus Van Sant are critical favorites and Cannes Film Festival royalty — the latter even managed a twofer in 2003 when he took home both the Best Director trophy and the Palme d'Or for his film Elephant — but yesterday, their new effort The Sea of Trees found a far more rocky reception on the Croisette. The story of a suicidal widower (played by McConaughey) who decides to end his life in Japan's Aokigahara forest, Sea of Trees drew lusty boos at the end of its press screening yesterday, a notorious Cannes tradition saved for both the risible and the rarefied. The Ryan Gosling starrer Only God Forgives earned fairly deserved jeers two years ago when it debuted at Cannes; on the other hand, one of my favorite Cannes movies of recent vintage, the lush Carlos Reygadas head-scratcher Post Tenebras Lux, was booed by the woman next to me even as I swooned in my seat.
There's nuance, then, in the films that get booed here by an excitable foreign press, but that all gets thrown out the window once a film becomes codified as a worst-of-fest front-runner, and the pile-ons begin. Sea of Trees "officially ends Matthew McConaughey's exceptional recent run of top-notch performances," wrote The Hollywood Reporter's Todd McCarthy, while Variety's Justin Chang called the film a "cultural insult" that "shifts from dreary two-hander to so-so survival thriller to terminal-illness weepie to M. Night Shyamalan/Nicholas Sparks-level spiritual hokum." Another critic, Guy Lodge, took to Twitter and simply pronounced, "Sea of Treezzzzzzzzzzzz."

"I read one review this morning. and it was very definitive," Van Sant said with a bemused smile this afternoon, as he faced the media at the film's day-after press conference. "I thought, Okay, now I know where I stand."

His star, McConaughey, adopted an even more relaxed position. "Anyone has as much right to boo," he drawled, "as they do to ovate."

Sometimes the former can actually lead to the latter. Another Gosling film, The River, was panned so viciously at Cannes last year that when it came out in theaters this spring, the critics were far more forgiving, perhaps primed to expect a major fiasco. Roger Ebert famously reversed course on Vincent Gallo's The Brown Bunny after he saw it at Cannes: When it unspooled on the Croisette, he didn't even wait until the movie was over to start jeering, but several months later after the humid hype of Cannes had long faded, Ebert gave the nipped-and-tucked film a second look and found himself giving it a thumbs-up.

McConaughey admitted at the press conference that he was sometimes adrift while shooting Sea, and was particularly stymied by his passive protagonist. "There were many times during the making of this where I thought, I don't know what I'm doing," he said. "That frustrated me for a long time." Still, "I like the film," he said. "I'm happy to be here, happy to be invited. Happy that the film got in."

Whether or not Van Sant is reconsidering its submission is still to be determined, but the filmmakers says he's used to controversy, even when it comes to his more revered works. "There was some sort of fight after Elephant screened," he said, remembering a scuffle between two audience members outside the Palais. "There were fisticuffs. They were fighting over [whether it was] good or bad, and they were actually punching." At that recollection, Van Sant smiled like a proud father.