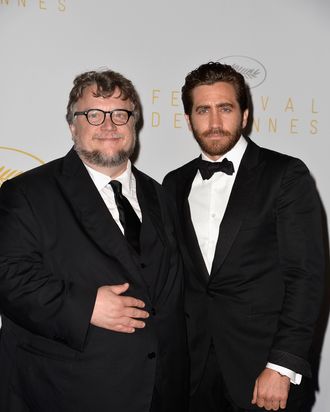 Jury members Guillermo del Toro and Jake Gyllenhaal attend the opening ceremony dinner during the 68th annual Cannes Film Festival on May 13, 2015.
Photo: Pascal Le Segretain/Getty Images
How do you celebrate a film festival that seems to be asserting its social consciousness, first opening with a movie about an impoverished family grappling with the juvenile justice system (La Tête Haute), followed by Thursday's premiere of Mad Max: Fury Road, with its bleak postapocalyptic future of violence and drought? By serving Brittany lobster with truffles and an Amoricaine cream soup! Whatever that is!
The rich food and multi-thousand-dollar dresses at Wednesday's Cannes Film Festival opening dinner weren't quite in keeping with the themes onscreen so far, but whatever alchemy they created, plus free-flowing Champagne, did make the evening ripe with unexpected discoveries while observing celebrities in their natural environment.
For starters, did you know that Frances McDormand gives the warmest first greetings ever? The way she made a beeline over to Jane Seymour, hugged and kissed her, and then held her hand for ten minutes as they talked, I was sure they'd known each other for years. Turns out they'd never met before, Seymour told me later, but McDormand is doing a reboot of a 1978 miniseries about an Ohio frontierswomen Seymour did with Elizabeth Montgomery called The Awakening Land and wanted to do her homework. "What's exciting for me is that the miniseries [as a genre] is coming back, and I didn't realize that," said Seymour. "I was so fortunate. I got to do 12, 14 miniseries. I'm really glad they're back." (When I tried to talk to McDormand, she just grabbed my hand and held it firmly and quietly, then went on her way. It was better than any interview.)
Seymour, for her part, looks amazing at 62 and is at the fest trying to sell U.S. distribution rights to a dance movie she made that sounds like it could be the next Step Up. It's called High Strung and features a mash-up of everything from ballet to hip-hop, with real dancers filling all the acting roles. "Oh, this movie is going to make a ton of money," she said, "but it has to be marketed right, you know? Because it's G-rated. It's got edge, but nobody's doing anything really, really bad in it." Meanwhile, she's just enjoying getting interviewed by the French press because she's really proud of her fluent French. She learned it in 1989 when she came here to do a 1989 TV movie called The French Revolution. "I had an agent that forgot to ask me if I spoke French, sent me here, signed me up, and they said, 'Tu parle français, no?' I learned in a week."
Over at the main dais, Natalie Portman was busy proving that Reese Witherspoon isn't the only celebrity who can drop into any room and make it a party. Even a stern-faced Catherine Deneuve, seated across from her, cracked a smile at Portman's charms. Turns out she doesn't just want all your Oscars, she'll take your microphones, too. Cannes festival president Thierry Frémaux happened to leave the one he was toting around the party to make occasional announcements unattended, when Portman snatched it up, gave a mischievous look to husband Benjamin Millepied, tapped the mic, and pretended to get ready to make an announcement. She also pretended to sing karaoke into it several times. Imagine Natalie Portman, now imagine Natalie Portman doing this, now imagine Natalie Portman doing this with sweet, sweet love in her eyes, and you'll get a sense of how adorable it was.
But the most exciting observation of the night, and possibly the entire festival, is that Jake Gyllenhaal and Guillermo del Toro are total future BFFs. They're both on the Cannes jury and didn't know each other before two days ago, but it's just so completely obvious that each thinks the other is a hoot.
We started percolating this theory earlier in the day watching them during the jury press conference, when Jake joked, "It's an honor to be standing behind the Coen brothers. I've never seen the back of their heads before, literally and figuratively," and Guillermo couldn't stop cracking up. Then Guillermo made a joke about how the deciding factor for him to join the jury was because he'd finally given up the idea that he was ever going to get thin enough to fit into his old suits and decided to buy all new suits and needed somewhere to wear them, which Jake followed up by saying that the reason he was most excited to be a Cannes juror was because he'd planned on borrowing Guillermo's suits. Stop it, you guys! Guillermo also thought Jake's joke about the Coens each claiming a section of the jury that they planned on pitting against each other — "We've all been split into the Ethan group or the Joel group … and that was all purely based on personality and we had no choice" — was hilarious.
Jake took off before I could follow up on this important friendship matter, but Guillermo was more than happy to talk about his new buddy. "I just met him," he said. "Great guy, I'm sure of that. He has such a humor! Such a great sense of humor. Love the guy. Love the guy." And both Coen brothers affirmed that I'm not off base about Jake and Guillermo becoming future besties. (And they're the Coens! They know everything.) "I think that will be the case," said Joel. "Jake and Guillermo have [all of the jury's banter] covered. We just listen." "Just wait and see," Ethan concurred. "Jake will be in Guillermo's next movie. They seem very taken with each other."