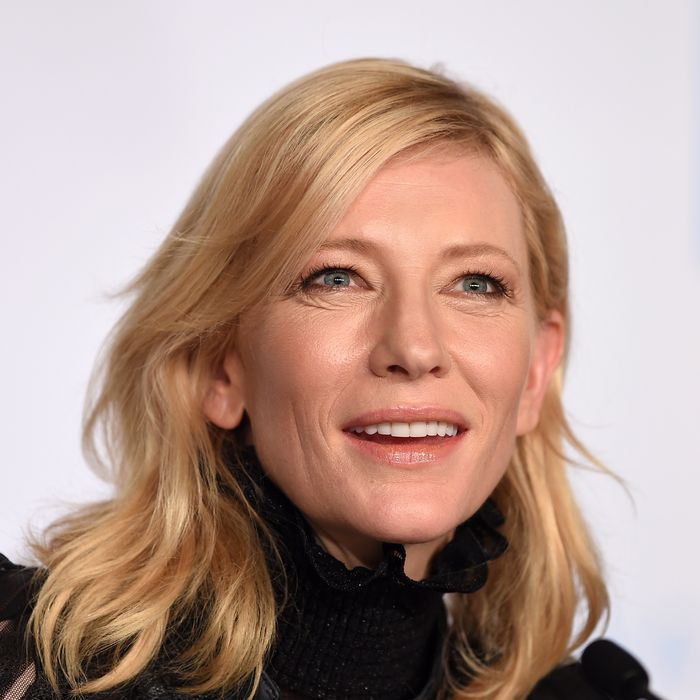 Remember when Cate Blanchett told Variety that she'd had relationships with women "many times" and we all thought she was talking about being a lesbian? Well, today at the Cannes press conference for Carol, the new Todd Haynes movie in which she and Rooney Mara play lovers in the 1950s, Blanchett did a bit of clarifying that is sure to disappoint many. "From memory, the conversation ran, 'Have you had relationships with women?' and I said, 'Yes, many times,'" Blanchett said. "If you mean I've had sexual relationships with women, the answer's 'No.' But that obviously didn't make it into print."
The room laughed and applauded, but Blanchett wasn't done: "But in 2015, the point should be 'Who cares?'" she went on. "I mean, call me old-fashioned, but I thought that one's job as an actor was not to present one's boring, small, microscopic universe, but to raise and expand your sense of the world and make a psychological and empathetic connection to another character's experience so that you could present something other than your own world to an audience. My own life is of no interest to anyone else. Or maybe it is," she said, raising an eyebrow to a crowd who obviously did care about her private life a lot. "I don't know. But I'm certainly not interested in putting my own thoughts and opinions up there. Why I want to be an actor, why I love to be an actor, is … the research" — which in the case of Carol meant reading '50s erotic novels. "It's finding out other people's experiences and that youthful, intangible symbiosis in order to communicate it."
You may also be disappointed to find out that Carol is the most tasteful of lesbian romances, a far cry from the steamy and controversial rompings seen here at Cannes two years ago in Blue Is the Warmest Color. There is a long courtship, a lot of glances and touches charged with sexual tension, and when we finally see Blanchett's Carol go south on the trembling naked body of Mara's Therese, it is passionate, but not wild — a momentary release, before they put back on the fabulous period costumes that I found myself falling in love with more than the characters.
There was talk of bigger-picture gay and women's rights. Blanchett pointed out how many countries around the globe still consider homosexuality illegal. "We're living in deeply conservative times, and if we think otherwise we're being very foolish."
Has her comfort with nudity on-screen changed over the years? "Certainly since giving birth. A lot of people see you naked in that scenario," said Blanchett. "I'm nude quite often, so it wasn't a big deal for me," added Mara.
A Bangledeshi journalist who's quite a character in these press conferences and can't always articulate what he means clearly in English began mentioning that the last time Blanchett was at Cannes was for a children's movie, last year's How to Train Your Dragon 2, and wanted to know if that fact somehow made the sex scene hard to shoot. "You mean [being] the age that I am?" asked Blanchett, confused but cheeky. He tried again: Would it be difficult to remain elegant and sophisticated after this? Blanchett paused a while, smiled, leaned into the microphone and said, simply, "No."
Meanwhile, Variety's Ramin Setoodeh had this to say: