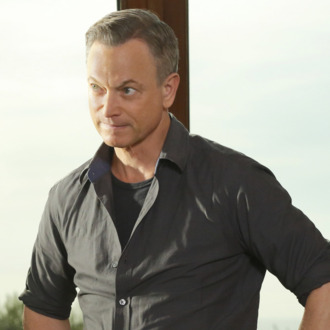 Gary Sinise will star in the Criminal Minds spinoff.
Photo: Trae Patton/?'??2015 CBS Broadcasting, Inc. All Rights Reserved
Upfronts week rolls on. The official unveiling hasn't been made (that'll be next week), but Vulture can confirm that CBS has ordered four dramas and two comedy pilots for the fall season (Supergirl has already made it to series). Three of the dramas, Code Black, Rush Hour, and Limitless, are based on feature films or documentaries, and the fourth is a spinoff of Criminal Minds. The Giant Eye network is also determined to get into the single-camera comedy game: Both Angel From Hell and Life in Pieces are single-cams, a slight surprise for a network that built its brand on multi-cam sitcoms.
Code Black: Written by Michael Seitzman and directed by David Semel, the show is based on Ryan McGarry's feature documentary of the same title (he's also an executive producer). The cast includes Marcia Gay Harden, Bonnie Somerville, Raza Jaffrey, and Luis Guzmán (!) as medical professionals in one of the busiest ERs in the country.
Criminal Minds: Beyond Borders: It's not CBS if there isn't a spinoff. This is the second Criminal Minds spinoff (after the short-lived CM: Suspect Behavior), with Gary Sinise starring as an FBI agent in charge of helping American citizens who find themselves in danger abroad. Half-Korean babe Daniel Henney also stars.
Limitless: Craig Sweeny writes and Marc Webb directs this drama based on the 2011 feature film starring Bradley Cooper (he's also an executive producer on this). The show follows Jake McDorman as Brian Finch as he uses an ability-enhancing drug called NZT and has to use his new superpowers to solve cases for the FBI.
Rush Hour: Sorry, there's no Jackie Chan or Chris Tucker in this one. Justin Hires plays the cocky black cop and Jon Foo plays the straitlaced Hong Kong cop in this reboot of the classic buddy comedy from the '90s.
Angel From Hell: Jane Lynch and Maggie Lawson star in this single-cam comedy, where Amy (Lynch) comes into Allison's (Lawson) life and claims to be her guardian angel. She may just be crazy!
Life in Pieces: Better Off Ted alum Justin Adler runs the show on this family comedy starring Dianne Wiest and James Brolin, where the story is told from the perspectives of the various family members. Colin Hanks, Betsy Brandt, and Thomas Sadoski play the kids!