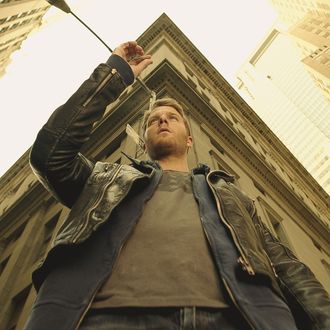 Photo: Best Possible Screen Grab/?'??2015 CBS Broadcasting, Inc. All Rights Reserved
CBS was the last of the major networks to show off their fall schedule for the 2015–16 season. As you might expect, the Big Eye is sticking with the tried and true: There are only four new shows debuting in the fall, including Limitless, getting a boost from Bradley Cooper, Jane Lynch in Angel From Hell, the family single-cam comedy Life in Pieces, and Supergirl. Here are the things we learned during their big presentation at Carnegie Hall:
CBS is only 124,000 viewers behind NBC for first place in the key demo.
That's nothing, says Les Moonves! If this were an election, it would totally be too close to call.
Stephen Colbert is going to bring in the young eyeballs for CBS.
"We want young eyeballs, and not just the ones Rupert Murdoch sells on the black market," joked Stephen Colbert when he came out to do a little set. That was one of the edgier jokes he told, as he mostly stuck within the network's scope of safe and inoffensive. Colbert did joke, "We will do the best show we possibly can and occasionally make the network very angry at us." Fingers crossed.
The Big Bang Theory, Colbert, the Super Bowl.
What do these have in common? They're all on CBS! And they are the network's proudest assets.
CBS is really into football.
NBC spent less time on its Olympics walkups, but CBS always goes hard in boasting about its sports coverage, and now that they're going to have the Super Bowl again — Super Bowl 50, no less — they decided to pull out all the stops. Important cast members from CBS shows were also forced to pretend to know how to hold footballs for a video montage. Get ready for a lot of talk about a "golden season."
CBS just doesn't have a lot of empty spots.
The network is premiering only five new shows in the fall, keeping 2 Broke Girls, Mike and Molly, and Person of Interest in the hopper for whenever something goes wrong.
They brought James Corden on to sell his own show.
Corden spent his time onstage talking about all the cool things he's going to do on The Late Late Show With James Corden, how he's only done 26 shows so far, and why it takes a while for late-night shows to get in the groove. We're rooting for you, James, don't worry.
They win second place for best use of song.
Lorde's cover of "Everybody Wants to Rule the World" playing over the Limitless trailer was one of the more interesting music choices we've heard in the last few days. But no one can beat a Montell Jordan appearance.
CBS sure gives away a lot of the plot of its new shows.
You know how sometimes you feel like you've seen the whole thing from the trailer? Well, CBS trailers certainly don't skimp on plot. In Angel From Hell, we find out that Allison, played by Maggie Lawson, discovers her boyfriend cheated on her with her best friend. In Supergirl, we not only go through the origins of said Supergirl, but also watch her save the plane her sister is on, as well as tell her love interest that she's Superman's cousin. Um, save some stuff for the actual show, guys.
Bradley Cooper will lend his movie-star power to the Limitless pilot.
It's been far too long since we've seen the Alias star on the small screen.
OGs William Petersen and Marg Helgenberger will be back for the series finale of CSI.
It might be all over for the CSI franchise, but they're going to go out with a bang: The show is bringing back original leads William Petersen and Marg Helgenberger for a "two-hour farewell TV movie" where they will all huddle around fingernail clippings.