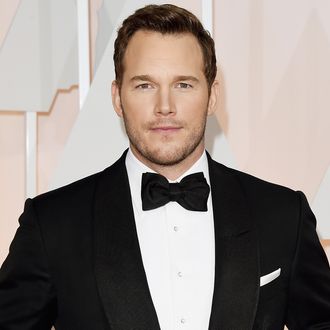 Fit Pratt.
Photo: 2015 Getty Images
Welcome to the Second Summer of Chris Pratt. Can you feel the heat (err, chill)? GQ has the scoop on everyone's favorite former dadbod, who reprised many classic Pratt topics: his shiny, blockbuster-friendly body; his penchant for whipping out his junk in public; and the extra-special BMs he saves for his Parks and Recreation castmates. Here's what we learned:
Anna Faris loved Fat Pratt as much as we did, but apparently, he wasn't into it.
Pratt told GQ that he "didn't feel too great about who I was." He means this in the physical sense: "My bones ached, I had cardiovascular issues, I was unhealthy, I was feeling rotten." His wife, Anna Faris, however, probably preferred his plushier figure. Now he's gotten more serious and is doing triathlons. Pratt said, "I think that part of her is hedging her bets that one day I'll be fat again, and she'll say, 'Remember, honey, I always told you I preferred you this way.' She's probably just playing the long game."
He got suspended in high school for whipping out his junk, too.
There was the time he did an outtake on Parks and Recreation where he surprised Amy Poehler with his actual penis (HR reprimanded him for the action). He has always loved letting his flag fly free: He got suspended in high school for "getting naked on the track bus." He also did this to his coach: "'I remember walking into the coach's office with just a sock on. Not on my feet. And I was like, "Hey, Coach, can I talk to you?" And they were like, "Jesus, God!"' He grins. 'I liked making people feel uncomfortable.'"
He thought of himself as a dolphin for Jurassic World.
"They lead with their foreheads," he explains.
He'll be sending Nick Offerman pictures of his poop as birthday gifts for the rest of his life.
He sends his Parks and Rec co-star Nick Offerman particularly delightful poops. "One time I had one that was three pieces that landed in the shape of an N — I was like, 'Gotta send that to Nick — it's his first initial!' If it's extra … the size. You know, some poops are unremarkable, and some you take pictures of and send them to Nick Offerman."
Offerman, meanwhile, replied with a statement on Pratt's poop that must be quoted in full:
Chris and I merely recognized in one another a formidable, concordant creator. Our 'pieces' transcend bourgeois notions like 'taste,' 'decorum,' and 'NSFW.' That's plebeian stuff. He is magnificent — a lavatorial Michelangelo, and I am his Da Vinci. He proffers Rubber Soul, and I reply with Pet Sounds. The notions of 'culture,' 'good taste,' 'decency,' and 'common sense' are but flotsam to us. Jetsam, even. Our works have honesty in their fiber. His letter N, I met with a lengthy riposte: a twenty-six-inch rejoinder, to be precise, unbroken. From the backstage dressing room of an eldritch Kansas City auditorium. We are Komodo dragons, Christopher and I. We are moray eels, mated for life. Look away — back to your BuzzFeed puppies and falsettos. Ours is an ursine language, of which, if you have to ask — you'll never know.