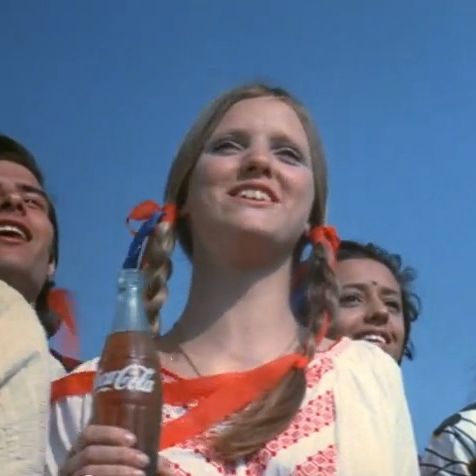 Screengrab from the "Hilltop" ad.
So, after seven seasons of speculation about what peak Don Draper would jump from, the show ends with … a Coke ad? Unsurprisingly, Matt Weiner and company gave us an ending we'll be debating for years, but the final moments make more sense if you know a bit about the iconic ad Don may or may not have dreamt up in a hippie colony in November 1970. Coca-Cola's "Hilltop" commercial was actually conceived of by a McCann-Erickson ad man, but as far as we know, Bill Backer, the creative director on the account, wasn't wrestling with the fallout from stealing another man's identity — he just had a really terrible flight.
According to the tale on Coke's website, Backer came up with the idea on January 18, 1971 (less than three months after Don's retreat), when a heavy fog in London forced his plane to land in Shannon, Ireland. Passengers were irate when they learned they'd have to stay in the airport, but the next day Backer spotted many of them in the airport café, laughing and swapping stories over bottles of Coca-Cola. Here's Backer's Draper-esque pitch, in his own words:
In that moment [I] saw a bottle of Coke in a whole new light… [I] began to see a bottle of Coca-Cola as more than a drink that refreshed a hundred million people a day in almost every corner of the globe. So [I] began to see the familiar words, "Let's have a Coke," as more than an invitation to pause for refreshment. They were actually a subtle way of saying, 'Let's keep each other company for a little while.' And [I] knew they were being said all over the world as [I] sat there in Ireland. So that was the basic idea: to see Coke not as it was originally designed to be – a liquid refresher – but as a tiny bit of commonality between all peoples, a universally liked formula that would help to keep them company for a few minutes.
Backer eventually made it to London for his meeting with Roquel "Billy" Davis, the account's music director, but Davis wasn't convinced that all people really need is some ice-cold carbonated sugar water. When asked what he'd like to buy the world, Davis said, "I'd buy everyone a home first and share with them in peace and love." Backer answered, "Okay, that sounds good. Let's write that and I'll show you how Coke fits right into the concept."
Along with British songwriters Roger Greenaway and Roger Cook, Davis and Backer came up with the song "I'd Like to Buy the World a Coke." The jingle was recorded by the New Seekers and shipped to American radio stations in February 1971, then the team got to work on a visual concept. Art director Harvey Gabor came up with the idea of a multicultural chorus of attractive young people singing on a hillside, and after a number of production difficulties the ad was shot in Italy for $250,000 — an unheard-of sum at the time.
The ad was such a huge hit when it was released in July 1971 that people began calling into radio stations and asking to hear the song. Both the Hillside Singers and the New Singers recorded "I'd Like to Teach the World to Sing (In Perfect Harmony)" — a new version with more verses and no Coke references — and it topped the charts in both the U.S. and U.K.
Coca-Cola would revisit the spot many times in the coming decades, and it remains one of the most popular commercials of all time — which is why even Mad Men viewers born in the New Coke era are probably familiar with it. There were actually quite a few people who predicted that the commercial would figure into the Mad Men finale, if Don didn't turn out to be D.B. Cooper. Congratulations to Racked's Eileen Sutton, who came up with the theory weeks ago. Her colleague, Vox's Todd VanDerWerff, wrote last week:
What I also love about Eileen's idea is that it has a baked-in, awful cynicism to it, laced with a childlike sweetness. That's an ad about world peace and people coming together in harmony — and it's being used to sell soda. It's the ultimate in commodification of powerful ideas by the wheels of commerce, and it's the ultimate in America's blithe belief that if it could just shut out the bad parts — or share a Coke — with the world, everything would be a little bit better.
And last month Uproxx's Danger Guerrero wondered if someone from Sterling Cooper & Partners would come up with the "Hilltop" spot after noting that Jim Hobart nodded at Don when he mentioned Coca-Cola in the "advertising heaven" meeting. He wrote:
… assuming he sticks around, does… does that mean Don created "Hilltop?" Or helped create it? Because that's kind of hilarious.

Like, picture Peggy walking into his office and pitching this hippie-dippie love-fest to him. Picture her telling him that their first big push for the biggest soft drink in the world is people standing on a hill and singing about holding hands and so on. Picture that meeting. Picture his face.
The McCann-Coke-Hilltop ad connection was also noted by Newsweek's John Walters, the Observer's Maggie Serota, and Entertainment Weekly's Melissa Maerz. And Ebony had everyone beat with an April 2014 article on Mad Men neglecting to portray black ad executives like Roquel "Billy" Davis, who revolutionized the use of pop songs in advertising and would eventually become senior vice-president at McCann-Erickson.
Many on Twitter noticed that there was also some Coke foreshadowing in the final episodes (and let's not forget that in the season one episode "Shoot," Jim Hobart offers Betty a Coca-Cola modeling gig, which she loses when Don turns down a job offer at McCann).
Nice work, guys. We owe you all a Coke.