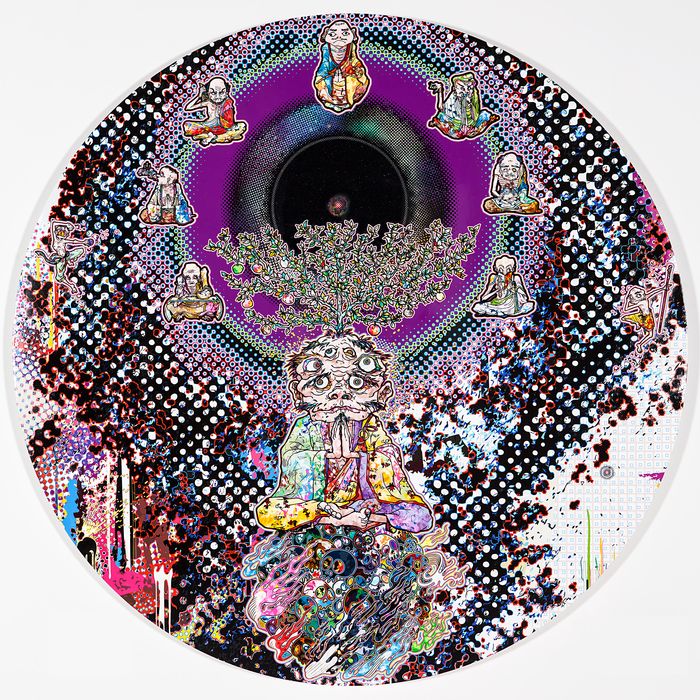 Takashi Murakami Sage, 2014 Acrylic, gold and platinum leaf on canvas mounted on wood panel 78 3/4 x 78 3/4 inches (200 x 200 centimeters).
Photo: © Takashi Murakami/Kaikai Kiki Co., Ltd. All Rights Reserved. Photo: Andrea Rossetti
Imagine: You love art, and your budget is limitless. Your private jet is fueled up at Teterboro. You've trained your internal clock to ignore time zones. Wait, which continent are we landing in? Who knows, but Dakis's boat will be there! SEEN is ending and school's out, and this is where we wish we could afford to be.
Somehow, the rolling jamboree of biennales and fairs heats up with the weather, and that's when things get a little dotty. Look, 10 a.m is simply the most amenable time for Champagne at outdoor vernissages. Of course there are open-air exhibitions on ancient Greek cliffs. And why not have artists show in palaces instead of galleries? Plus, hey, even Berlin becomes habitable in the season!
So we've collected a list of new countries for you to jet-set to, if not every day over the next two months, then at least every week. Just pick your flavor: fairs, museum retrospectives, biennials — it's all there.
For instance: Anish Kapoor's reflective sculptures will alight in the Gardens of the Palace of Versailles, following such luminaries as Takashi Murakami and Jeff Koons. Speaking of, Koons's retrospective will open next month at the Guggenheim Bilbao. There's the original Art Basel, of course, quieter and more enjoyable than its metastasizing Miami equivalent (for now, at least). Try the Echigo-Tsumari Art Triennial for a nature-themed break, featuring Cai Guo-Qiang and Ilya and Emilia Kabakov. Or pencil in a stop at the debut Vienna Biennale, which focuses on architecture.
We make no promises about the crippling effects of long-term jet lag, which modern medicine still, shamefully, has not solved.
June: Anish Kapoor at Versailles Gardens, Paris
June 2: The Museum of Modern Art Garden Party, New York
June 4: arteBA fair, Buenos Aires
June 5: Damian Ortega at the HangarBicocca, Milan
June 9: Jeff Koons retrospective at Guggenheim Bilbao
June 10: Garage Museum opening, Moscow
June 11: The Vienna Biennale
June 12: Zurich Contemporary Art Weekend
June 14: Paul Chan's "Hippias Minor" at DESTE Foundation Projectspace Slaughterhouse, Hydra Island
June 18: Art Basel & satellite fairs
June 23: Thessaloniki Biennale, Thessaloniki
June 23: Takashi Murakami, various venues, Ibiza
July 5: Christian Marclay's "The Clock" opens at LACMA
July 9: Art Southampton, Bridgehampton
July 25: Watermill Benefit, Long Island
July 26: Echigo-Tsumari Art Triennial 2015
July 28: Edinburgh Art Festival
July 30: Art Aspen, Colorado
August 1–August 30: Party at Larry Gagosian's place in the Hamptons!!! It's on Further Lane in Amagansett, and that's all we can say.