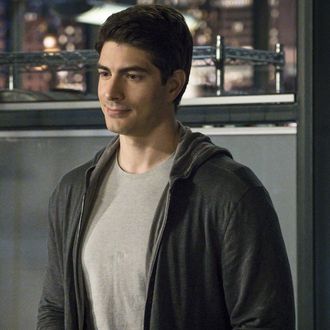 The future star of DC's Legends of Tomorrow.
Photo: Liane Hentscher/CW
It's upfronts week, which means the networks are currently in the process of unveiling the shows that will make up their new fall schedules. The CW is no exception, announcing a trio of pickups that will undoubtedly be all over your Tumblr dashboard later this year, including a spinoff for the network's super-popular shows set in the DC Comics universe. Here are the three new shows that will replace Hart of Dixie and The Messengers (on the schedule, if not in our hearts) next year — surprisingly for the CW, there is a distinct lack of magical teens.
DC's Legends of Tomorrow: Doctor Who's Arthur Darvill leads this Flash and Arrow spinoff; fittingly, he's playing a time-traveling adventurer who's tasked with getting a "ragtag team" of heroes and villains to come together and fight a mysterious enemy who's threatening to destroy not only the universe, but also "time itself." This team will consist mainly of actors who have already appeared on the CW's other DC Comics shows, including Victor Garber, Caity Lotz, Brandon Routh, Dominic Purcel, and Wentworth Miller. With three superhero shows on the air, the CW has created its own full-fledged comic-book universe, which, amusingly, is entirely separate from the DC film universe, the Fox-DC universe of Gotham, and the CBS-DC universe of Supergirl.
Cordon: No, it's not a gritty reboot of The Late Late Show — this medical drama takes place in and around a quarantined Atlanta after a mysterious disease outbreak. Interstellar's David Gyasi stars as a police officer forced to maintain the perimeter while society disintegrates inside. Meanwhile, an intrepid journalist discovers (ominous pause) that things are not quite what they seem. So basically: Contagion meets Lost meets 24.
Crazy Ex-Girlfriend: Rachel Bloom (Robot Chicken, "Fuck Me, Ray Bradbury") stars as "a successful, driven, and possibly crazy young woman" who leaves her high-flying life in Manhattan to move to L.A.'s San Gabriel Valley, where she hopes to find love. Could this be the CW's own New Girl?