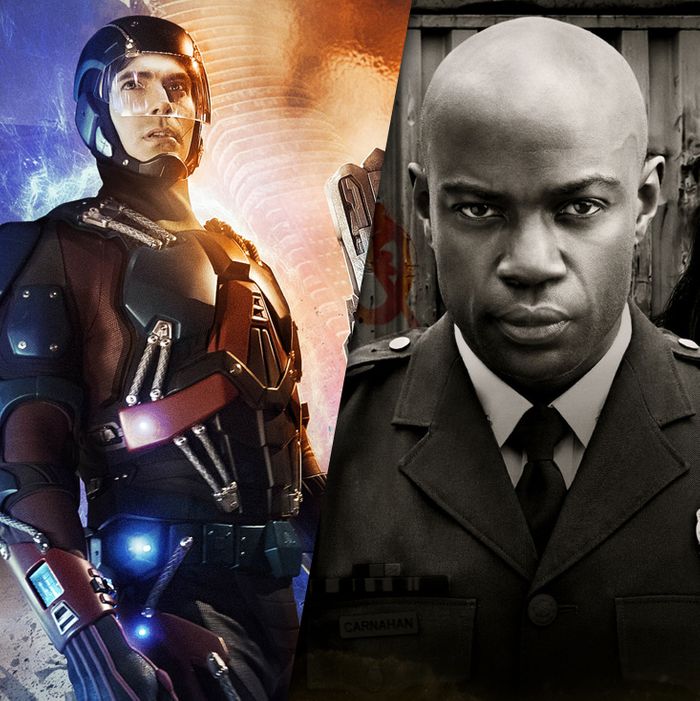 Rachel Bloom in Crazy Ex-Girlfriend, Brandon Routh in DC's Legends of Tomorrow, and David Gyasi in Containment
Photo: CW
We know, you've watched a lot of trailers this week — but don't stop now! The CW had its upfront today, and while it's still the kid sibling to the big four, the glorious success of Jane the Virgin should at least make you curious. The CW only green-lit three new shows for its fall slate, but we have to say: They're a good-looking bunch. There's the one you might expect: DC's Legends of Tomorrow, as part of its ever-expanding superhero universe; a Contagion-like thriller called Containment; and an hour-long musical Crazy Ex-Girlfriend, directed by Marc Webb (500 Days of Summer). On to our snappy judgments:
DC's Legends of Tomorrow
Aren't our superhero shows doing so well? Let's make this universe so big that the CW is made of just DC superheroes and a cyborg Tyra Banks hosting America's Next Top Model, because let's face it, that show will live on forever.
First impression: This is aimed squarely at the stans of The Arrow and The Flash, and they'll be pleased. If you watch the other shows, you have no doubt already seen many of the characters that are spinning off to form a supergroup, including the Atom (Brandon Routh), Captain Cold (Wentworth Miller), Heatwave (Dominic Purcell), White Canary (Caity Loitz), Dr. Martin Stein (Victor Garber), and some new faces. It looks like exactly what it is: solid, reliable, teen-oriented action.
Containment
You know, to remind you of how much fun we had during that whole Ebola scare.
First impression: The CW is getting into the apocalyptic game by playing on a lot of Americans' very real fears of a biological contagion leveling the population. No touching! You leave the ones you love! It looks darker than a traditional CW show, and it's hard to imagine anything past the first season that isn't, "Shit just got really real."
Crazy Ex-Girlfriend
The show created by 500 Days of Summer director Marc Webb, The Devil Wears Prada writer Aline Brosh McKenna, and Rachel Bloom, who also stars, was originally made for Showtime before getting saved by the CW. Love makes you crazy, man.
First impression: While there might be a concern that this could play into the stereotype of hysterical women, we trust McKenna and Bloom enough to know what they're doing. Also, since it was originally made for Showtime, production value looks solid, and Bloom seems to strike the right mix of manic and endearing. Her performance makes you a little bit nervous, which seems like exactly the right place to be. Also: Look who's playing the object of her affections!