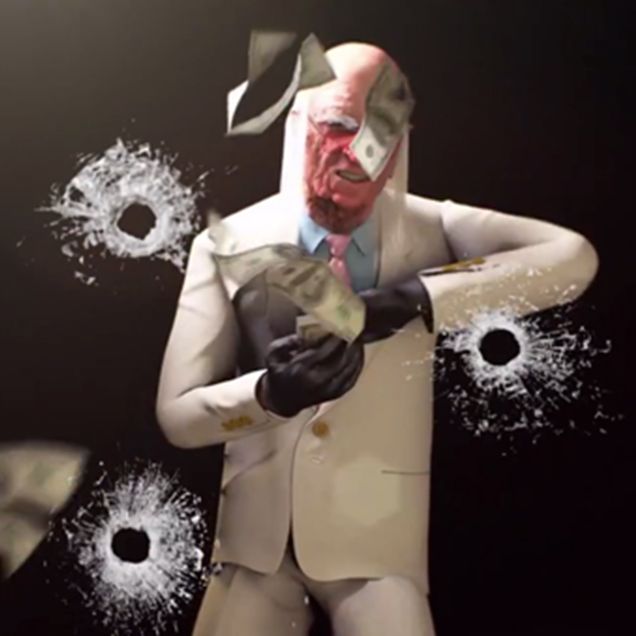 Photo: Takeshi Murata, courtesy of Daata Editions.
"It's so great to have you here to to discuss Daata Editions," said the collector and philanthropist Anita Zabludowicz, who, with her billionaire husband Poju, runs the Zabludowicz Collection in London. "Even if, well, you don't know what Daata Editions is yet."
She was about to explain herself further — standing in front of a group of dealers, collectors, artists, and at least one member of the British royal family gathered for dinner at Antique Garage in Soho — when Al Pacino burst into the restaurant, tracked by a bodyguard, beelined to the bathroom, did his business, and then promptly left again, clapping along with the dutiful applause for Zabludowicz as he hopped back into a black car.
With Serpico gone, let's get back to the topic at hand.
Daata Editions is a site launching this week that lets collectors purchase video, sound, and web-based art editions, and it will make its debut at NADA on Thursday night. It came about as a collaboration between Zabludowicz and the curator David Gryn, who sought a way to marry the ever-increasing market value of internet art with the burgeoning world of online art sales sites like Artspace and Paddle8, which largely sell physical work.
Daata's non-physical editions will be limited in availability, and a select group of artists are making work exclusively for the site. The first "season," as they call it, includes pieces by Amalia Ulman, Takeshi Murata, Chloe Wise, Jon Rafman, and others.
Frieze Week provides a fitting context for the upcoming commerce platform. Gryn mentioned that he discussed the venture with the fair's director, Victoria Siddall, to get her advice on the idea. "I thought Victoria would say it's post-internet," Gryn said. "She said it was post–art fair." Indeed, why bother boarding the ferry to Randall's Island  if the work exists solely online?
Below we can exclusively reveal two trailers for a work by Chloe Wise — we can't share the whole thing because, well, then there would be no reason to buy it. But therein lies the difficulty of selling digital art — it's so easily reproduced that it would give Walter Benjamin a headache. Plus Daata's net art sales competitors are legion, from New Hive to Sedition to NeonMob, and even the digital frame company Electric Objects. But that's talk unsuitable for a party.
Fittingly enough, all the dialogue in the videos we're teasing is taken from outrageous things that Wise has actually overheard at art fairs. Maybe a line or two is familiar?