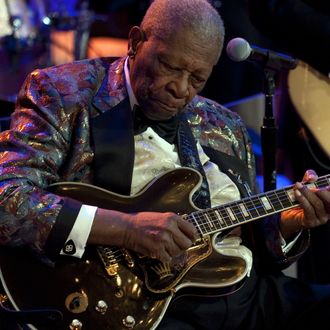 B.B. King.
Photo: JIM WATSON/2012 AFP
Two of B.B. King's daughters have prompted a homicide investigation into their father's death because they believe he was poisoned, the AP reports. Patty King and Karen Williams say that King's business manager, LaVerne Toney, and assistant, Myron Johnson, did not see to the blues legend's medical needs and might've expedited his death. "I believe my father was poisoned and that he was administered foreign substances," Patty King and Williams said in affidavits provided to the AP by their lawyer. "I believe my father was murdered." Patty King, in her affidavit, added that she saw Johnson give King two drops of something unknown every night for several months before his death, according to the AP. Las Vegas authorities told the New York Daily News that an autopsy was performed on King's body, and that homicide detectives are officially probing King's death. No other details have yet been provided.
King's family members had reportedly been feuding with his aides before his death, too. Patty King last year accused them of stealing millions of dollars from King, and the family claims Toney didn't let the Kings see their father while he was in hospice, according to the Daily News. "They've been making allegations all along. What's new?" Toney, who worked for King for nearly four decades and is named as an executor of his estate, told the AP. Attorney Brent Bryson, who represents King's estate, slammed the daughters and their claims. "I hope they have a factual basis that they can demonstrate for their defamatory and libelous allegations," Bryson told the AP, adding that the accusations are disrespectful to King. "He did not want invasive medical procedures. He made the decision to return home for hospice care instead of staying in a hospital. These unfounded allegations have caused Mr. King to undergo an autopsy, which is exactly what he didn't want." Test results from the autopsy will take roughly eight weeks to obtain. Meanwhile, a memorial procession has been planned for King on Wednesday in Memphis, Tennessee, and his funeral has been scheduled for Saturday, in his hometown of Indianola, Mississippi.