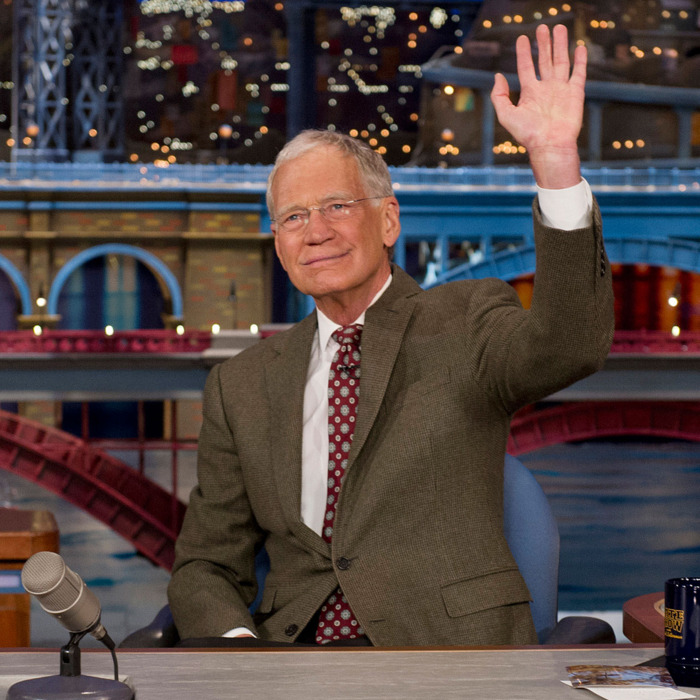 David Letterman announces that he will be retiring from the LATE SHOW with DAVID LETTERMAN on the broadcast tonight, Thursday, April 3 (11:35pm-12:37am, ET/PT) on the CBS Television Network. Photo: Jeffrey R. Staab/CBS ©2014 CBS Broadcasting Inc. All Rights Reserved
Photo: Jeffrey R. Staab/CBS
After a star-studded, legendary-comedian-heavy Top 10 List (the night's highlight), David Letterman walks down the line of celebrities, thanking them for being on his last night as the host of Late Show. He stops to geek out at Peyton Manning (you can't take the boy out of Indiana) and greet Tina Fey, then arrives at Bill Murray, his first-ever late-night guest and his last-ever late-night guest. "And Bill, I saw you on TV last night." It was a small line — barely audible — but it was so purely David Letterman: knowing, ironic, silly.
All month, as the tributes flowed in, everyone made a nod to Letterman's lack of sentimentality. And Letterman's last-ever show as a late-night host was no different. The monologue was typically self-deprecating, featuring one last, perfect grumble toward NBC and Jay: "It's beginning to look like I'm not going to get the Tonight Show." Absent any guests, the majority of the show was made up of old clips serviceably tossed up: Letterman at Taco Bell, Letterman with kids, Letterman with Andy Kaufman. Even the final thank-you and sign-off, though genuine and deferential, wasn't especially heartfelt. "People come up to me all the time and say, 'I have been watching you since that morning show,'" Letterman said, addressing his loyal fans. "And I say, 'Have you thought about a complete psychological workup?'"
There were two cracks in the veneer, however. First, when he introduced his family during his sign-off: "And really, nothing else matters, does it?" he asked rhetorically, referring fondly to his wife and son (he even gave a shout-out to his son's friend Tommy Ribato, who might have got the loudest applause of the evening). The second was during a segment that filmed a day in Letterman's life. Letterman seems jovial, joking with the producers and tossing grapes into a water glass as they prepared for yet another show. Toward the end of the piece, it's showtime. Soundtracked by Kings of Leon's "California Waiting," we see Letterman doing his famous preshow cross-stage run. It cuts to him doing a frantic clap, looking like a college basketball player before tip-off. He loved this job. Kings of Leon repeats the song's refrain: "Can't I get back my lonely life."
Bye, Dave.