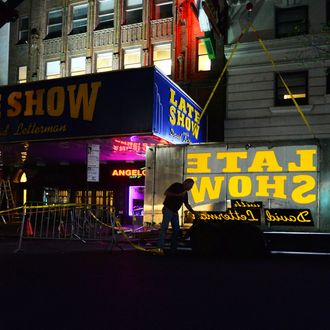 The sign, in happier times.
Photo: Doug Meszler/Corbis
For more than 20 years, David Letterman's massive glowing Late Show marquee marked the entrance to Broadway's Ed Sullivan Theater. Not anymore — according to a tweet from SportsNet New York's Adam Rotter, the famous sign has joined Letterman's backdrop in the great TV-set Dumpster in the sky. There is no off position on the genius switch, but apparently there was one for that giant sign.