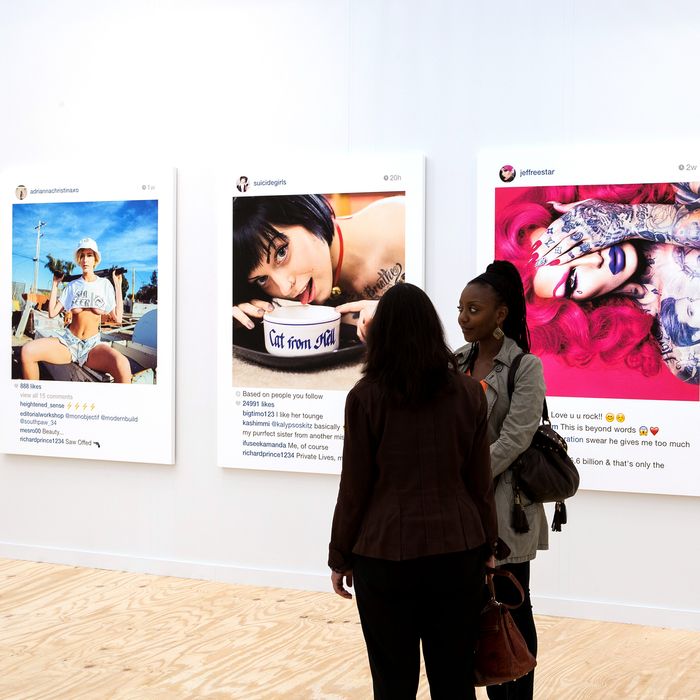 Photo: Marco Scozzaro/Courtesy of Frieze
What to do when an artist appropriates your hard work and flips it for big money at a high-end gallery? When Richard Prince reworked photographer Patrick Cariou's photographs for his "Canal Zone" series, Cariou sued him. They settled out of court.
But then, earlier this month, Larry Gagosian decided to devote the entire Gagosian Gallery booth at Frieze to Prince's Instagram works. One of these "New Portraits," as they're called, depicted an image taken from the feed run by the online pinup site and message board SuicideGirls. And now SuicideGirls is fighting back by beating Prince at his own game.
The crew of Internet-friendly alternative models is selling the same prints as Prince, but for $90 instead of Gagosian's $90,000. They're perfect replicas of replicas, since all Prince did to alter the photos was leave creepy comments through Instagram's social network.
"I'm just bummed that his art is out of reach for people like me and the people portrayed in the art he is selling," model Missy posted on the site.
This aesthetic conundrum — which reproduction is real? — has touched off a viral controversy over who owns art and the profit made from appropriation. Prince has long inhabited this territory, of course. Last year, our senior art critic Jerry Saltz deemed the Instagram paintings "genius trolling." At Frieze, the trolling paid off, and all but one of the appropriated pieces sold (one depicting two men kissing, rather than a hot-chick selfie) at the asking price.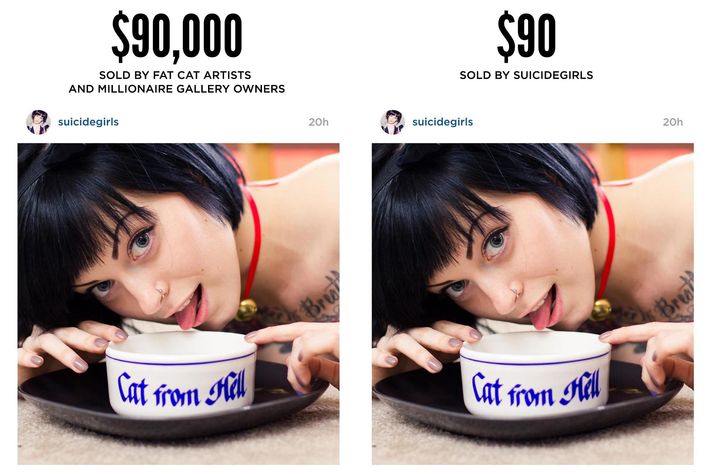 As the debate mounted, Saltz took to CNN (see the video below) to explain how the digital files that Prince appropriated are "in the public domain."
"The copyright is getting very fuzzy on all this," Saltz said.
He pointed out that, well, this is all old business: Andy Warhol and Jasper Johns appropriated plenty of mainstream objects — the American flag, the Campbell's Soup can — and transformed these mundane symbols into art. Is Prince on the same level?
Perhaps we're uncomfortable with Prince's appropriations because they're happening in our own time rather than with some cushion of time gone by. And also, recall that in the heyday of Pop, Warhol was just as controversial. These days, technology puts a new spin on the issue. Through social media we're all as visible as, well, a can of Campbell's Soup — we're all brands, to put it in market-speak. Every day we expose ourselves to the chance that our images might be appropriated, remixed, printed on a canvas, and hung on a wall. It just takes an artist with the guts (or amorality) to go for it, like Prince.
So as long as we choose to become brands ourselves, through Instagram posts or Facebook updates and tweets, our identities are liable for theft. After all, social networks themselves package our profiles to make a quick buck all the time. Whether that creative revamping can be sold for sticker prices like $90,000, well, that's more up to which artist is doing the work. For a big brand like Prince, it's easy. I doubt he minds SuicideGirls encroaching on his territory.
Profits from the SuicideGirls print sale will go to benefit the Electronic Frontier Foundation, which pushes for data privacy as well as openness on the web. The irony is palpable.