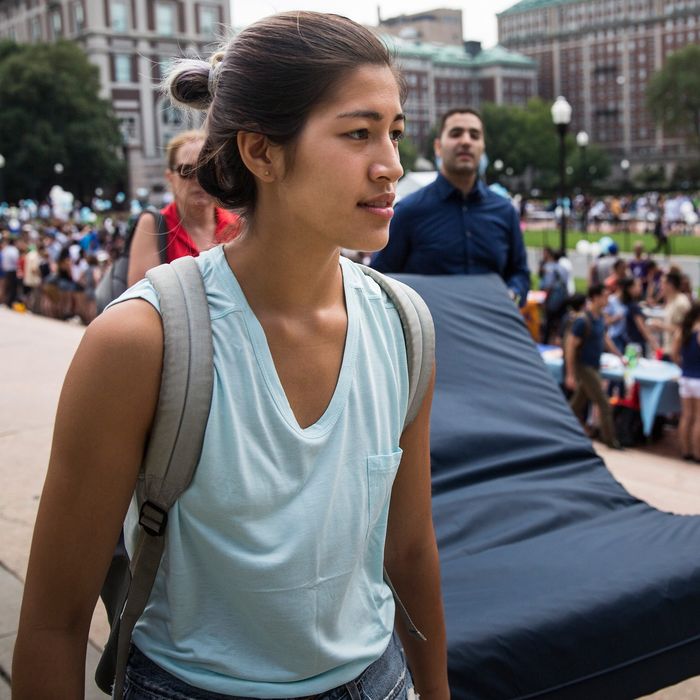 Emma Sulkowicz.
Photo: Andrew Burton/Getty Images
Emma Sulkowicz's Mattress Performance (Carry That Weight) concluded this month with her graduation from Columbia University. Now that it's put to bed, so to speak, a series of questions arises. Among them: What should become of the mattress itself?
She herself told the Times on Class Day: "If some sort of museum wants to buy it, then I'm open to that. But I'm not going to just throw it away."
Mattress Performance has been admired for, among other things, its ability to catalyze a conversation outside the bounds of art. It has also been controversial for that same reason.
As an art object, it could fit in with a rich lineage of bed-based artworks. In 1955, Robert Rauschenberg arrived upon one of his first so-called "combines" with Bed, an assemblage of a pillow, sheet, and quilt splattered with oils and hung like a painting on the wall. In 1999, there was Tracey Emin's My Bed, which was literally that, complete with stained sheets, soiled underpants, and condoms strewn about. More recently, by the waterfront in Brooklyn, Carol Bove found the gnarled and nasty box-spring that makes up her 2012 sculpture The Disgusting Mattress.
And other bed works abound, including Yoko Ono and John Lennon's 1969 Bed-In, currently memorialized at the Ono show at MoMA and, when vacant, the actual Montreal hotel room where the performance piece was staged. (For the record, "It's $899 for one night, with a set of pajamas similar to theirs," says a rep for the Fairmont Queen Elizabeth, which rents the suite as a special. "If you don't want the pajamas, it's $799 — but everyone wants the pajamas.") And who could forget the image, even it isn't exactly an artwork itself, of Donald Judd's self-made bed on the floor of his museum-ified Soho loft with a Dan Flavin light installation glowing all around?
Many have noted that Mattress Performance resonates with historically weighty works by Vito Acconci, Tehching Hsieh, and Marina Abramovic. And these days, props from performances by Acconci, Hsieh, and Abramovic are displayed in museums and, in some cases, sold in galleries.
Whatever its fate in art or social history, Mattress Performance could well live on in objecthood. But would a museum or gallery want it? On the phone from California, where she is visiting a friend in Laguna Beach post-graduation and luxuriating in the distance from the 50-pound mattress she hauled around daily since September, Sulkowicz says no one has approached her about the prospect yet. But the question is in the ether.
"I can definitely imagine it having a future," says Catherine Morris, curator of the Brooklyn Museum's Sackler Center for Feminist Art. "What makes her work interesting and viable for the long term is its immediacy, but also, I think, her ability to understand how her work works within the context of art history."
The mattress itself is of course just part of the art, a prop to instigate all that happened around it. In that, it falls into another lineage as an artifact of performance art that can be difficult, if possible at all, to document and show. Artists like Chris Burden, Carolee Schneemann, and Mike Kelley were known early in their careers for performance pieces that, later on in time, took on different aspects as objects stood in for actions. And in any case, the question remains: How do you meaningfully exhibit a performance piece that already happened?
"The thinking around that is fluid and seems to change as projects move forward in time," says Jay Sanders, curator of performance at the Whitney Museum of American Art. "In the heyday of performance art, showing things was not as far forward on people's minds as it is now. But if practices are crucial to understanding art or understanding our moment, you want to try to find a way to make those practices part of the narrative."
Sulkowicz says her ideal scenario for exhibiting the piece, which she's still figuring out, would involve the mattress along with her collection of plastic bed-wetting sheets that protected it in the rain. Along with the bed parts would be instructions to re-create the "Rules of Engagement" she had painted on her studio wall — a reproducible wall painting "sort of like a Sol LeWitt," she says — and an aspect of the piece that she has never talked about before: a diary that tracks her experience over the course of a performance that ended just last week.
"To me, the objects matter a lot, but the diary is equally important," Sulkowicz says. "It tells of all the times when things didn't really go according to plan and all the fucked-up things that happened. It's the real record of the piece."
The document, totaling 59,000 words (the length, more or less, of a novel) and typed up in Microsoft Word, tells of her interactions with fellow students and strangers, she says — including one with a homeless man who was among the first to help her haul the mattress around. "He was the first person who helped without some sort of preconstructed belief for why they were going to help," she says. "He was like, 'Oh, look, a struggling girl — let me help her and be a nice human being.' That was probably the most honest interaction I had."
The diary also takes stock of "a lot of misreadings," including a failure on most observers' part to notice the nine months of her endurance feat for what it was: the same as the term of a pregnancy. That was part of the project from the beginning, the artist insists: "When I started, I knew that Columbia was not going to kick him [the subject of her protest: her alleged rapist] off campus just because I was carrying a mattress. That's ridiculous. I knew I would be carrying it for nine months, and that was a very important part of the piece to me."
She continues: "People think I was supposed to have this warlike relationship with it and it was supposed to be this object that I was angry with, but for me, that related to how people chose to read my piece rather than the way I lived with it. To me, the piece has very much represented [the fact that] a guy did a horrible thing to me and I tried to make something beautiful out of it."
Undeniably pointed, and political, too — no matter the reading.
"It's not the kind of art that I imagine many dealers are jumping over and saying, 'Let's sell that thing,'" says Brooklyn Museum curator Morris. "If she was a standard painting student at Columbia who had gotten some small percentage of the attention she's gotten, you can bet she would have her first show up by now. But that's the thing about the politics of work like this — it makes people want to watch a while first."
That applies to the controversy that hovers over it as well, as the subject of Sulkowicz's protest, Paul Nungesser, filed suit against Columbia reasserting his innocence and casting Mattress Performance as a sort of university-sanctioned form of harassment against him.
"That would be the crux of the discussion one would have to have curatorially about how, why, when, and where to present that piece," Morris says.  "I think that will change over time, but how one positions oneself is never objective. Any curator who wanted to show that work now would best serve the piece by trying to have a complex discussion around it. I wonder if that would be possible right now — I don't know."
Quentin Bajac, head curator of MoMA's current exhibition of politically charged contemporary art, titled "Scenes for a New Heritage," says he has not followed Sulkowicz's protest or the reactions to it. But speaking generally, he says that putting art on show doesn't necessarily count as an endorsement or a corroboration of the politics behind it. "There are discussions that arise with the acquisition committee when working with highly political art," he says, "but once it is acquired, you need to show it." It can be hard, in any case, to know how the political charge will maintain. "As time goes by," he adds, "objects tend to become more and more, in a way, relics."
Relics or not, the mattress and its supporting things augur well as art objects with the potential to take on more and different kinds of meaning in time.
"There's still a lot of discussion to be had around her work, and still a lot of public response to the climate of sexual intimidation or sexual harassment on university campuses," Morris says. "That's an ongoing debate that will continue, and Emma's position in that is very symbolic. When we move away from that, a couple of decades beyond, I absolutely see how that mattress could become a sculptural object that has a history we will discuss in relation to the time when the piece was made and what happened to it subsequently as a result of shifts in thinking about social politics and the history of performance art."
It depends, too, on what comes next.
"These pieces continue to redefine themselves in relation to how they fit into a narrative of an artist's development," Whitney curator Sanders says, alluding to the strange case of one of the most known and noted artworks in recent memory being made by an artist at the very beginning of her career, if career is in fact the correct term. (Sulkowicz might like to make it so — Emin's My Bed, different but similar in its way, sold last year for $4.3 million.)
Sulkowicz, for her part, says she is happy with the prints she made for her final thesis show that are now on view in a group exhibition at the Southampton Arts Center, under the title Newspaper Bodies (Look, Mom, I'm on the Front Page!).
Beyond that, she's finishing up the final touches on her next artistic sally, to be completed and unleashed online soon. "That one is a secret," she says. "It's going to be a big surprise, and the internet is going to lose its shit, I think."
Otherwise, in a tone befitting the end of a typical but also extremely specific kind of college experience, she says, "I have my summer. I've had the most crazy two years of my life, so I'm ready to go incognito and try to make a life where not everyone is recognizing me. Maybe I'll change my hair color."
Meanwhile, the mattress — which she bought online — rests on its own in her parents' living room, waiting to make its way, if the plan for its next stage holds, to a Manhattan Mini Storage.