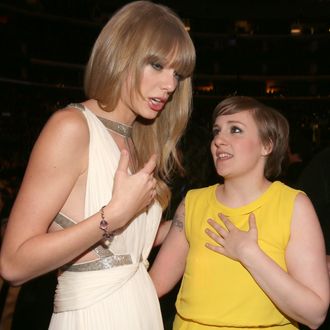 Taylor Swift and Lena Dunham.
Photo: Christopher Polk/2013 Getty Images
Taylor Swift's "Bad Blood" music video is really turning into quite the ordeal. The singer has so far announced seven guest roles in her hyped-up project, which will include model Lily Aldridge, actress Zendaya, Paramore front woman Hayley Williams, model Gigi Hadid, singer Ellie Goulding, and — most recently revealed — actresses Hailee Steinfeld and Lena Dunham. From the posters, "Bad Blood" looks like it's going to be a wild mix of something Sin City–ish and Kill Bill–sy, maybe with a pinch of Lady Gaga's "Telephone" sprinkled on top. All of Swift's friends have interesting names, of which Swift has noted, "Each individual actor/actress chose their character's name and persona." She is Catastrophe because obviously she is:
And here are everybody else's badass "Bad Blood" posters and characters so far:
Directed by Joseph Kahn, Swift's "Bad Blood" will unspool on ABC during Sunday's broadcast of the Billboard Music Awards with all these people and probably more. No word on T. Swift's cat cameos, though.