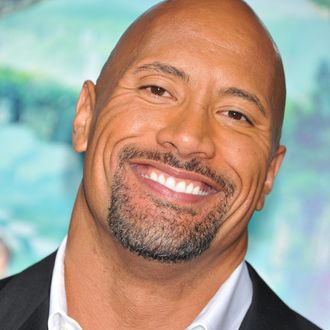 Photo: Frank Trapper/Corbis
Dwayne Johnson (also known as the Rock), one of the most charismatic and charming men to ever flex his biceps on the big screen, is returning for the next Fast and Furious movie, ScreenCrush reports. During a press conference for his upcoming film San Andreas (in which the mega-star fights nature, having run out of puny humans to thwart), Johnson said that Hobbes, the agent turned ass-kicking criminal who helps Vin Diesel's crew and at one point wields a Gatling gun, is a necessary part of the series; he will grace the eighth film, tentatively titled Furious 8, with his vein-popping muscles and deadpan delivery. "It can't go on without Hobbes."
Johnson joined the franchise, one of the highest-grossing action series (Furious 7 is just $200,000 short of usurping The Avengers for third place on the all-time box office list), with the fifth installment, Furious 5, and has appeared in the subsequent two entries.
As for a stand-alone Hobbes movie, Johnson's response was slightly more ambiguous:
We all are interested in it. I just had a big conversation with the studio. So we'll see. I still think for me personally we've created a little bit of space for him in 7 and the gauge is set for what  the audience will want. That's my take on it, you know, but a lot of other people have to have input.
Furious 8 is slated to premiere in April 2017.