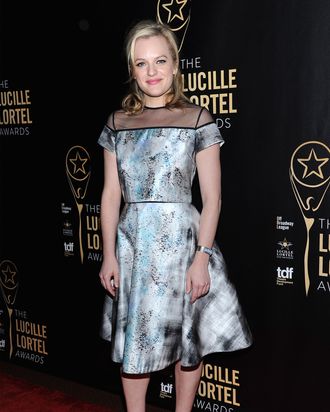 Elisabeth Moss, also badass.
Photo: Andrew Toth/Getty Images
Elisabeth Moss takes F, Marry, Kill very seriously. The Mad Men actress took a full minute to choose between Stan, Pete, and Stevie at the Lucille Lortel Awards for Outstanding Achievement Off-Broadway on Sunday night. She paced. She agonized. Her mom, with whom she was celebrating Mother's Day, took a few steps back to give her space. Then she told us: "Marry Stan, kill Pete, and then … my mother's here! So yeah, Stevie."
It's safe to say Moss's character, Peggy Olson, made the entrance of the year when she strutted into the new offices at McCann Erickson oozing swag with a cigarette dangling from her lips. On her widely GIF'd moment:
I was honestly so flattered by that. When we were filming it, I was just trying to hold the box, which was bumping really awkwardly, and then I had to hold the portrait and then put the cigarette in my mouth. That's actually difficult to do — James Dean makes it look really easy, but it's actually really hard. I was just trying to look fucking cool while doing this thing, so I wasn't thinking about [what] it would become.
Now that we're nearing the end of the show, could she imagine a Peggy spinoff? "I guess never say never, but I'm fine with the way things are. It's nice to leave the party while people still want you."